Located in downtown Yangon, the City Hall is regarded as an excellent example of British Myanmar architecture. Began to build in 1926 and completed in 1936, the building is the largest city hall of Myanmar. Seeing the City Hall, tourists can see the traditional features such as pyatthat or iconography of peacocks and serpents around the pillars. Next to the City Hall are several famous landmarks, including Sule Pagoda, Maha Bandula Park, High Court and the Main Post Office.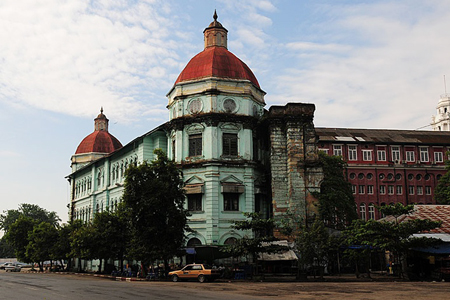 Former known as Irrawaddy Flotilla Company, the Inland Water Transport Building is one of British colonial landmarks in Yangon since 1912. One of its highlights is some of the tallest colonnaded fronting in Myanmar.
Custom House, built in 1915, must be the most well-preserved major colonial British building in Yangon. Standings on the Strand Road, after being restored, this Victorian building has remains its original color: red and white. From the Custom House, a short distance to the west is the famous Strand hotel.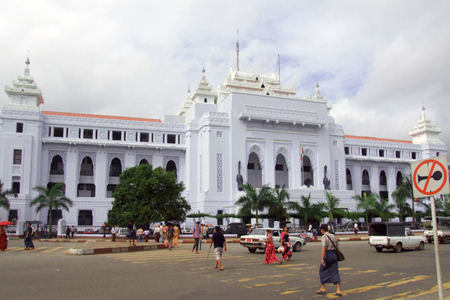 Built in 1896 and inaugurated in 1901, Strand Hotel is one of Southeast Asia's grand colonial hotels and the most famous in Yangon. The hotel is the grand work of two Sarkies Brothers – Aviet and Tigran Sarkie. In 1990s, the Victorian-style hotel is a truly luxurious place for Burmese elite.