Bali Shore Excursions, Day Tours & Trips for Cruise Ship Passengers
Bali is an island as well as the largest tourist destinations in Indonesia. Indonesia is famous for romantic islands, sparkling beaches under the tropical sun as well as the great ancient architecture. When traveling to Bali you can cool off in the clear blue water of the beaches, explore Ubud – a huge center of art and culture in Bali with ancient temples and sculpture. There are dozens of attractions to see & activities to experience in Bali shore excursions.
Pura Luhur Uluwatu – an ancient Hinduism temple looking through the ocean
Sacred Monkey Forest Sanctuary including many temples with monkeys playing around
Ulun Danu Beratan Temple – the iconic place to visit in Bali
Besakih Temple famous for its entrance gate
Tegallalang Rice Terrace providing an impressive scenery with endless green terraces
Goa Gajah, or Elephant Cave – the sacred cave with God images carved into stone walls
Asia Shore Excursions is offering a varied choice of Bali shore excursions for cruise passengers stop at Bali port in Indonesia. Please contact us for the greatest Bali day tours from port as well as customize your own excursion that suits your budget and interests.
Duration: 1 day
Pick-up/Drop-off: Tanjung Benoa port/ Tanjung Benoa port
Highlights: Barong Dance, Tirta Empul Holy Spring Water, Kintamani Highland, Elephant Cave
Tour Customizable: Absolutely! (Tell us your specific requirements in the inquiry form)
---
Things to Do & See in Bali Shore Excursions
Bali is not a strange destination with travelers who want to spend their holiday escape from the bustle and hustle city to a fresh natural space. Asia Shore Excursions would like to recommend some fun things to do and see that you can take note for your Bali shore excursions.
Have Fun in Elephant Safari Park and Lodge
Well-known for the green scenery with endless paddy fields and incredible waterfalls, Bali shore excursions are more than this. Make friends with some lovely but huge animal, elephants in the Elephant Safari Park and Lodge. Visiting the park, you will witness many rescued Sumatran elephants who have been threatened by severe deforestation in 2000. The elephants have a close relationship with their mahouts that they are really friendly and not dangerous at all. Human has stayed with them since they were born, grow up, and take care of them. The exciting elephant performance is shown at the Park Arena where they show their strength and skills in ball kicking, hula hooping, and even painting.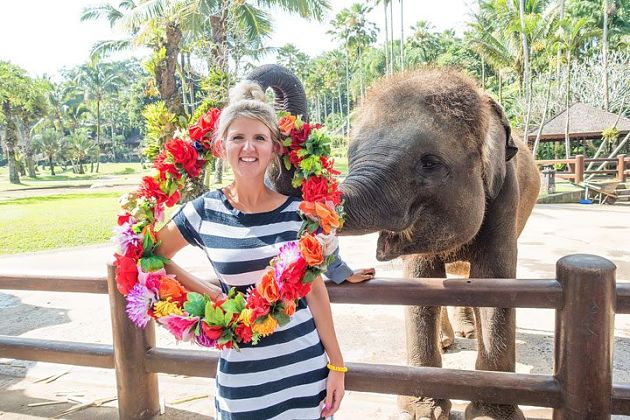 Elephant Ride in Elephant Safari Park
Your Bali day tours from cruise port will definitely be shined with a visit to Elephant Safari Park. Hop on an elephant-back ride lasting for 35 minutes through the beautiful tropical landscape. A scenic ride on the back of the elephant opens a completely new viewpoint to admire the nature. When the ride is completed, you will visit the elephant museum where displays more than 1,000 prehistoric fossil artifacts including bone carvings, elephant skulls, and tusks. The Elephant Safari Park is also home to a huge lake where visitors witness elephants playing, bathing, feeding together. Freely taking photos with these lovely big friends.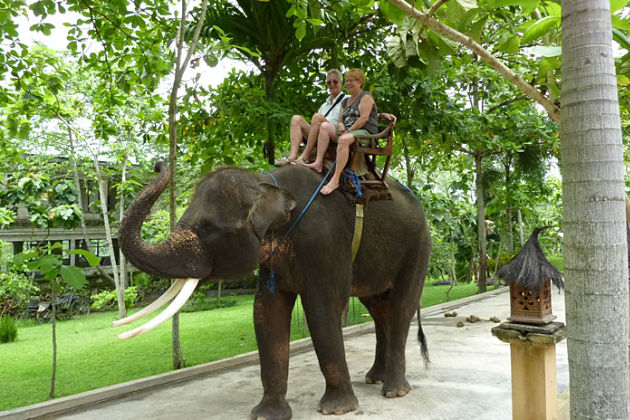 Explore Celuk Village
Bali is home to many traditional villages, especially Celuk Village. Just about 4km to the southwest side of the Sukawati District, Celuk Village is well-known for being the center making gold and silver. Locals consider that most professional and talented smiths gather here creating a village lined up with galleries and workshops. The village also serves as the link between Batubulan Mas, Ubud, and Sukawati – the golden pentacle in artisan craft field highlighting your Bali shore excursions.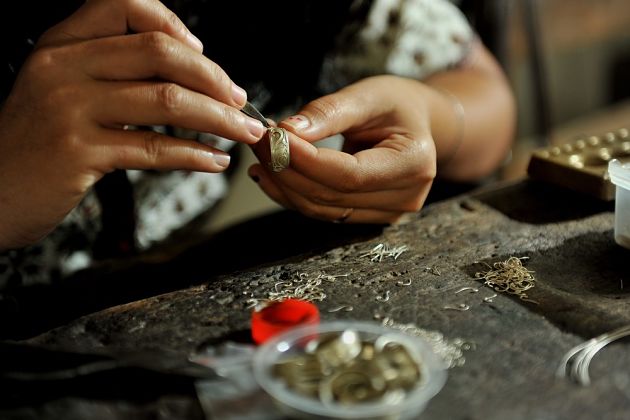 A visit to Celuk Village usually includes a stop at the beautiful Ubud charmed with the incredible natural scenery. Due to the enthusiasm and profession of craftsmen working here, the goods made of gold and silver have high quality and unique features with delicate designs. As you can easily see in Bali day tours from cruise port, most families living in Celuk Village make jeweler for living. Their main job is depended on the export condition of Indonesia on local items such as rings, necklaces, bracelets, earrings, and other accessories.
Soak in Religious Space in Batuan Temple
Batuan Temple has a long name called by local as 'Pura Puseh lan Pura Desa Adat Batuan' but shortens by the namesake village of Batuan. From the cruise port, your Bali shore excursions start with a 10km-drive to the south of Ubud, you will admire the traditional Balinese arts and paintings in this focal landmark. Inside Batuan Village is a sacred temple complex with many shrines landing on 0.65 Ha.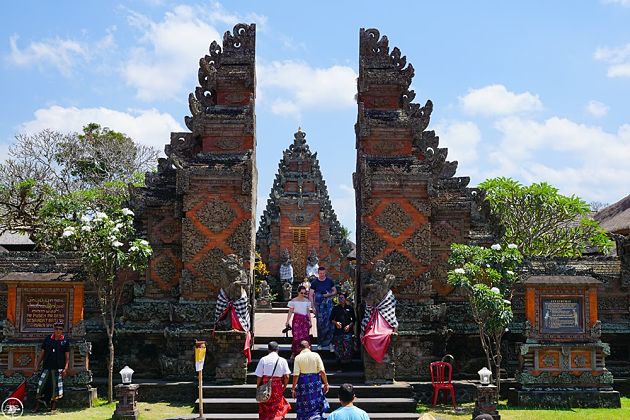 At the first sight of Bali day tours from cruise ship to Batuan Temple, you will witness the well-preserved sandstone bas motifs and the featured Balinese architecture which are created dated back to the 11th century. The main hall is the place for holding ceremonies. In the non-occupied day, the hall serves as a large exhibition displays local fruits and flowers decorated in tower-shaped or local products such as batiks, framed paintings, and statues made by villagers.
Entertained by Balinese Cultural Show in Kedewatan Village
Bali shore excursions have set a foot on the traveling market by its diversity and traditional culture. One of the most popular choice for visitors wanting to discover this unique culture enjoys the Balinese Cultural Show. The show is highlighted with Barong dance – the traditional dance of Indonesia. Get to know about this dance, let's find out who is Barong. Stepping from the Balinese mythology, Barong is the symbol of spirits and the goodness. He is also the archenemy of witch Rangda who stands for the evil spirit.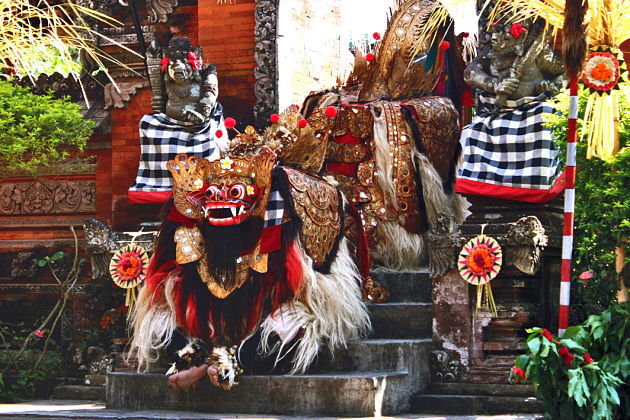 The Barong and Kris dance reveals the battle between goodness and evil. Barong has a plenty of appearance forms in the mythology. In Barong dance, he mostly appears in the form Barong Keket – his most sacred from – looked strangely but like a half shaggy dog and half lion. The character is performed by two professional circus clown-horse.