Venture into the Elephant Safari Park and Lodge for a whirlwind of activities awaiting ahead! Be amazed by the elephants' showcase of intelligence and get excited on an elephant ride. Visit an elephant museum before enjoying chances to bathe and feed friendly ones with the help of devoted caretakers. This incredible nature tour will delight every adventurous heart!
Meet your private driver and knowledgeable guide upon pickup from Bali port before departing for the Elephant Safari Park and Lodge, home to rescued Sumatran elephants whose lives were threatened by severe deforestation in 2000. Feel the close bond between these elephants and their mahouts, who have stayed with them for their lifetime! At the Park Arena, watch in awe the impressive elephant displays of skill and strength in a series of acts including hula hooping, ball kicking and painting.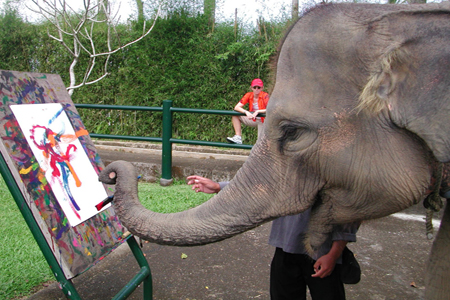 Then, hop on the back of an elephant for a thrilling 35-minute elephant safari ride through the spectacular tropical landscape. Once you're back on the ground, head to the elephant museum, which features more than 1,000 exhibits including prehistoric fossil artifacts such as bone carvings, elephant skulls, and tusks. Your day in the Elephant Safari Park would not be complete without some fun time in the park's lake. Get up close and personal with these big friends as you get to bathe, feed, or take memorable photos with them. End your day trip with return transport to the port.