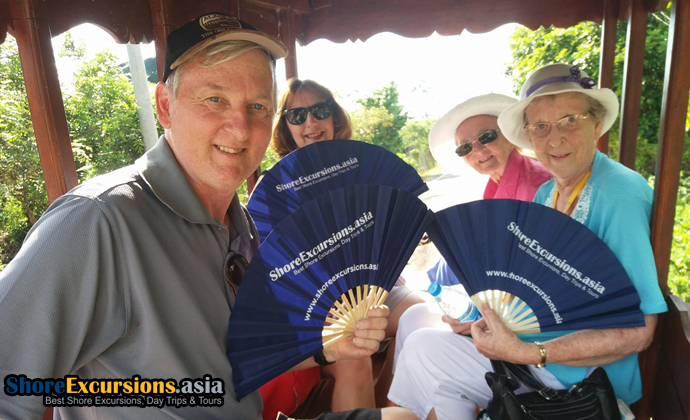 1. Deposit & Final payment
A deposit which is equal to 70% of the total excursion cost is required at the time of booking. The full or final payment is required when receiving the Service Confirmation Voucher (Confirmation of final service from our sale/s).
Receipt of your deposit or final payment will indicate that you and your travel agent (when applicable) have read these Terms and Conditions and that you (and your agent) have accepted them.
The Terms and Conditions below form the basis of the contractual relationship between Viet Vision Travel & Trading JSC., (Business Certificate Number: 0102129732) – under the Branding: Shore Excursions Asia – Tours & Day Trips for Cruise Passengers (www.ShoreExcursions.Asia) and its clients. It is extremely important that our clients understand and accept these Terms and Conditions as well as their quotations, itineraries, and other relevant communication from our travel advisors.
2. Methods of Payment
Full settlement should be received no later than 30 working days prior to passenger s' arrival (Not applied for last minute booking). We are now able to offer 3 methods of Payment:
a. Online Payment with OnePAY:
At this stage, we accept most of the major cards with the below service fee.
Visa, MasterCard, JCB Card are accepted with 3.85% service fee
AMEX is accepted with 4.5% service fee
We connect with OnePAY Payment Gateway to accept Online Card Payment (www.onepay.vn ). All of your card information is processed through SSL protocol with international card security standard. Your card information will not be stored in our system (Merchant).
After you have received Invoice Payment Link, please check the information on the Invoice. If all the information is correct, please check the Terms and Conditions and click, I agree to Terms and Conditions and click Submit or Book.
You will be redirected to OnePAY Payment Gateway to pay us online with Visa, MasterCard, American Express, and JCB Card with following steps:
Input Card information: The URL (Uniform Resource Locator) will begin with https://onepay.vn/… To make the payment, you will input the following card information:
Card Number
Expiration Date
CSC (Card Security Code – CVV, CVC)
Billing address (Card holder's address which has been registered with the Issuer Bank)
Click "PAY"
Online payment password (If you have enrolled 3D – Secure Program for your card with the Issuer Bank namely Verified by Visa for Visa card, MasterCard Secure Code for MasterCard, and J- Secure for JCB Card).
b. Made by telegraphic transfer, internet transfer to our following Shore Excursions Asia (owned by Viet Vision Travel & Trading JSC) account details:
Bank name: MILITARY COMMERCIAL JOINT STOCK BANK
Bank address:  No. 21 Cat Linh Street, Cat Linh Ward, Dong Da District, Hanoi, Vietnam
Account name:  Viet Vision Travel and Trading Joint Stock Company
Account number: 0408377142072
SWIFT Code:  MSCBVNVX
c. By Western Union (sending money online): www.westernunion.com
First name: THANH
Last name: LE THUY
Identity card: 024187008640
Sign up for a user with Western Union, send the deposit to us. Notify us that you have sent the money with the following information:
Sender's name:
Money Transfer Control Number (usually 10 numbers):
Sender's Address:
Note:
Sending money online is available only in some countries. If not available, please find an agent near to you to send money.
3. Cancellation & Refunds
Cancellation by passengers:
We would deeply regret your decision to cancel your shore excursions; however, we realize that there are many valid reasons that this can happen. In the event of cancellation, we will refund any payment made to Shore Excursions Asia (less any cancellation fee that is applicable) within 14 days of our receipt of your written cancellation request.
The cancellation fee will be calculated as follows:
More than 40 days prior to trip departure: 10% of the deposit paid is non-refundable. This will be saved for your next trip with us. The rest of the deposit paid will be refunded (bank fee levied by your end)
40 – 30 days prior to trip departure: 35% charged of the deposit paid
29 – 15 days: 50% charged of the deposit paid
14 – 10 day: 75% charged of the total booking value
Less than 10 days or No show: 100% charged of the total booking value
After the trip has commenced, we are unable to refund any amount for unused services due to your willingness, early departure, late arrival, or missed days on tours.
Cancellation by cruises (In case of the ship can't dock/tender due to Force Majeure reasons)
In case the ship is unable to dock at ports or tender can't discharge passengers, we will refund you Lunch and entrance fee (if any). As for the guide and vehicle expenses, we will try our best to negotiate with our service providers to minimize the cancellation charge since we have arranged/sent them to the port to welcome you. We will advise you on specific details if this is the case and get back to you with the refund amount at our soonest possible.