Halong Bay Shore Excursions, Trips, and Day Tours from Cruise Port
Halong Bay is the center of culture, commerce, politics for Quang Ninh province in the northern coastal region. The city lies along the bay for a length of 50 km, 165 km away from Hanoi in the northwest, 60 km from Haiphong in the west. Halong Bay – the natural wonder of the world is one of the most famous tourist destinations in Vietnam. This place is also well-known for Bai Tho Mountain and the immortal poem of King Le Thanh Tong carved into a cliff in 1468. There are many attractions in and around Halong Bay shore excursions:
Halong Bay spectacular scenery
Many amazing mysterious caves and islets with stalactites and limestone formations
Various fishing villages such as Vung Vieng and Van Chay
Sacred sites: Yen Tu Pagoda and Bai Tho Mountain
Local villages such as Yen Duc, Dong Trieu, and Quang Yen
Quang Ninh Museum
Asia Shore Excursions offers many great choices of Halong Bay day tours from cruise ship and shore excursions for cruise passengers docking at Halong port. If you do not find any suitable Halong Bay day trips from cruise port, please contact us to customize a tour to meet your needs.
Halong Bay Shore Excursions
Duration: 1 Day
Pick-up/Drop-off: Cai Lan Port
Highlights: Bach Dang Museum and Bach Dang Wooden Stakes yard - Temple of Vua Ba - Cua Dinh River - Tien Coc Temple
Tour Customizable: Absolutely! (Tell us your specific requirements in the inquiry form)
---
Things to Do & See in Halong Bay Shore Excursions
Halong Bay – one of the most popular attractions in Vietnam – is also one of seven natural wonders of the world. But more than these amazing caves and wonderful islets, Halong Bay Shore Excursions deliver visitors to visit plenty of must-see attractions such as fishing villages, Yen Tu pagoda, Bai Tho Mountain, Yen Duc Village, Dong Trieu Village, and so on. Asia Shore Excursions would like to recommend top things to do and see in Halong Bay tours from the cruise port.
Kayak along Halong Bay
Kayaking in Halong Bay shore excursions is the best to enjoy all the splendor beauty of this UNESCO Natural Heritage Site. Gently paddle through various islets, explore hidden caves, mysterious lagoons, and stunning beaches. Due to small size, the kayak can easily go through the caves that boats cannot get closer to limestone karst and enjoy the serene natural sight in a less visited corner of Bai Tu Long Bay will be one of the greatest experiences for life.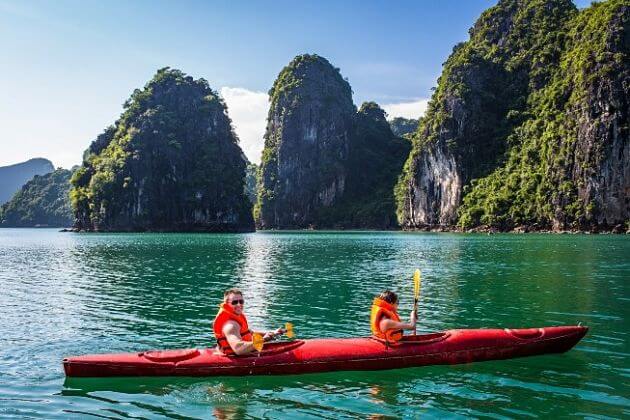 When kayaking, you have to follow the instruction of your guide that it is really dangerous to do by yourself. The guide will show you how to use the paddle and the way to the safe areas. The life jacket is a compulsory part preparing for this activity when kayaking along Halong Bay. Suitable clothes are recommended such as T-shirt and short, swimming suit in summer, warm clothes in the winter, wet shoes, hat, sunglasses, and so on. Available on the Halong Bay tours from cruise ship:
https://www.shoreexcursions.asia/halong-bay-cruise-1-day/
Explore Halong Bay islets and caves
A cruise around the bay to admire several grottoes and caves such as the Incense Burner Islet (Dinh Huong), Fighting Cock (Ga Choi), Rocky Dog (Cho Da), Heaven Cave (Thien Cung), Amazing Cave (Sung Sot), Luon Cave, and so on. Most of them are always available, but some can be swallowed by the tide.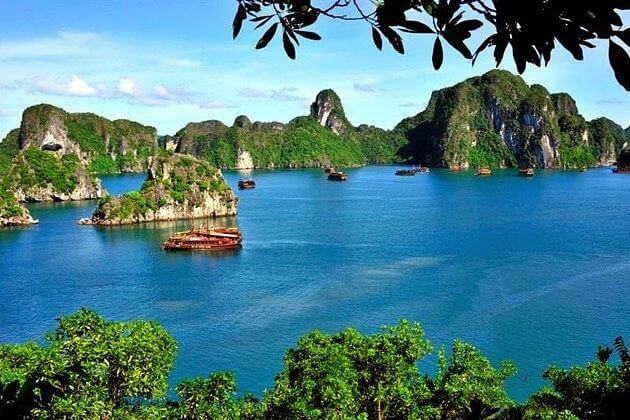 These caves are well-known for the fantastic limestone structure that was created by thousands of years due to calcification of water inside. On the cliff, you can find traces of fossils of fresh-water snails. Monkeys mischievously run in groups, fig trees cover all the landscape and many orchids hang their odorous flowers. Available on the Halong Bay shore excursion from cruise port:
https://www.shoreexcursions.asia/halong-bay-cruise-hanoi-capital-2-days/
Yen Duc Cultural Village
A drive through 60km to the west of Halong City, Yen Duc Cultural Village reveals the unique traditional culture of northern Vietnam. The village is serene, quiet with yellow rice paddy fields and lush green gardens as well as huge fish ponds. More than this, the village is home to several cultural monuments and historical sites such as Canh Huong Pagoda, Canh Mountain, 73 Cave, and so on.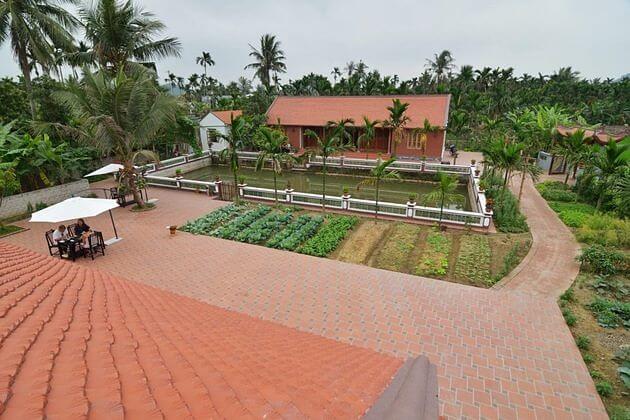 Enjoy a space imbued with regional cultural which is the feature of the countryside, meet and chat with the locals, then witness their peaceful daily life, culture, and tradition as well as get hands-on experience feeding animals in the gardens and fish in the ponds, seeding or collecting rice in the field depending on season. The trip will offer you a chance to enjoy the traditional Water Puppet Show and taste a savory meal with traditional Vietnamese cuisine. Available on the Halong Bay tour for cruise ship passengers:
https://www.shoreexcursions.asia/quang-ninh-museum-yen-duc-cultural-village-1-day/
Yen Tu Pagoda
Yen Tu Pagoda is a complex of pagodas associated with King Tran Nhan Tong that is about 60km from Halong City. In 1299, after a long time successfully building and handling the country, he decided to leave the throne and escape to Yen Tu Mountain and practice Buddhism.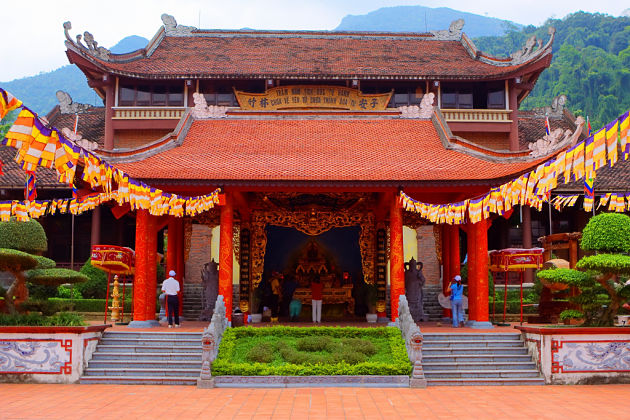 Then, Yen Tu Pagoda becomes one of the most sacred pagodas in not only Quang Ninh province but also northern Vietnam. Visiting the mountains, you will hike 1068 meters long steep stone steps to reach the top of the mountain. Yen Tu Pagoda is a great place to learn about Vietnam Buddhism and admire the Vietnamese ancient architecture. The pagoda can be accessed by taking 2-3 hours on the cable car but most of the locals choose to hike step by step to show their devotion to the Buddha. Available on the Halong Bay day tour & shore excursion:
https://www.shoreexcursions.asia/yen-tu-pagoda-yen-duc-cultural-village-1-day/
Quang Yen Village
Just 50km away from Halong City, Quang Yen is a beautiful natural village famous for its traditional cultural values. A visit to Quang Yen also includes several historical monuments, wonderful landscapes, and unique features. Moreover, this village still maintains the quiet and peaceful beauty of a farming village.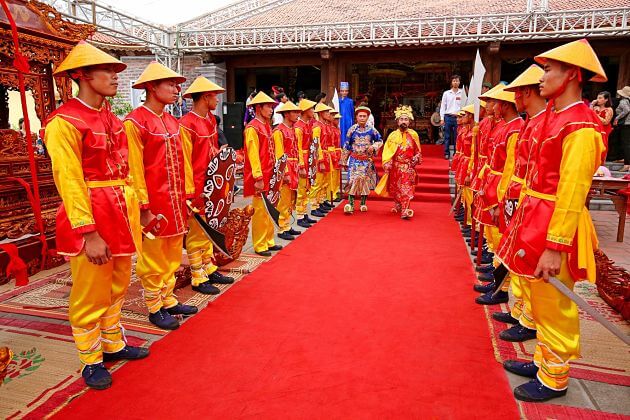 Villagers are proud of the highest concentrations of local monuments and historical sites in the whole country. Various traditional customs and activities still happen in the village. Many festivals are also held annually with three main ones are Bach Dang Festival, Tien Cong festival, Xuong Dong Festival. Moreover, traditional handicraft is an essential factor in creating the attract of this ancient village. Available on this Halong Bay tour from cruise ship:
https://www.shoreexcursions.asia/explore-countryside-quang-yen-village-1-day/
Quang Ninh Museum
Was designed by a Spanish architect, Quang Ninh Museum has a unique style, charming space, and several priceless artifacts. Inspired by the iconic coal - the typical mineral of Quang Ninh - the museum is a pearl on the most beautiful coastal road in the whole city. The building is covered with 14,000 square meters of glasses that follow the temperature changes.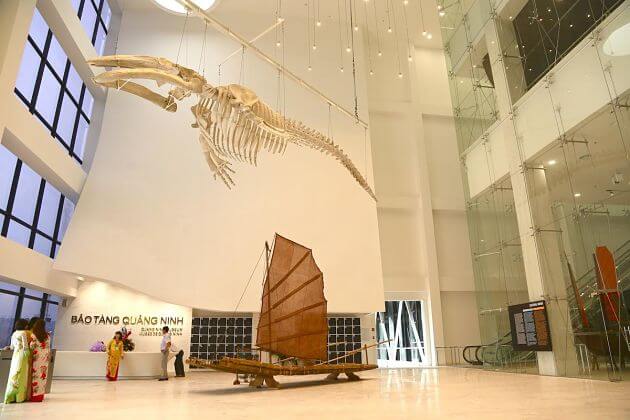 After step inside the museum, you will admire a whale skeleton and sailboat models. The first floor has several columns of the covering fabric with images of Ha Long Bay combined with light to make visitors feel like lost in a mini Ha Long. The second floor is designed with the shape of a boat that introduces the history and culture of Quang Ninh Province. In the third floor, you will visit the exhibition of economic achievements, characteristics of ethnic groups in this province and artifacts used in mining, especially coal industry. Available on Halong Bay shore excursion:
https://www.shoreexcursions.asia/quang-ninh-museum-yen-duc-cultural-village-1-day/
Best Time to Visit Halong Bay
The World Heritage seascape of Halong Bay, enchanted tourists with the towering limestone pillars and many islets topped by forest rise from the emerald waters of the Gulf of Tonkin. Unsurprisingly, stunning Halong Bay continuously dominate the itineraries of most tourists in Vietnam. Thus, there is a multitude of trips on offer, but Halong Bay day tours from cruise ship will deliver you a myriad unforgettable experience in this bay. Here we are going to mention visitors a little about weather in Halong Bay to support the epic Halong Bay shore excursions.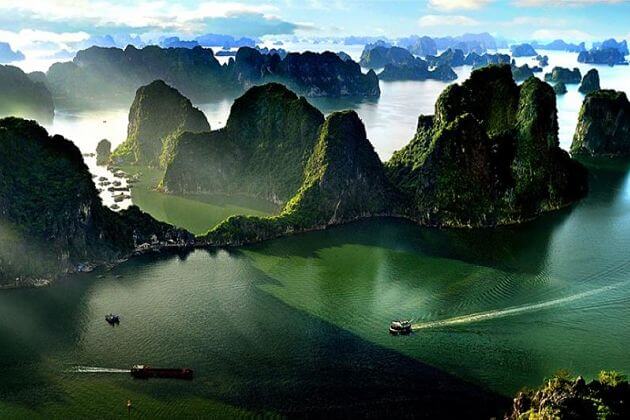 Weather is always the of-course major concern before any trips, and Halong Bay weather is not an exception. An answer to the myriad of questions related to the best time to visit Halong Bay is in Spring and Autumn, to be more details, in March, April, September, and October. In Spring and Autumn months, everything is great with the delightful weather, cozy temperature, and the brightening sky, which all allow the activity level rise higher and higher. If you are on a budget and want to get the best deal, the five-month period from May to September, considered as the low season of Halong Bay, can be the best occasion. In this seasons, the prices can be discounted 10-20% lower than that of the high season (from October to April). However, the risk of bad weather may rise in summer months due to frequent rainfall and some unpredictable typhoon. A smart traveler will look for the last-minute vacation deals when keeping an eye on the weather prediction at the same time.
Weather in Halong Bay by Months
Any month is also the best time for your Halong Bay shore excursions since each month or season has its own pros and cons. Here some useful guide to the Halong Bay weather of each month let read and decide on which itinerary is the best.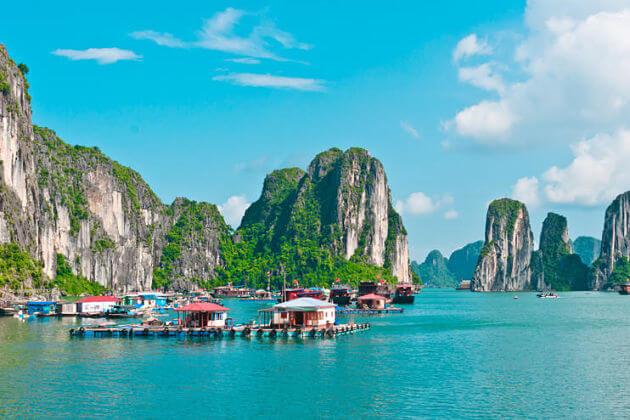 Halong Bay weather in January - February
In these months, Halong Bay is covered by a dim fog and the cold flow, which all lower your visibility. However, if your shore excursion is at this time, there is a wonderful chance for you to explore the most colorful festivals taking place in the North of Vietnam, and the traditional Tet festival is included.
Halong Bay weather in March – April
Weather in Halong Bay in two months is quite pleasant and light rain in several days. Moreover, the rate of domestic tourists is lower than that at another time. Nevertheless, if your concern is focusing on traditional events or festivals, this time may not suit you much. Overall, we personally recommend this time is the best time to visit Halong Bay.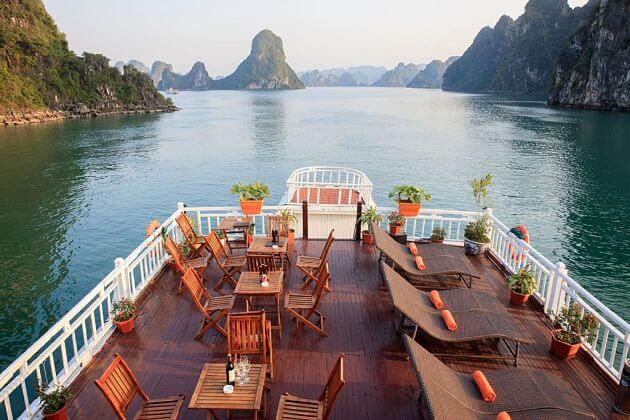 Halong Bay weather in May
In the tropical country like Vietnam, May is the beginner of the summer in the North and the temperature is up and sometimes it lightly rains. Halong Bay weather in May is pretty good, which means that you have many cruises to select. However, a small notice for visitors in Halong Bay day tours from cruise ship that they should change their itinerary if it is on April 30 (Liberation Day) and May 1 (Labour Day).
Halong Bay weather in June – August
Weather in Halong Bay can be sunny and clear, but extremely hot during this time. This time is when many showers and unpredictable typhoon visit Halong Bay, therefore it is so dangerous. Generally, August is the hottest and wettest time of the year. According to some truth-worthy reports, the period from June to the early September sees a high volume of domestic visitors because this time is on the summer vacation of Vietnam, thus, all the tourist destinations are full of people, especially beaches. There are some necessary tips for summer tourists of Halong Bay day tours from cruise ship. Don't forget to bring sunglasses, sun cream, insect repellent, at least a swimsuit and a light sweater. Ask the local guides for advice before going to swim due to this is the most active period of jellyfish.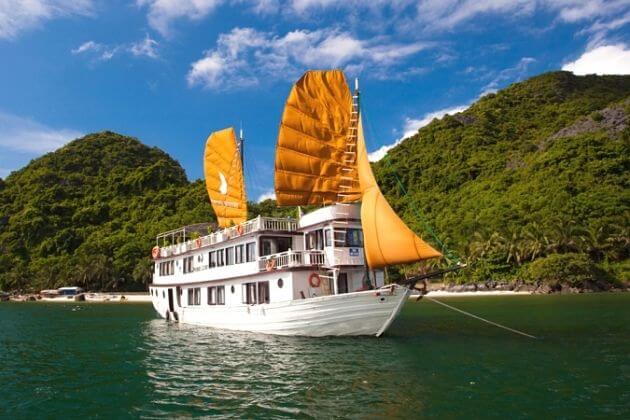 Halong Bay weather in September – October
In these two months, the weather in Halong Bay and any other factor are so beautiful and mild, especially temperature, thus visitors can avoid the notorious heat of summer. A romantic picture with the high blue sky and gentle wind, which creates myriad of poetry photos and films. And moreover, right in this time, the domestic tourist volume is over, the bay is less crowded than before.
Halong Bay weather in November – December
Although Halong Bay weather is so cold, dry and cloudy, visitors can still catch some lovely sunny or cloudless days. Because this period is in Winter, so you might not be swim, instead of that, it would be better to bring warm clothing and a waterproof jacket in case of rain. If your Halong Bay shore excursion is on this period, you can save a lot of money as a low purchase.