Top Thailand Shore Excursions, Day Trips & Tours from Cruise Ports
Sawasdee Krab!
Thailand locates in the heart of Southeast Asia, bordering Laos in the north and northwest, Cambodia in the southeast, the Gulf of Thailand in the south, and Myanmar in the northwest and the west. There are 76 provinces over the country further divided into districts, towns, and communes. Thailand shore excursions introduce a country with diverse natural terrain. Therefore, this country is divided into four specific areas: the northern mountains, lowland, and plains in the central area, northeastern plateaus with farmlands, and tropical islands lying along the coasts and peninsulas in the south.
Bangkok is the capital as well as the biggest city in Thailand. It is also the center of politics, commerce, industry, and culture. Bangkok is the most prosperous city in Southeast Asia enjoying rapid economic development. Thailand day tours including a visit to Bangkok attract many international cruise ship passengers for services and affordable goods.
Asia Shore Excursions offers a wide range of Thailand shore excursions for cruise ship passengers at any ports in Thailand. Check out our recommended Thailand shore excursions below. In case you do not find any Thailand day tours and trips that fit your needs, please contact us and our Thailand day tours experts will help you tailor-make a unique trip that exclusively for you.
---
Things to Do & See for Thailand Shore Excursions
Thailand becomes one of the most popular destinations for anyone who love traveling or just need a vacation hiding away from the precious hard-working time. From the golden capital Bangkok to the lush green Krabi, in Thailand shore excursions, you will move from this surprise to that amazing feeling with various gilded sacred Buddhism temples hiding priceless artifacts and items, stunning white-sand beach lazily rounding by fresh clean sea, and heaven of tropical fruits and colorful flowers.
Explore Ayutthaya Temples after a river cruise | Bangkok shore excursions
Being the land of temples and pagodas, a Thailand day tour cannot miss a visit to Ayutthaya Temples after spending a free time relaxing on the cruise along the Chao Phraya River and enjoying the fantastic sight of famous temples on the bank. Was formerly the capital of Siam, Ayutthaya reveals the incredibly rich culture of the old Thailand. Walk through ancient ruins including Wat Phra Si Sanphet and Wat Phanan Choeng. The Wat Phra Si Sanphet is the largest one in the complex with rows of chedis and stupas while Wat Phanan Choeng is famous for the Buddha statue and the view to the summer palace of King Rama IV.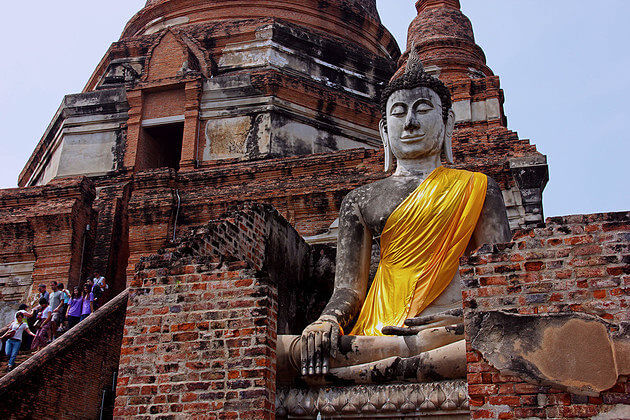 This pearl of Thailand is worth a visit when hopping on Phuket shore excursions. Your Thailand day tour starts by kayaking or taking a canoe paddling through the water of Phang Nga Bay while admiring tranquil lagoons and scattered sea caves. Appeared in various books, TV shows, and films, especially in scenes of James Bond series, the bay will catch your love at the first sight with its epic landscape and stunning scenery being the combination of clear blue sky, turquoise water, and perfect white clouds. Lazily laying on sparkling white-sand beaches under the peaceful shadow of lines after lines coconut trees, or reward yourself by taking a deep swimming in the fresh clean water.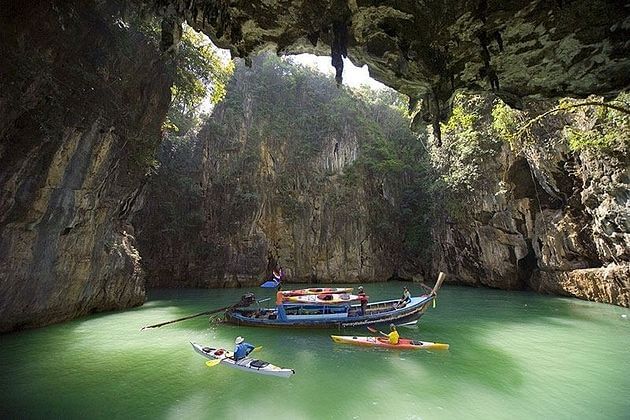 Floating Markets | Bangkok shore excursions
Any Bangkok shore excursion can miss the chance of visiting the wonderful floating market existed from the 19th century. The market is a showcase of numerous vendors selling different tropical fruits and colorful flowers on small boats. Admire the quaint stilt house stand on the edge of the water that you will wonder why they can live in these uncertain houses. Sample some fresh fruits featured in Asia such as watermelon, orange, pineapple, coconut, grapefruit, banana, lychee, rambutan, mango, jackfruit, durian and more. Taste Thailand cuisine with savory vendor food included grilled shrimps and squids, mini pancakes, Thai omelet, chicken skewers, smoked sausage, and meat noodles. Moreover, the market is also the place where you can buy special handicrafts and souvenirs to remind about your wonderful Thailand vacation.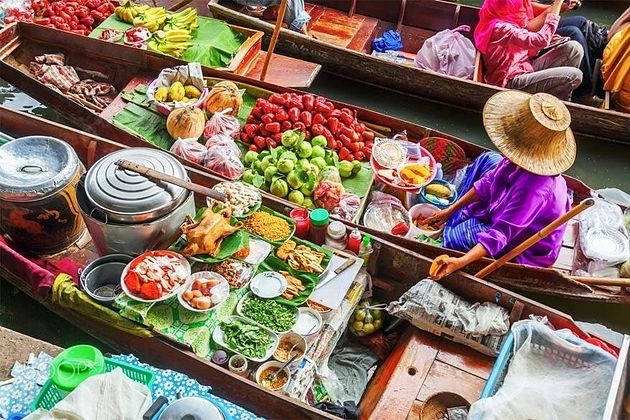 Driving Speedboat in Phi Phi Islands | Phuket shore excursions
Another attractive spot in the paradise Phuket, Phi Phi Islands is a stunning and spectacular place with fantastic scenery blessed by the Mother of Nature. A Phi Phi Island day tour will be a day of tasting the beauty, having a funny time, and exploring the pure nature. In the main pier, hop on a speedboat as a challenge your brave before dipping into the beauty of Phi Phi. In your eyes now is a scene put into reality from the film "The Beach" starring Leonardo di Caprio. Admire the cliffs that like the guardians protecting the bay from the other part of the world. Spend relaxing time freely floating your body in the fresh cool water, try a new experience snorkeling in the warm shallow. Then fill your stomach with the local delicious beachfront meal with freshly-caught seafood which is cooked by a local chef with Thai cuisine.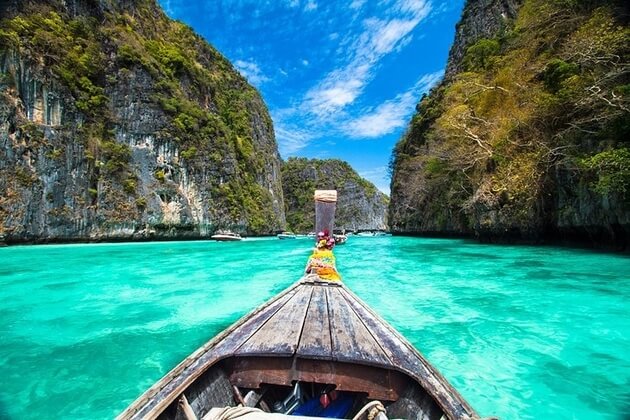 Visit several religious sites | Bangkok shore excursions
They said that come to Bangkok day tour, have to visit the Grand Palace. Used to be the home of Royal family, the Supreme court, and the administration of Government, nowadays the Grand Palace is considered as the spiritual heart of Thai Kingdom. The Palace complex is famous for its sparkling gilded tiled roofs and the featured architecture of traditional Thai design, and the impressive Temple of Emerald Buddha included the greatly revered Buddha dating back to the 14th century. Another must-seeing place in Bangkok is the Temple of Dawn or Wat Arun in Thailand. Famous for its highest massive prang in this country, Wat Arun is one of the most spectacular sights on the river where you can admire the skyline of beautiful Chao Phraya river. You will be mesmerizing by the towel designed following the Khmer style with millions of small pieces of colorful Chinese porcelain.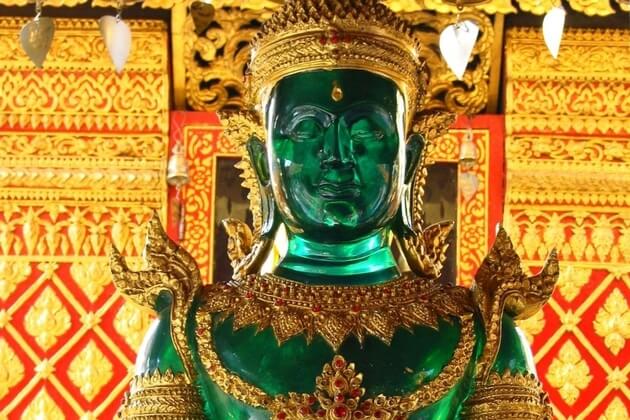 Explore the Khao Yai National Park | Bangkok shore excursions
Be blessed with the mountainous landscape, lush green grassland, fertile valleys, pounding waterfalls, and rich biodiversity, Khao Yai National Park is worth a 3-hours-drive from Bangkok. This UNESCO Heritage Site is exactly a paradise for those who love nature and adventure. From relaxing activities like playing golf, farming, and scenic mountain biking to the more thrilling games such as waterfall hiking, horseback riding, ATV adventures, and combat games, the park will undoubtedly bring the most unforgettable memories in any Thailand shore excursion. The park has plenty of endangered species of animals and faunas. Don't surprise when several strange animals, sometimes an elephant, appearing right on your way.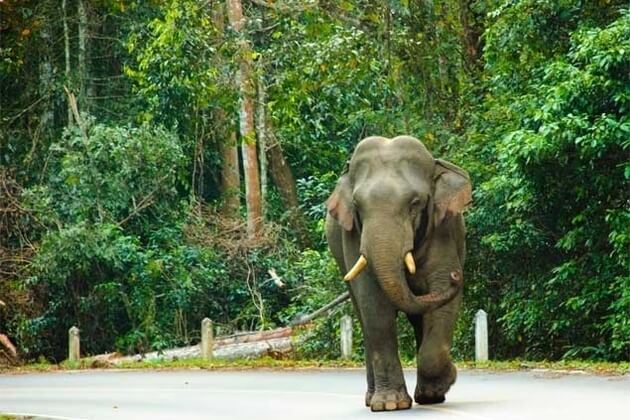 Koh Samui shore excursions are more amazing with an adventure walking on the bottom of the sea. With protective gears and clothes, you will be submerged in the marine world through the reefs along with free time swimming and snorkeling in the fresh clean water of Koh Samui. Just normally breath and walk, you can feel like walking in the other world beneath the waves with plenty of different fish species around. Without any dramatical effect, this face-to-face experience is one of the most wonderful underwater sports you have ever tasted.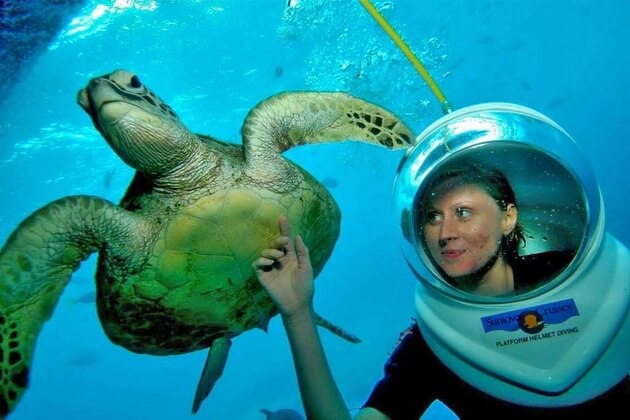 Weather in Thailand
Located in the Indochina Peninsula, Thailand has the typical tropical climate with a high rate of humidity covering nearly the entire country. The weather depends on regions and seasons. While northern Thailand divides into three seasons, the southern area of this country has only two seasons. For overall, the best time to enjoy Thailand shore excursions, especially take a shore excursion is during the era of late November to the end of April. Besides, you should avoid the rainy season which runs from July to October with some storms can visit.
Thailand weather by region
Northern Thailand weather for shore excursions
As we said above, in Northern Thailand, there are three distinct seasons. The dry season lasts from November to May but also separates to two smaller ones. During November to February, the temperature is low, pleasant, and the cool breeze for traveling caused by the northeast monsoon blowing, while two months later, the heat becomes high as a sign of summer coming. In this period, rain rarely drops and no storm visit the region. The rainy season starts from May to November with heavy rainfall nearly all day led by the domination of southeast monsoon. Slippery and dirt roads can influence your Northern Thailand day tours.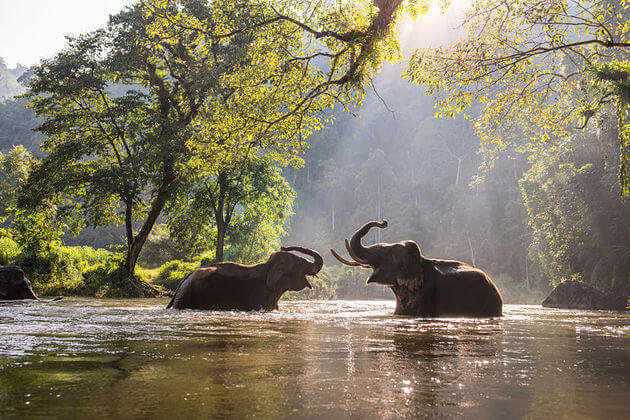 Southern Thailand 
weather for shore excursions
Not complicate as the northern, Southern Thailand only has two seasons: wet and dry. However, these seasons happen at a different time on the west and east side of the region. The west area is dominated by rain and storms from April to October, while during the time of September to December is the peak time of rainfalls. However, both the region of southern Thailand has a large amount of rainfall with around 2,400 millimeters per year.
Best time to visit Thailand Tours
For short, the best time to visit Thailand shore excursions and tours is during November to February when the temperature is not too hot and comfortable caused by the monsoon blowing cool and dry air from the northeast areas into the entire land of the country. The heat is rarely high with the average temperature is from 18 - 32°C in Bangkok, while it is much cooler in northern Thailand with temperature is around 8 - 12°C in the morning and 20°C during daytime. At night, the weather drops extremely, sometimes freeze level can happen at the peak of winter.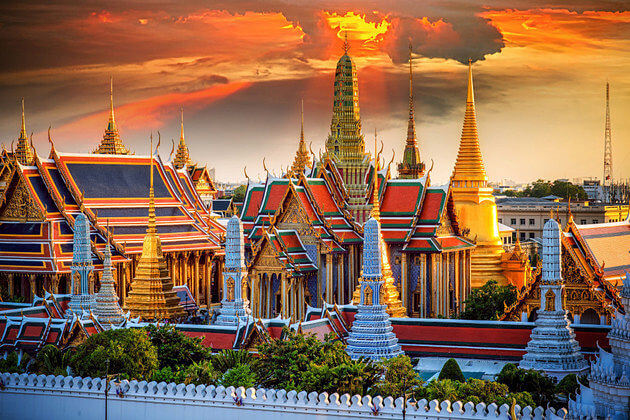 Summer runs from March to June with heat and heavy rain covering the country. The average temperature is around 34°C, and the humidity is 75%. You should avoid April when the heat reaches its peak all around the country. Monsoon starts from July to October which annually brings heavy rainfall in the country, sometimes can cause flooding and soil erosion. The temperature jumps around 29°C coming with a high level of humidity around 90% which make the capital of Thailand be wet and dirty.
General Information for Thailand
Population
: 67.2 Million
Capital City
: Bangkok
People
: Thai, Thai-Chinese and ethnic Chinese, Karen and Hmong tribes
Language
: Thai, minority languages
Currency
: Thai Baht (THB)
Time Zone
: GMT +7 Hours
International Dialing Code
: +66
Religions
: Buddhism, Islam, Christianity, Hinduism, others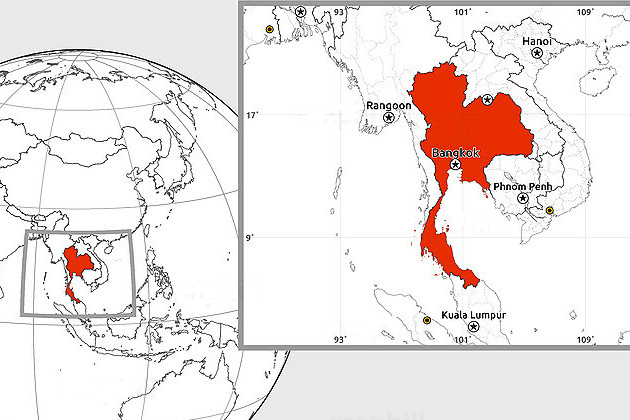 Passport and Visa for Thailand tours
Same as many other countries, to hopping on Thailand shore excursions, a passport valid for more than 6 months from the entry date is needed. Besides, in order to develop the tourism field, the visa policy of Thailand is opened to many countries in the world. There are totally 57 countries can have Visa exemption to visit Thailand tours with different limits on day staying. The others have to hold visa on arrival to stay for 15 days or have visa required in Advance.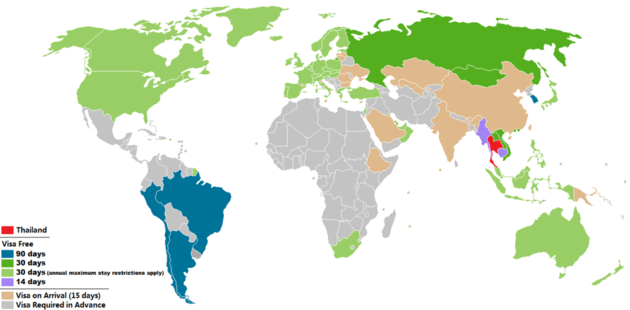 Citizens from 5 countries including Argentina, South Korea, Brazil, Peru, and Chile only need normal passports coming by anyway to stay for 90 days. While the number of days for Hong Kong, Mongolia, Laos, Russia, Macao, and Vietnam citizens is 30, also entering by both ways. 14 days is the time that citizens from Cambodia and Myanmar can stay in Thailand. Other 44 countries have visa exemption for 30 days only twice per year when coming overland or by waterway. There is no limitation if they come by airway.
Phones and Internet Service in Thailand Shore Excursions
Thailand is a developing country that provides modern services in many big cities, especially where tourism expanding. The postal service in Thailand shore excursions is very reliable and can easily approach. Mobile service is also widely attributed with 3G SIM offering the chance to access the internet everywhere. The price for that SIM is reasonable but calling abroad is expensive. The other ways to access the Internet in Thailand shore excursions is finding Wi-Fi in hotels, mid to high-class restaurants, shopping malls, and cafes.
Transportation in Thailand Tours
Along with the bustle and hustle atmosphere of Thailand, transportation when you enjoy Thailand day trips is also chaotic and exciting. Buzzing through quaint streets on a tuk-tuk with an ocean of vehicles going back and forth, you can feel the vibrant beat while admiring the busy daily life of Thai people. Scramble with other people to gain a place on the transit bus decorated garishly with its own sound system. Cruising through shallow tropical seawater on a long-tail boat on the way leading to palm-fringed islands. Although most cities in Thailand have train and bus terminals for travelers at a reasonable price, sometimes, taking domestic flights are much cheaper, safer, and more convenient. Many cities in this country have airports with modern facilities and good services, especially Bangkok, Phuket, and Koh Samui.
Thailand Travel Guide
Thailand is an attractive destination that tourists do not want to miss when they come to Asia. Relax in many beautiful beaches where you can enjoy a dive and walk along sandy beaches as well as exploring hundreds of tropical islands. Archaeological sites, museums, hill tribes, palaces, Buddhist temples, and several World Heritage sites are significant sights that make Thailand be different from other countries. There are many more interesting things that won't let you down when coming to this religious country. However, at first, the Asian Shore Excursions will help you to explore the Thailand Shore Excursions with some of the most important information about this country. Therefore, you will have better preparation when coming here during your Thailand tours.
Thailand People
Being a 21st-most-populous country, Thailand has a variety of ethnic groups. 62 ethnic communities are officially recognized in Thailand with 62 languages were found by the Royal Thai Government in 2011. The majority group is the Thai which accounts for 91.5% of the population of Thailand. This group speaks the country's official language, Thai. The other minorities such as Khmer, Malay and Bamar live in different areas with different languages as well as different beliefs, which make Thailand culture diversify.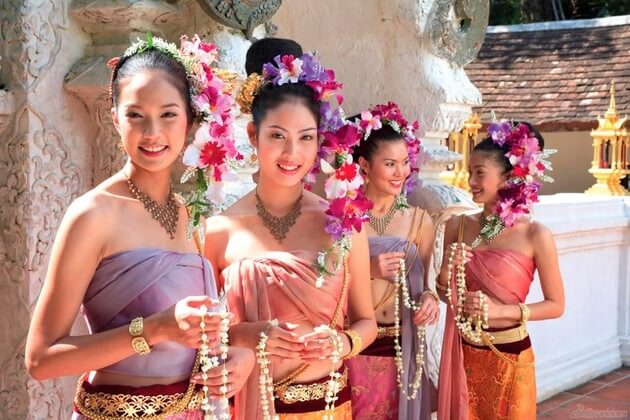 Religion in Thailand
These different beliefs in different ethnic groups create various religions. In 2016, nearly 64 million citizens which represent 94.5% of the population follow the primary religion, Theravada Buddhism. Islam (4.29%) is the second largest religious group in Thailand. Only 0.005% of the population is non-religious citizens.
Safety in Thailand Shore Excursions
Being the 91st safest country in the world based on the safest and most dangerous countries ranking, Thailand, especially in the South and near the border with Malaysia and urban areas like Bangkok and Pattaya has a quite high crime rate. However, violent crimes against tourists are rare.
Typical Costs When on Thailand Tours
Accommodation in Thailand Tours
Thailand is a country where you can stay in $3 USD rooms or $1,000 USD resorts. Different prices, of course, will give you different services. Besides, the price also depends on that place is a big city or not and everything is definitely more expensive in the islands. However, in general, Thailand is a low-cost country to live in. For example, with about $27 USD per night for two people, tourists can live in a lovely resort and spa in Huahin – a small city in Thailand. The price of backpacker guesthouses in Thailand is the cheapest accommodation where takes about $10 a night and less. Moreover, there are many luxury resorts as well as 5 stars hotels for you to choose from. During the slow season, you can get a better deal.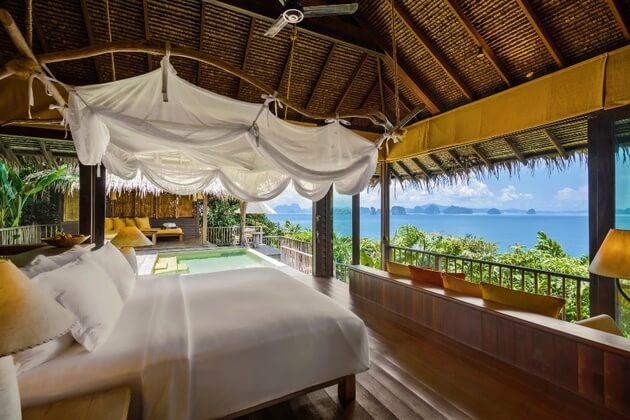 Food for 
Thailand shore excursions
Thai cuisine has become famous worldwide with its enthusiastic use of fresh herbs and spices. Moreover, it does not cost too much for you to enjoy the food here. The average cost of a basic Thai meal in a restaurant is 90- 150 baht ($1 USD = 30 baht). Even the most popular cuisine in Thailand – pad Thai is around 50 baht per plate on average. Western food nearly always costs more than Thai food in restaurants. Seafood invariably costs more.
Transportation in 
Thailand Day Trips
Traveling along the street by taxi is the best way for you. But you should always make the driver use the meter. If they refuse to do so, you should simply change the drivers. As traditional transportation in Thailand, tuk-tuk is a brand new experience for you to travel. However, you must first negotiate a price before getting inside. Remember to haggle with them!
Saving Tips for Thailand Shore Excursions
Street Food & Water in Thailand Shore Excursions
It will be an interesting experience for tourists to enjoy the food on various colorful street carts, especially in Bangkok, or open-air restaurants. You can find any Thais food when wandering along the streets at a cheaper price than in any other air-conditioned restaurants.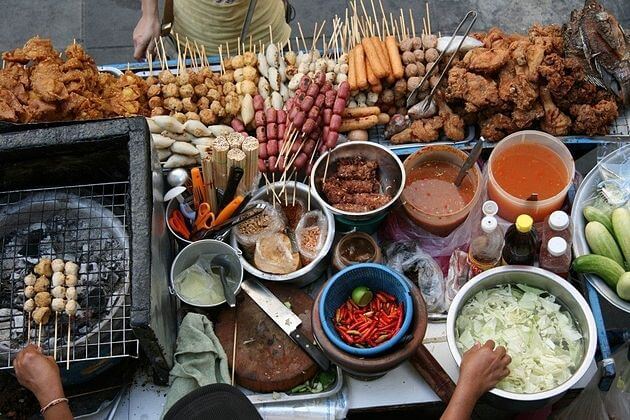 It is unsafe to drink tap water in Thailand. The hot temperatures here will make you drink more. Therefore, you should always bring a bottle when going outside. In some hotels, you will have free water refills or you can look for the machines on the street that cost only a few baht per liter.
When moving around Bangkok and Thailand
In Bangkok, you can travel around the city by ferries which run the Chao Praya River or BTS Skytrain and MRT subway. The ferries cost cheaper than a taxi with a single ride averages 30 baht. Costing rarely exceeds 30 baht, it can save your wallet when you go by BTS Skytrain and MRT subway in this capital city. Otherwise, you can buy an all-day ticket which can be purchased for 150 baht to save time. To save a day on your itinerary and double as accommodation for the night, you should choose night buses and trains to move across Thailand. With higher prices when traveling by train, you will have a more comfortable experience. Moreover, local low-cost carries such as Nok Air can be very cheap to fly domestically in Thailand if you don't have baggage to check.
Whom to Ask in Thailand Tours
As a country that focuses on tourism, Thailand's government try to do the best for their foreign visitors with the establishment of many tourism police offices in the major tourist areas with different emergency telephone numbers. For example, if you have a plan to go to Sathorn-Silom or central Sukhumvit areas, you should know that 1155 (free call from any phone) or 678-6800 is their phone number. Remember to note down the information of the tourism police in the destination you are going to visit! Otherwise, you can ask any local people who are famous for their hospitality with outsiders. They are friendly and willing to answer everything you want to know.