Start your day of adventure by picked up by local guide and driver who are your Koh Samui trip's friendly partners. Now begin the adventure of the lifetime.
Riding in the open-top Jeep, and feeling one with nature. Listen to the wind whistling in your ears, watch the virescent view outside created by several kinds of plants, and the rocks on the sideway is jumping wildly when you pass through.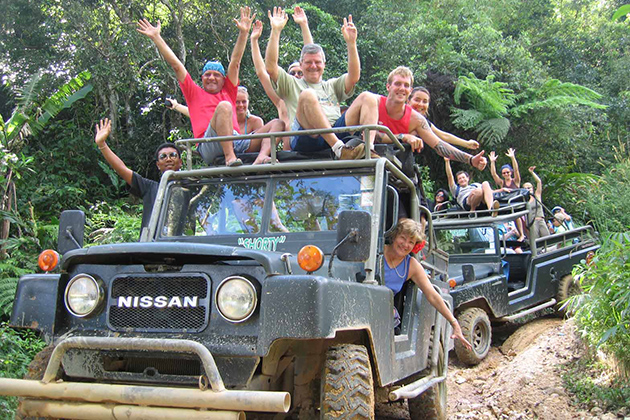 Then, arrive at a course that will allow you to ride ATV for a thrilling and heart-racing experience. Koh Samui offers the most idyllic terrain and of course, perfect weather. Feel the cool breeze in your hair as you speed along the flat sands of the white beaches and tackle the invigorating hilly terrain of the foliage-filled jungles. Discover alongside rice paddies and trailing through coconut palms.
If you concerned about safety then ATVs are probably one of the safest vehicles to ride on family holiday. Their wide wheelbase makes them extremely sturdy, even on tight bends, so you really don't have to worry about a thing.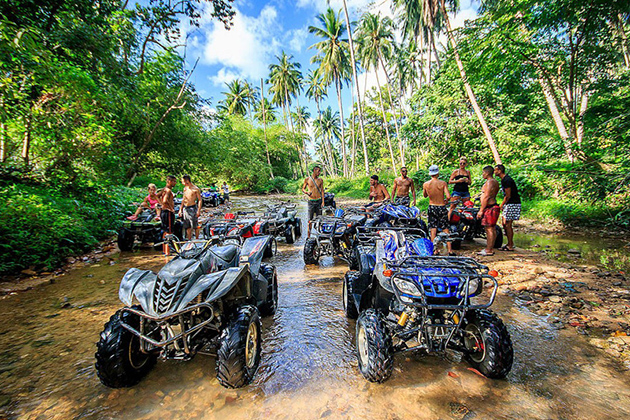 Continue your adventure with riding zip lines to have a chance to experience a bird's eye view of the island. The adrenaline rush when you reach thrilling heights through Koh Samui's hidden interior, travel to a lush tropical location where dense green jungle and a remote waterfall await, feel the sun on your face and the breeze in your hair as you see this enchanting island the way of the birds from paradise do – from above.
Finally, it will be time to relax when you next make your way to the Namuang Falls which show that the island's beauty is not limited to its beaches. You can jump off rocks and take a dip into the cool fresh water.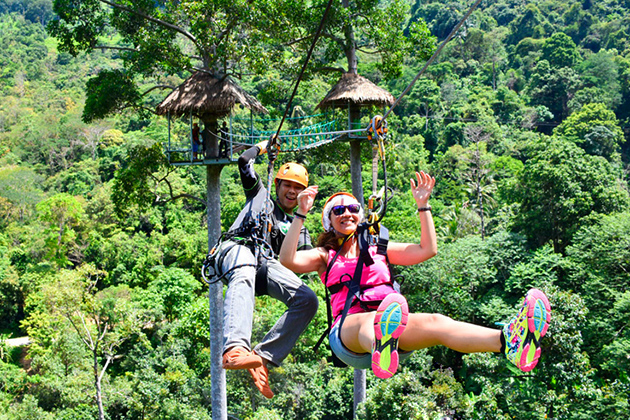 Namuang Waterfall 1 is a beautiful 18m high waterfall and easily accessible, making it a great place to stop off for a quick photo. In the delectable pool beneath the waterfall, you can jump out of the giant rocks and dip into the fresh water. Namuang Waterfall 2 is much more attractive with the height of 80m. What makes the two waterfalls stunning and picturesque is the tropical jungle around and the sunlight crashing through the leafy trees.
On the drive back to the port your driver will stop at local fresh fruit stands and you can purchase some of the best in-season fruits preparing for your next shore trips.