Kitakyushu Shore Excursions, Day Tours & Trips for Cruise Passengers
Kitakyushu is not only an important hub for both land and marine traffic but also an unreplaceable port for international trade. Beyond the commercial and economic side, this northernmost city is a well-known attraction. Kitakyushu shore excursions draw many tourist's attention from every corner of the world with much diversity and beautiful nature as well as its major highlights such as Akiyoshidai, Koruka Castle, Karoto Market…
Asia  Shore Excursions offers a wide range of choices for Kitakyushu shore excursions for your reference. If you do not find any suitable Kitakyushu shore excursion, please tell us you cruise schedule, group size, travel time… And we will help you tailor-made your own Kitakyushu day tours from cruise port.
Kitakyushu Shore Excursions
Duration: 5 hours
Pick-up/Drop-off: From the Port
Highlights:  Kokura Castle - Karato Market
Tour Customizable: Absolutely! (Tell us your specific requirements in the inquiry form)
Kitakyushu Shore Excursions
Duration: 6.5 hours
Pick-up/Drop-off: From the Port
Highlights: Akiyoshidai Observatory - Akiyoshido Cave - Mojiko Retro
Tour Customizable: Absolutely! (Tell us your specific requirements in the inquiry form)
---
Things to do and see in Kitakyushu shore excursions
Being famous for an important port for international trade, Kitakyushu, the northernmost city of Kyushu is a remarkable destination you need to come with Japan shore excursions. Besides modern industrial factory and infrastructure, Kitakyushu attracts tourists with many picturesque natural landscapes.
Kokura Castle
One of the most well-known place in Kitakyushu shore excursions is Kokura Castle built in 1602. Kokura Castle was destroyed by fire in 1866 and reconstructed from 1959. Although the architecture may change various times, it also keeps traditional features between modernity. Besides impressive architecture characteristics, the castle is popular for Katsuyama Park, an ideal cherry blossom spot for visitors or cruise passengers around early April. You can explore the local history and the past castle life inside the castle or admire beautiful panoramic views over the city from the top floor.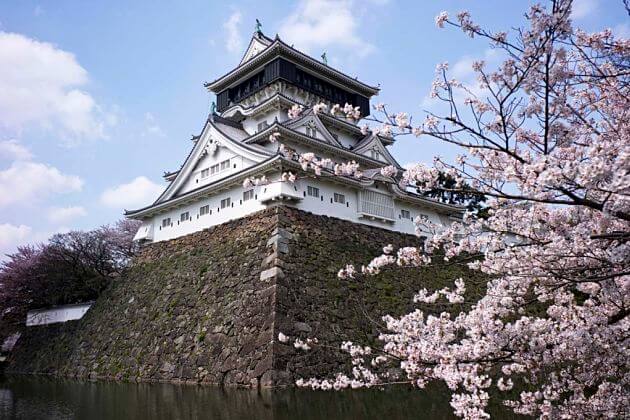 Karato Market
Once experiencing Kitakyushu shore excursions, you'll have a chance to discover a lively seafood market like Karato Market. You not only can explore many types of seafood and buy them at very reasonable prices, but also can try and taste freshest and delicious seafood and local food. You can see eye-to-eye to famous fresh high-quality puffer fish sold and enjoy the unique sound from energetic salespeople's voices of this market.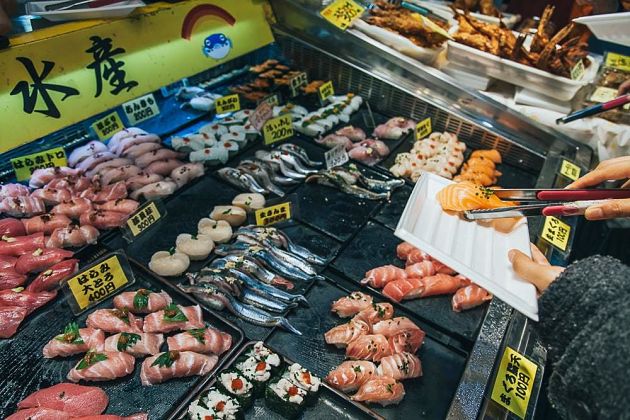 Akiyoshidai Cave
If you take Kitakyushu shore excursions, you shouldn't miss Akiyoshidai. You are overwhelmed not only the beauty of Akiyoshidai plateau but Akiyoshi-do limestone cave as well. The Akiyoshidai Plateau presents a landscape rarely seen in Japan and also in the world with dotted limestone pinnacles on the vast of the lands. Moreover, Akiyoshidai draws tourists with its changeable appearances following seasons such as fresh green in spring and summer, in autumn with reddish yellow and white in winter. This is a true spot for taking photos and keeping memories. After witnessing the charm of Akiyoshidai Plateau, you'll set your feet on Japan's largest and longest limestone cave. Massive limestone Akiyoshido Cave has a total length of about nine kilometers (but only one kilometer is open to the public). Various natural formations with stunning terraces of limestone pools filled with water, a lovely stream of cobalt blue water and underground waterfalls are the reason why many visitors curious about it and are mesmerized every year.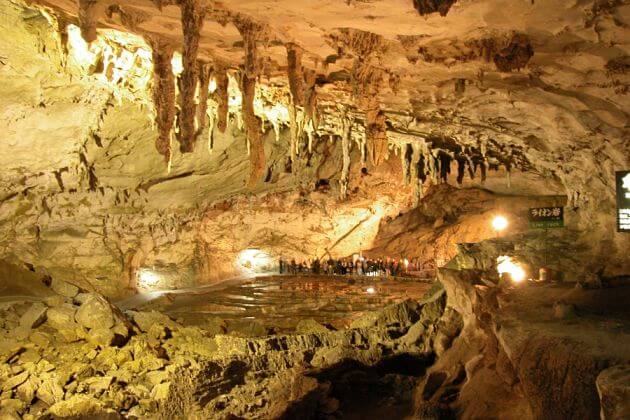 Kawachi Wisteria Garden
Located in the wooded hills south of central Kitakyushu shore excursions, Kawachi Wisteria Garden has appealed many tourists recent years. Since the garden has a large number of wisteria flowers, viewing at the top of the hill the garden looks like the sea of wisteria flowers. Kawachi Wisteria Garden becomes an ideal destination because of 100-meter long tunnels made of wisteria trees. You'll be excited about the different varieties and colors of wisteria flowers from white to dark purple.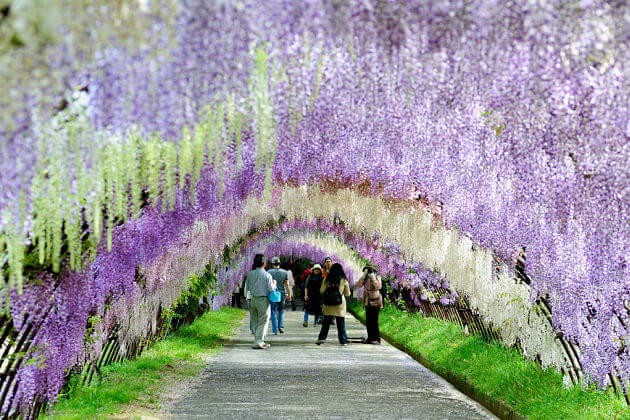 Kitakyushu Manga Museum
Japan is very famous for cherry blossom, but the manga is well-known, too. Kitakyushu Manga Museum is a wonderful place for fans of Japanese comics. Certainly, you'll be lost in manga world by permanent exhibitions in the museum. You can read numerous books or explore the history of Japanese comics, which you just get through Kitakyushu day tours.