Emerged at the heart of Ho Chi Minh City, Saigon Notre Dame Cathedral, built between 1863 and 1880 by French colonists, is one of the architectural landmarks and cannot be absent in any must-see list in shore excursions from Phu My port to Ho Chi Minh City.
For centuries, Saigon Notre Dame Cathedral boasts a splendid beauty which is considered a masterpiece of Saigon's architecture. It has been a gorgeous Catholic church work in particular and religion in general, with the largest scale in Vietnam. Along with a number of neighboring works in District 1 as the Central Post Office, Ho Chi Minh Opera House, Saigon Notre Dame Cathedral attracts both Catholics and most tourists for its style architecture and a sacred atmosphere.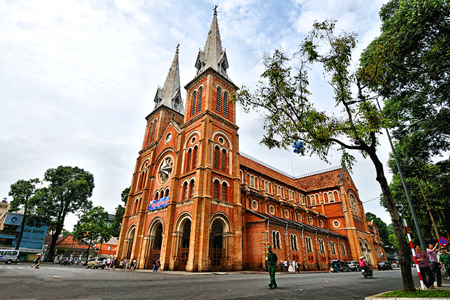 Unlike other buildings destroyed by war, the splendor of the architecture hasn't been faded away for years. Being a special project, located in the heart of the city, no fence, and adjacent park; the church is a landmark in the urban, with beautiful views from all sides. Materials as bricks, tiles, steel, cement, and metal accessories were transferred from France for its construction. Notre-Dame Cathedral always proud of its special neo-Romanesque style of architecture. Standing 57.6 meters tall the two bell towers hold six bronze bells weighing a total of 28.85 metric tons, the Cathedral took three years to complete.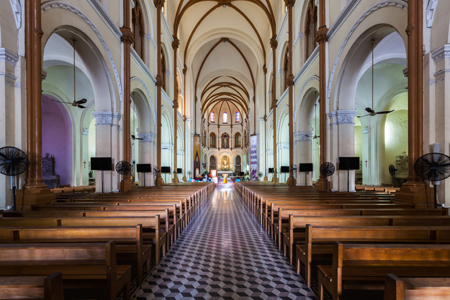 Inside, it is quite large to accommodate 1,200 people, with two main rows of rectangular pillars, each side with 6 pillars, and displays a sculpture of the Virgin Mary. Gather around Sai Gon Notre-Dame Cathedral to take stunning photos or take a seat in a park near the cathedral, have a drink and full view to the splendid beauty of Ho Chi Minh City through shore excursions.