Knowing about the currency of the nation you are going to visit is one of the most important things. So before joining a Thailand shore excursion, you should get some information about Thailand currency first to value your money.
Baht whose value is shown as that of gold or silver of equivalent mass has become Thailand's currency since the early 19th century. It was used in the form of bullet coin from the Sukhothai period. Until 2008, the Ministry of Finance and the Royal Thai Mint issued the coin series in which both materials and appearance were changed. Besides, the government issued notes in 1851 and the most recent series of banknotes is the 16th one which was introduced by the Bank of Thailand in 2010.
Thai coins include six denominations: 10 Baht, 5 Baht, 2 Baht, 1 Baht, 25 Satang and 50 Satang; one Baht can be divided into 100 Satang. The front side of the coins has the image of His Majesty King Bhumibol Adulyadej and the back side consists of well-known places in Thailand such as the Marble Temple (5 Baht) and Wat Arun (10 Baht). Thai banknotes contain six denominations as well: 1000 Baht, 500 Baht, 100 Baht, 50 Baht, 20 Baht and 10 Baht. Likewise, a picture of His Majesty the King (King Rama IX) is printed on the front of the banknotes, but the back includes the image of former kings like King Bhumipol (1000 Baht), King Nangklao (500 Baht), etc.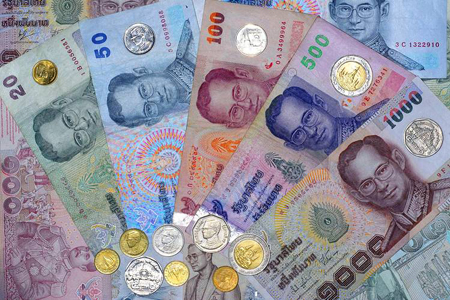 As regards Thai Baht currency exchange rate, 1 Baht has equaled to 0.028753 U.S. dollars (September 2nd, 2016). As coins are easy to get lost, be careful if you hold plenty of coins. If you are keen on shopping, Thailand is the optimal choice for sure with fascinating shopping centers and markets such as Central Chidlom, Central World, Plaza Siam Paragon, Maboonklong MBK and Pratuman market. Even cruise ship passengers can also go shopping when making a shore excursion to Patong Beach, Phuket to find all kinds of handicrafts and souvenirs. Moreover, if you spend over 3,000 Baht shopping in a store, you will be offered a VIP card which is equivalent to a 5% discount on every invoice for 2 years. When leaving Thailand, note that tourists are not allowed to bring more than 50,000 Thai Baht.