Things to Buy in Hanoi
Lotus Tea
Lotus is considered as Vietnamese national flower that there is numerous lotus pond across the country. However, the most beautiful and spectacular one is West Lake in Hanoi. Year by year, tea makers have improved their skills on making the art of flavoring green tea with lotus stamen fragrance. Can you believe that to make 1kg of lotus tea, they have to use around 1500 lotus flowers? Then, the price for that scrumptious tea is unbelievable. However, you just need one small spoon of dried tea to make a teapot. Enjoy a cup of high-quality green tea coming with crisp, sweet, and vanilla flavors from lotus's luscious fragrance.
Where to buy Lotus tea in Hanoi?
Huong Mai Café: 58 Ma May or 15 Hang Manh, Hoan Kiem.
Che Minh Cuong: 65 Cu Chinh Lan, Thanh Xuan.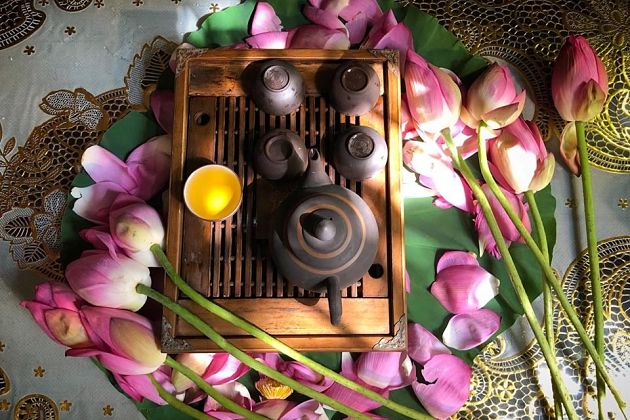 Vietnamese Silk
In the past, silk had served as a type of currency in trade and played an important role in the history and economic development of Vietnam. This kind of fabric was an extremely luxurious and high-class product which only noble families can use. Nowadays, although becoming more popular used, silk is still a beauty in Vietnamese culture. Silk products should be on your wish list to buy in Hanoi.
Where to buy Silk in Hanoi?
In Hang Gai Street located on the edge of the Old Quarter of Hanoi, you can see a heaven of silk products.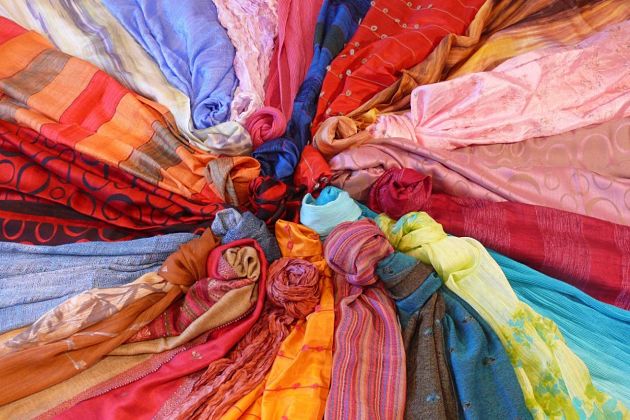 O Mai – Salted & Sweet Dried Fruits
While Western countries are interested in fast food and snacks, Vietnamese people prefer healthier food made from fruits, O Mai is an example. This traditional specialty is dried fruits mixed with many other spices such as sugar, salt, lime, chili, and ginger to gain the flavors of salty, sweet, sour, and spicy. Normally, they use plum, apricot, peach, tamarind, kumquat, pineapple, and mango to make o mai. This food tastes more delicious if you enjoy with a cup of green tea.
Where to buy O Mai in Hanoi?
Hang Duong Street in Hoan Kiem District has the three stores famous for O Mai including Hong Lam, Tien Thinh, and Toan Thinh.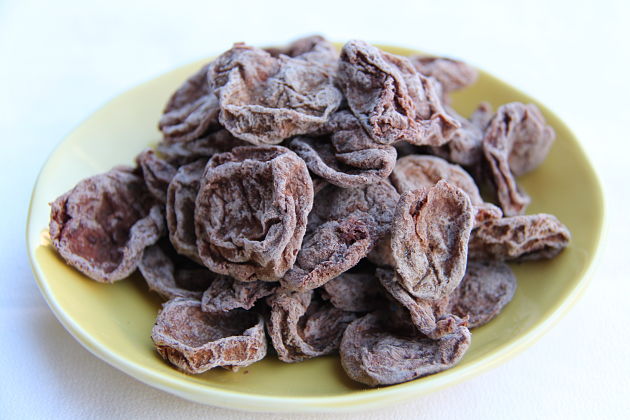 Ethnic Minorities Products
Vietnam has totally 54 ethnic groups and 20 of them living in the northern highland of Vietnam with the unique culture and traditions revealed in their weaving technique. Each ethnic minority has their own clothing styles, but for overall, most of them dress clothes with colorful patterns. These patterns then become popularly appear in many souvenirs for visitors coming to Vietnam shore excursions, especially Hanoi such as scarfs, bags, clothing, textiles, paintings, and even ceramics.
Where to buy Ethnic Minorities Products in Hanoi?
Crafts Link at 43 & 51 Van Mieu St, Dong Da.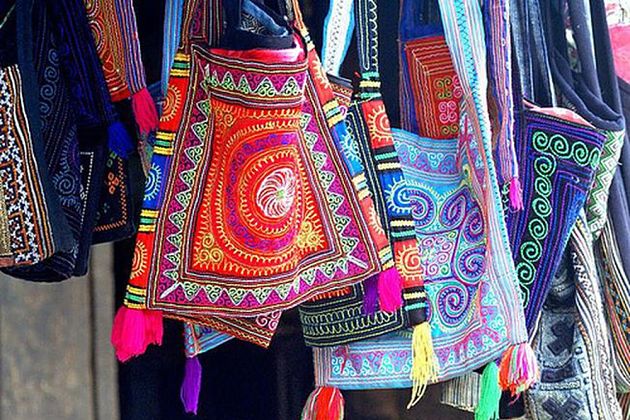 Things to Buy in Hoi An, Hue, Da Nang
Silk Lanterns
If you ask locals what is the symbol of Hoi An, most of them will claim the lanterns. Different from other countries with paper, fabric, or wood, the lanterns in Hoi An is uniquely made from silk. The ancient town Hoi An is much more stunning when the night is coming. If you zoom in the surface of lanterns, many patterns are printed delicately. Not only eye-catching, silk lanterns mean bringing warmth and happiness for your family and friends as a meaningful souvenir to buy in Hoi An.
Where to buy lanterns in Hoi An?
In every silk street, you can find stores and boutiques selling colorful lanterns with different shapes and sizes.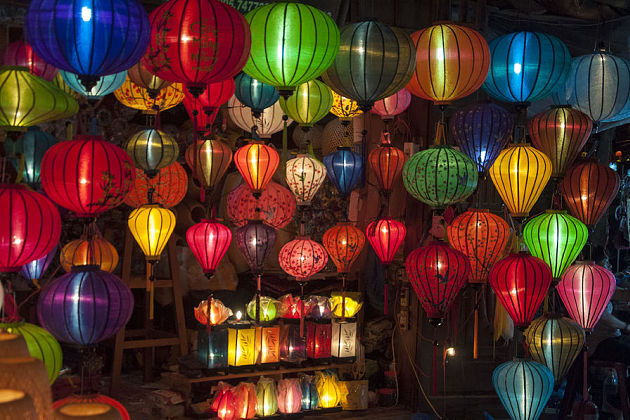 Non La – Conical hats
The image of girls in the traditional dress Ao Dai holding a Non La – conical hat appears in many places, on the magazines, in the streets, and so on. Non La can be considered as an iconic part in Vietnamese custom. Most Vietnamese have at least one conical hat in their house which is very useful not only to protect them from the sun but also avoid being wet from the rain. It's not a rare sight that you can see men wearing a non la in the street. A small Non La is an interesting decoration to hanging in the wall of your house.
Where to buy Non La in Hue?
Dong Ba Market is the place that you can find many interesting things.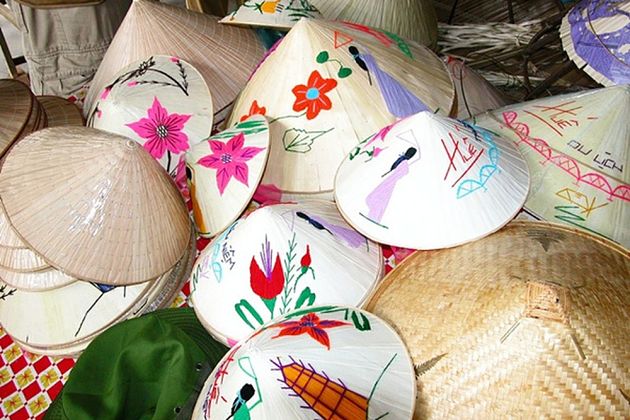 Ao Dai – Vietnamese Traditional Dress
Along with Non La, Ao Dai is not simply a traditional dress, it is a symbol and pride of Vietnamese people. Only with Ao Dai, the beauty of Vietnamese women is completely shown. It is pure, charming, reserve, and attractive. Even though most people choose modern and fashionable clothes, they still dress Ao Dai in some important occasions such as the graduation and wedding. Besides Ao Dai with one color only, local tailors have put some patterns into this clothing which are inspired by Vietnamese culture and landscapes.
Where to buy Ao Dai in Da Nang?
Ao Dai Huu Loc: 66 Nguyen Thi Minh Khai St.
Ao dai Van Ha Huyen: 98 Phan Chau Trinh St.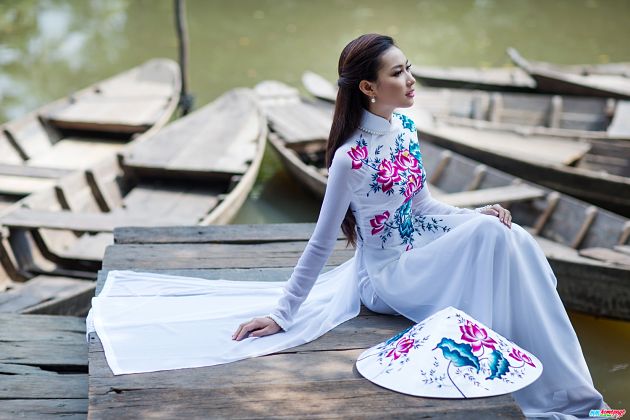 Things to Buy in Ho Chi Minh City
Propaganda Art
Vietnam is a country having a tough past but they have stood up from the ashes. One of the interesting products with old-fashioned style from that time is propaganda art. This kind of art is a form of political propaganda commonly aiming to call for safety, live healthy, work hard, and develop the country. The trendy retro art in recent years has increased the creation and preservation of these propaganda posters which were originally created during the country's turbulent years. The products inspired by the propaganda art are t-shirts, canvas totes, calendars, notebooks, and posters. It can be the coolest souvenirs to buy in Ho Chi Minh City for your friends.
Where to buy Propaganda Art in Ho Chi Minh City?
Saigon Kitsch: 43 Ton That Thiep, District 1
Pham Ngu Lao Street also has some stores selling propaganda paintings.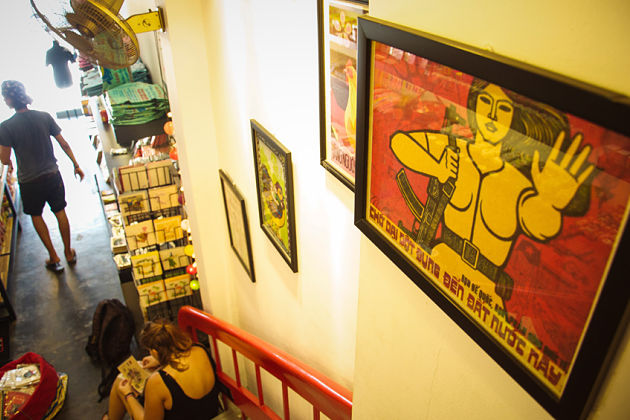 Clothes
Vietnam is a manufacturing country leading to the imitations of well-known brands are normally much cheaper than the original ones sold in retail stores. You can easily find both high-end, mid-class, and mall brands of clothing such as American Eagle Outfitters, Gap, Old Navy, and so on.
Where to buy clothes in Ho Chi Minh City?
Saigon Square is like a large supermarket specific in selling clothes. You can bargain to get a reasonable price.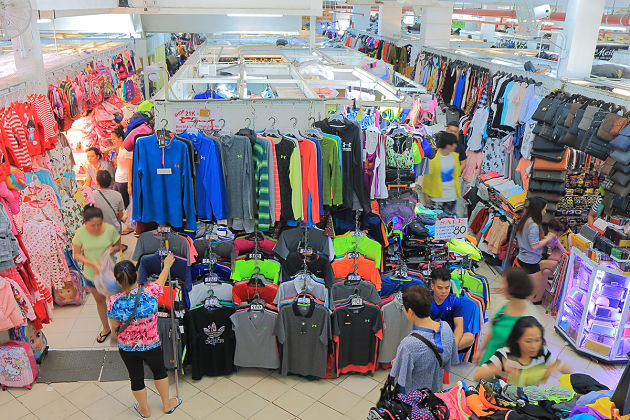 Dried Food
The last things to buy in Vietnam that Asia Shore Excursions would like to recommend is dried food. Dried food in Ho Chi Minh City can persuade everybody who loves salty, spicy, and sweet flavors. With salty and spicy ones, you can buy dried squid, pork, chicken and beef. For sweet and sour flavors, enjoy dried fruits including jackfruit, coconut, mango, and banana. Note that some countries may not allow animal products on the return.
Where to buy dried food in Ho Chi Minh City?
In District 1, you can buy dried food at Tan Dinh market (48 Ma Lo Street) or Ben Thanh Market (Le Loi Street). Some other local markets in Ho Chi Minh City also sell this kind of food.