It is obvious that visitors have their own favorite cruise ship. In this graphic, Asia Shore Excursions will draw briefly the distinctive features among the 6 best popular cruise ship in this field. Concentrate on the peaks of onboard accommodations, dining and relaxation, and ship itineraries. You don't have any ideas about a cruise trip, do you? Our suggestions might encourage travelers to match with the perfect tour.
Norwegian Breakaway – Norwegian Cruise Line
As we can find the distinction in its name, Norwegian Breakaway seems like a breakthrough from the other kinds of short trips. Norwegian Breakaway rocked a New York theme, it is the ship that never sleeps due to many on-offer activities. The ship is jam-packed with a lot of eating places and recreational options consisting of freestyle dining, a rock 'n' roll pub, and a unique music for wine lovers. We here mention some highlights for your shore excursions on Norwegian Breakaway.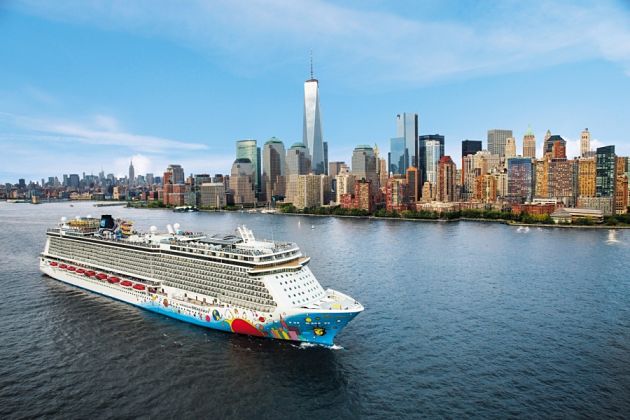 Firstly, if you want to operate lighting and power in energy-efficient cabins, key cards are required. In haven suites, they get private courtyard with a small pool, an exclusive, and a restaurant. It is noticeable that no-supplement solo cabins have private lounge access. Secondly, you can easily find a lot of alfresco dining restaurants on the Norwegian Breakaway. Tourists have a lot of free choices including supper club, noodle bar, and grill. The last one is always fun, we can list a huge number of activities for trippers, particularly popular shows consisting of "Rock of Ages" and "Burn the Floor", on-top-deck attractions as climbing, water slides, and ropes course. At night, travelers can indulge in live jazz, comedy, dueling piano and theme parties.
Carnival Vista – Carnival Cruise Line
Carnival Vista is an epitome of the "Fun Ship" moniker and it offers the variety of recreational places such as luxurious restaurants, pub-houses, and so forth. There appears some major information about your shore trips below.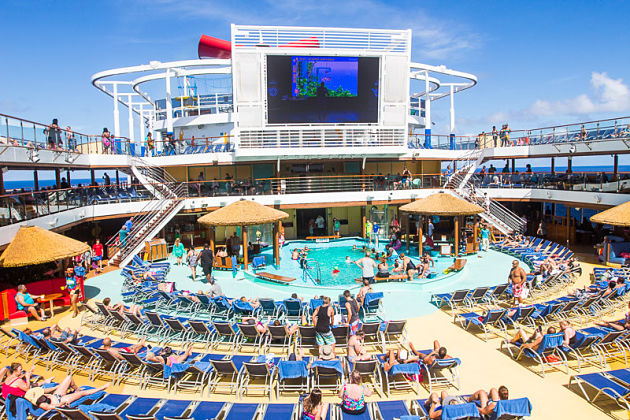 Concerning accommodation, all cabins can fit from two to five people, and a private lounge and free group babysitting are available in family Harbor cabins. Besides that, tourists can undergo the best services with spa freebies in Cloud 9 Spa.
About recreation, tourists will surely experience a huge number of outdoor funny activities including sky-high bike and ropes course. We do not miss out IMAX Theater, which is so perfect for the rainy days and lazy nights of trippers. In term of eating, tourists will be served Bonsai Sushi – some of the best rolls at sea, some staples as Guy's Burger Joint and Bluelguana Cantina. Moreover, visitors can have a chance to taste the DIY pasta bar for lunch at Cucina del Capitano.
Harmony of the Seas – Royal Caribbean International Cruise Line
This cruise ship belongs to the Oasis-class and is one of the biggest cruise ships in the world till now. We cannot let Harmony of the Seas out of the top-6-best-cruise-ship list for hungry tourists. It is common knowledge about the out-going feature of Harmony of the Seas, which is a pair of purple slides falling down the back of the ship. During this shore excursion, travelers will be fed by an Oasis-class experience, and taste the line's Quantum class, with robotic bartenders at the Bionic Bar and a sweetie family-style dinner at Jamie's Italian.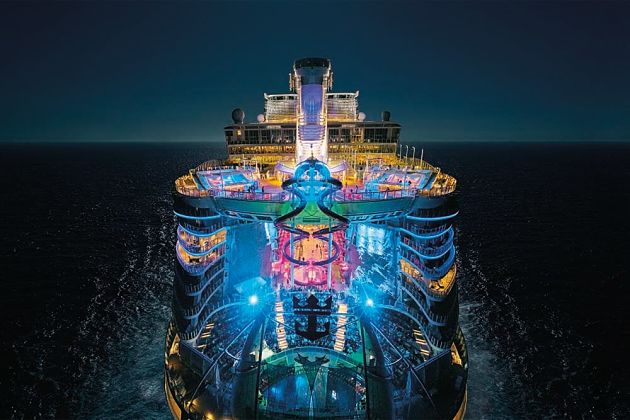 It is different from other cruise ships, visitors can enjoy the compact but cozy cabins, which have lots of storage space. Besides that, a Family Presidential Suite can able to accommodate until 14 people. During the trip, there is no more extra supplement for solo cabins. The next concern is about eating, there are various free and for-free options offering something for every taste. This wonderland will give customers the whimsical cuisine which uses molecular food, and we have a great and free alternative for breakfast in Johnny Rockets. Mention about some funny activities, a "grease" production show is ready-made to bring tourists the original Broadway to life. While escape room makes a lot of challenges for group activity, outdoor recreations such as water slides, zip line, surf simulators impress visitors a lot.
Anthem of the Seas – Royal Caribbean International Cruise Line
Anthem of the Seas, an innovative cruise ship which can carry 4,180 passengers, has attractions like a skydiving simulator and a London Eye-style glass pod that on the pool deck. Tech-savvy trippers must in love with the ship's fast Wi-Fi, which allows tourists to make onboard bookings via tablets and apps and on-ship purchases. The outlook seems classy and modern, thus travelers can be spoiled for choice in dining, accommodations and sea trip fun.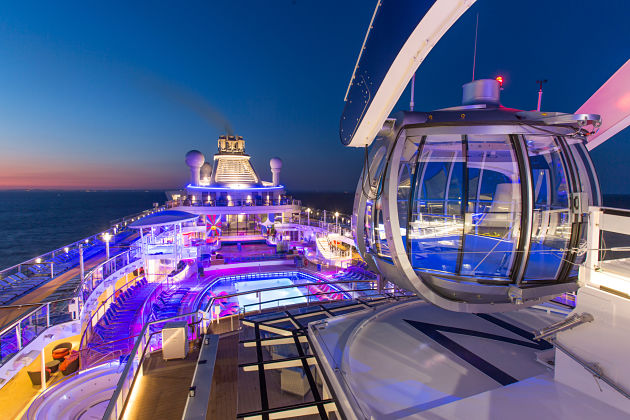 In this cruise ship, 75 percent of cabins are balconies, and inside rooms also have virtual ones with ocean views. Tourists can enjoy the color space and especially the best place for vegetarian with special and healthy dishes. Besides that, tourists can join in the shows named "We Will Rock You" and high-tech "Spectra's Cabaret".
Allure of the Seas – Royal Caribbean International Cruise Line
The 5,400-passenger Allure of the Seas built on the blueprint introduced by its Royal Caribbean sister, Oasis of the Seas, and can find now on Harmony of the Seas and Symphony of the Seas. Actually, zip line and a handmade wooden carousel is the most attractive feature of the ship, besides that Allure has its own twists, which consists of a Brazilian churrascaria and the Broadway show.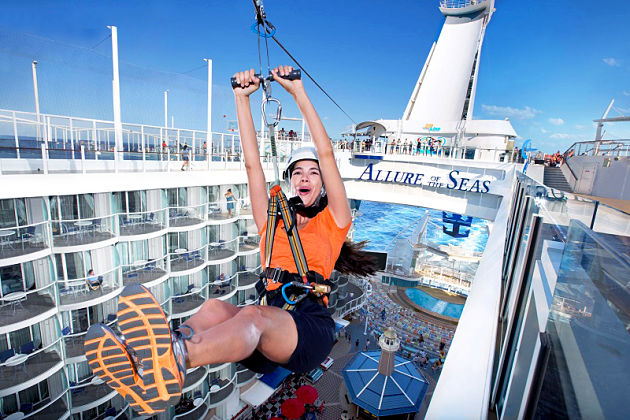 There have some highlights on your trip with Allure we mention here. For instance, Coney Island-style Boardwalk with a carousel, outdoor AquaTheather for the daredevil diving shows, and the "beach" and "sports" pools, plus H2O Zone for kids.
Liberty of the Seas – Royal Caribbean International Cruise Line
Although Liberty of the Seas, Royal Caribbean, is not one of the largest ships in the fleet, it consists of many recreational activities. Frankly, tourists cannot find out a slew of features on most other ships, which include a cupcake stall, thrilling water slides at sea. However, travelers can enjoy Royal Caribbean unique activities like the FlowRider surf simulator, rock climbing wall and Perfect storm pair of high-speed water slides, and dining favorites like Giovanni's Table and Chops Grille as well.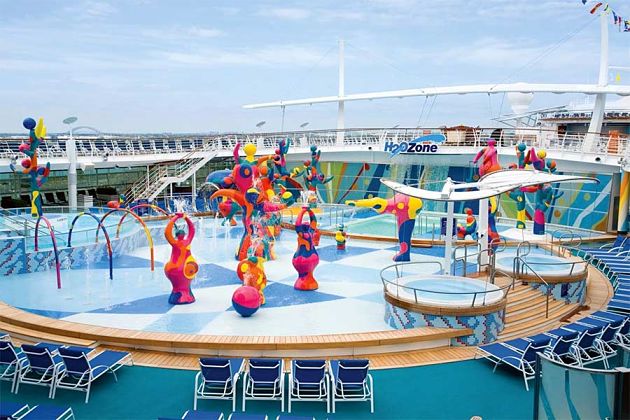 Tourists could choose interior cabins offering views of the Royal Promenade. It has presidential family suites which can fit up to 14 trippers and each family-friendly option in each category can offer more beds and space.
The tasty casual eats is ready at Johnny Rocket, and a specialty Mexican restaurant Sabor will serve tableside guacamole. Any sweet tooth can be satisfied with the best Cupcake Cupboard. Fun is required in any trip, and Liberty of the Seas is not an exception, we can list a lot of activities for you as the thrilling tidal wave, ice skating rink theater with jaw-dropping shows.