Located off the South seashore of Qingdao, north to Qingdao Bay and fronts onto Xiaoqingdao Isle, Zhanqiao Pier is regarded as the iconic landscape of the city. Its construction began in 1892 to serve as first military wharf in China, but now Zhanqiao Pier has become one of the most attractive spots in Qingdao. With a length of 440 meters and a width of 10 meters, the huge granite brick Pier offers a 360-degree view of the bay and the Qingdao skyline. Locals would say that it look like a long dragon lying on the sea struggling with sea bellows and sea waves, but thanks for long shaped lamps and decoration, the Pier has also enjoyed the great reputation of "the extension of a long rainbow".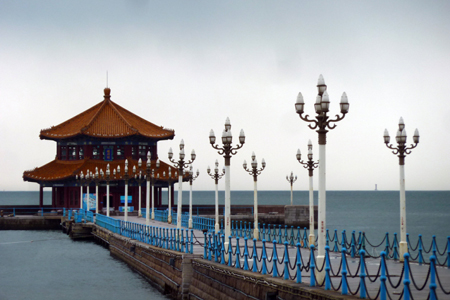 At the south end of the Pier is Huilange Pavilion. The octagonal pavilion with overhanging eaves and two floors is built in Chinese-style and named Huilange Pavilion. Occupying an area of 151 square meters, the Pavilion boasts a spiral staircase of 34 steps in the middle of the building, roof covered yellow colored glaze tiles, 24 red lacquered pillars – all of these create the charming of Huilange Pavilion, a traditional beauty against the backdrop of the modern cityscape. Apart from its significant architecture, while visiting the Pavilion, tourists could enjoy the endless view of sea and fresh ocean air.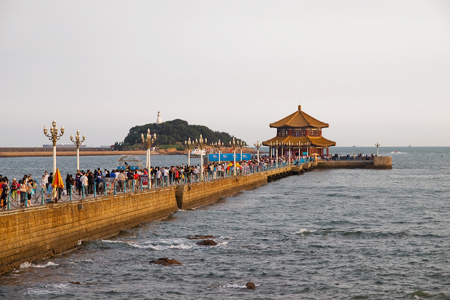 On the other end of the Pier, there is a park called Zhanqiao Park. This Park is decorated with green pines, beautiful lawn and different blooming jade orchids. In addition, Qingdao has launched a protection movement for seagulls recently so in the autumn and winter, tourists could often enjoy the view of a thousand seagulls flying into the gulf together.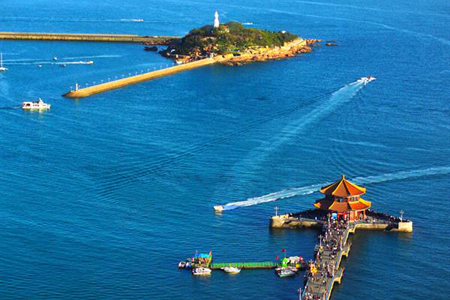 It is said that all the natural beauty of Qingdao City surrounds Zhanqiao Pier. Ambling on the Pier, seeing stunning view of the Bay, listening the sound waves roaring and flapping against the dykes continuously, all await you!