Up a hill off Zhongshan Road stands the St. Michael's Cathedral, which is regarded as the largest Gothic and Roman style structure in Qingdao City? It is also called "the Catholic Church". Built in 1934, the Church, covering an area of 11,480 square meters with the height of 60 meter, has become a grand landmark of city. Although it had to suffer a hardship during the Cultural Revolution (1966-1976), but thanks for the provincial protection, the church was able to be re-opened in 1981. Nowadays, the Catholic Church is not only an imposing cultural spot for tourist but also is home to religious activities of local citizen.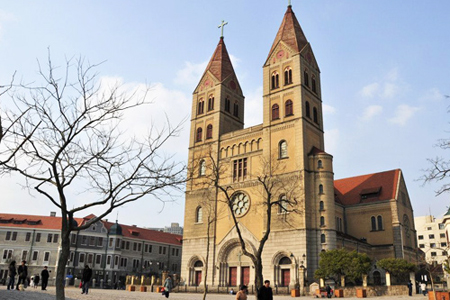 It is noted for the yellow granite and reinforced concrete, with the simple and elegant textures on the wall surface. Window are all adorned with brilliant colorful glasses which give the church interior very beautiful colors, along with Biblical stories, all of them create a beauty of solemn and simplicity. There is a huge rose window, sandwiched between two bell towers. Each tower is 56 meters high and with 4 bells hanging inside, once the bells toll, the voice could travel miles away. Tourists will be impressed when entering a large hall with 7 big chandeliers hanging from the high ceiling and the dazzling lights brimming the beautiful church's dorm.
Even if you are not Christian, stopping by the St. Michael's Cathedral will always delight you.