Well-known as a genuine stone museum, Ananda Temple is regarded as one of the largest and best-preserved Buddhist sites in Bagan and Myanmmar as well.
Built in 1090 under the sovereign of King Kyanzittha, this famous masterpieces has the shape of cruciform, with multiple terraces leading to a small pagoda topped by an umbrella called "hti". The structure of Ananda temple is a simple corridor temple with the life stories of the Buddha. These stories are presented through 554 glazed tiles on the base and terraces of the temple.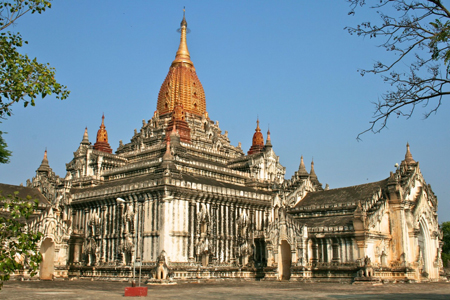 Another highlight of Ananda Temple is four Buddha standing statues. Each of them faces one of the four cardinal directions (East, West, South and North), conveying the infinite wisdom of the Buddha. Moreover, tourists will see eighty frescoes depicting the early stages in Buddha's life before reaching enlightenment in the temple.
After the earthquake in 1975, Ananda Temple was cracked. However, it was restored and in 1990, its spires were gold gilded to celebrate its 900th anniversary.