Standing close to the Mya Zedi Pagoda is Gubyaukgyi temple. Erected in A.D 1113 under the order of King Kyanzittha, the temple showcases the excellent Indian's influence in architecture. Especially its spire resembles the ones in the Mahabodhi temple of Bodh Gaya in India where 2,500 years ago the Buddha reached enlightenment.
Unlike those of most temples and pagodas in Bagan, the design of Gubyaukgyi temple has a unique shape. Four sides are straight and diminishing in size towards the top. The exterior walls were plastered with stucco which make some parts are still intact.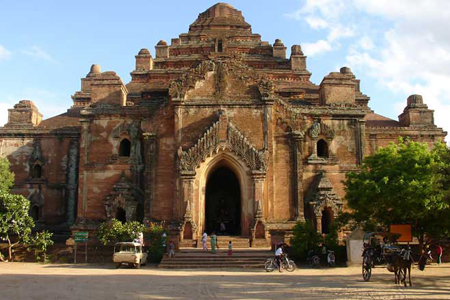 As indicated in the name, Gubyaukgyis a cave temple. Thanks for curvilinear roof and dormer window, light is allowed. Inside the temple, the ancient mural paintings were used to decorate its walls and ceilings. Watching all of them, tourists will be told the stories from the Jataka tales about the previous lives of the Buddha. There are also a variety of splendid artworks to admire.