Considered as the most famous site in Bagan where tourists can see the fusion between Theravada Buddhism and traditional Burmese religion, Shwezigon Pagoda is located in Nyaung U. The construction of the Pagoda began in 1057 under the order of King Anawrahta who is the first emperor promoted Theravada Buddhism in Burma. King Anawrahta placed 37 nats (sprits) on the lower terrace of the Pagoda – the clearly traits of Burmese religion in Myanmar.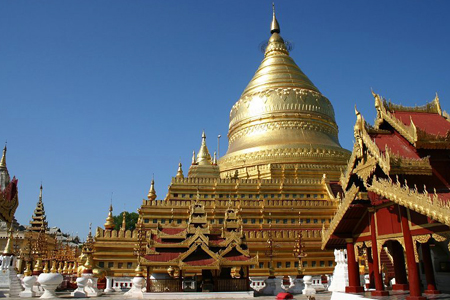 Upon reaching Shwezigon Pagoda, visitors will see a gold gilded stupa in cylindrical shape, enclosed by an outer wall. Numerous notable shrines, stupas and splendid structures are also found within the wall such as two inscribed pillars placed by King Kyanzittha, the graceful golden "bell",… As the dusk fall, the Pagoda is covered with a mystical atmosphere by spotlights.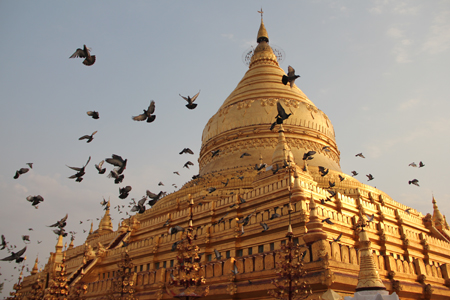 The most important reliquary shrine in Bagan is believed to enshrine the sacred bones and teeth of Gautama Buddha. Thus, each Shwezigon Pagoda's festival attracts thousands of devotees. Time after time, the Pagoda was devastated by several earthquakes, including the mass 1975 earthquake, but it has been restored and gold gilded as like the way we see it today.