Today, Voyager of the Seas is the largest ship in Asia with 15 storey, 1,306 rooms, 311 meters long, the total tonnage of 138,000 tons, speed of 24 knots / hour, with 1881 sailors working aboard.
Enjoy great food as well as all the entertainment services which are comparable to the royal caste.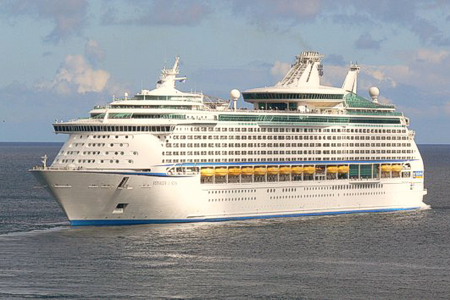 Room category
There are many types of rooms for guests to choose from. Guests can choose a room with a view overlooking the sea from the balcony, luxurious rooms and sumptuous or simply a comfortable place to rest and relax. All the rooms are equipped with TV, telephone, dressing table with hair dryer, and the staffs are always ready to serve.
Entertainment & Recreation
Certainly visitors will satisfy with a variety of exciting services on the ship. You have the right to choose your preferable forms of recreation, resort.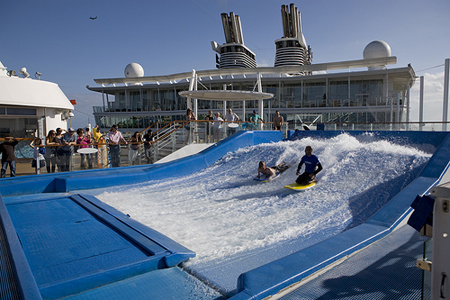 Guests could conquer the artificial rock-wall and enjoy panoramic view from the top; play golf on the mini field; show up your ability in rollerblading or skate surfing, or simply stroll around the ship and soak up totally relaxing space at Day Spa and massage tubs on deck. If travelers want to get professional coaches help with dance moves, skating or artistic way to mix a martini glass, come to the Explorer Academy Center.
The Water Show
Come to Aqua Theatre to watch the attracted and thrilled performances with the acrobatics, ballet under water, jump from a height into the water or jumping on trampolines, juggling … And Royal Caribbean Productions will bring trendy Broadway play, a music concert or simply a hilarious short comedy for the audience. All will be performed by world-class artists. Certainly that would be an unforgettable night for your family.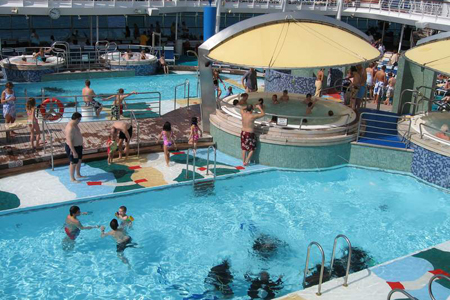 Skating
Studio B is where professional artists from around the world show of the skate, with an advanced and the most vivid sound and lighting system. Until now, the ice rink is still attracting a lot of visitors.
Singing and Dancing
As the darkness falls, lose yourself with nightclubs and lively bars. Hanging out and drinking wine in the Champagne Bar or sip a glass of wine in Vintages. If you like music, you can sing with piano accompaniment at the Schooner Bar, or sing karaoke with a live band. The other choice is to go to nightclub and soak up vibrant melody or the dance of Salsa in Boleros.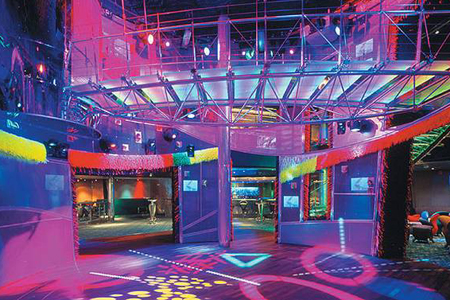 Duty Free Shopping
In addition, if you have the demand of shopping, the shopping mall on the ship is full of shops such as Romero Britto art galleries, shop selling Guess-brand handbags, jewelry, watches and Coach-brand bags collection, accessories. Generally most high-end fashion brands are represented here.
The special thing is that all the items here are exempt (duty-free)
See the Cartoon Characters
Guests will be delighted to meet his favorite animated characters in Kung Fu Panda and Madagascar. Participating in the parades and taking pictures with these characters will bring your family an unforgettable experience.
Aesthetic Center
Aesthetic center of Day Spa & Fitness is fully equipped with the most advanced equipment enabling you do gym, relax in steam bath or soak in the massage tub.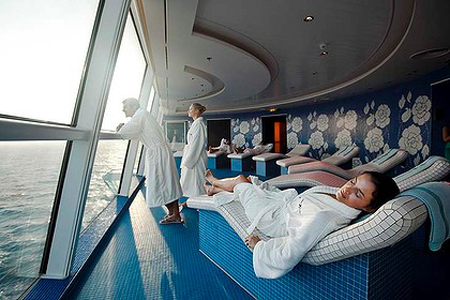 Services for Kids
Kids will be happy to play with peers in pink space of Barbie and try the most famous doll fashion in the world. Undoubtedly, your children will not forget this dream experience.
Royal Dining Style
There are a lot of the dishes prepared for the varied needs of customers, from light snacks to 5-star quality elegant meals. You could totally feel secure with the quality and diversity of dishes that might make you confused because there are so many choices. The culinary experience that will satisfy you even if you are the most discerning diners.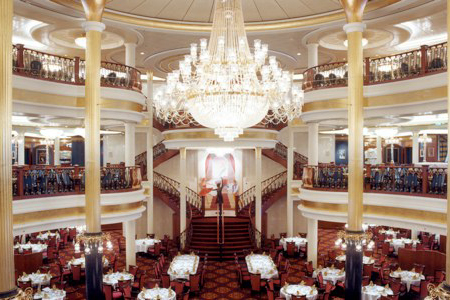 Dining Room can serve many dishes for main meals and snacks. Head to Windjammer Café, Jade Sushi, Solarium Café, Café Promenade to enjoy light snacks and sip a cup of coffee. And if you want to try exotic flavors, you can visit the restaurants serving specialties of countries. Stop at Portofino's and Giovanni's Table if you want to enjoy Italian dishes. Head for Izumi to if you are interested in Asian hot pot.
Nothing could give the whole family the warmth and loving except for a meal in My Family Time Dining. Try the savory hamburger and fries in a space, which characterized the United States in the 1950s, at Johnny Rockets or stop at Candy Cupcake Cupboard and Chop to enjoy ice creams.
Best Traveler Services – Crown & Anchor Society
With the imperial-class services, guests will be served as kings and queens. The staffs are well trained and professional, from giving guests guide to remembering their preferred tastes.
Guests will receive preferential services and events taking place on the ship. Especially if you are familiar customers, you will be increasingly benefited.