Right to the name, this India shore excursion takes you to explore the ancient churches of India's richest city. Witness the particular architecture of each church you visit, and learn about the religious culture of the Old Goa.
Start your Goa shore trip with being picked up from Goa port to the most famous church in that city – the Basilica of Bom Jesus which means 'great Jesus'. Right to the name, this World Heritage Monument is the elegant symbol of Jesuit architecture for nearly a half of millennium. Under the tiled roof with the black granite imposing façade is the simple but charming church with Mosaico – Corinthian style. On the southern side, admire the rich adorned wooden carvings and paintings which reveals the life of Saint Francis Xavier, combined with gilded twisted columns and wooden floral decorations, together protect the sacred relics of Saint Francis Xavier's body.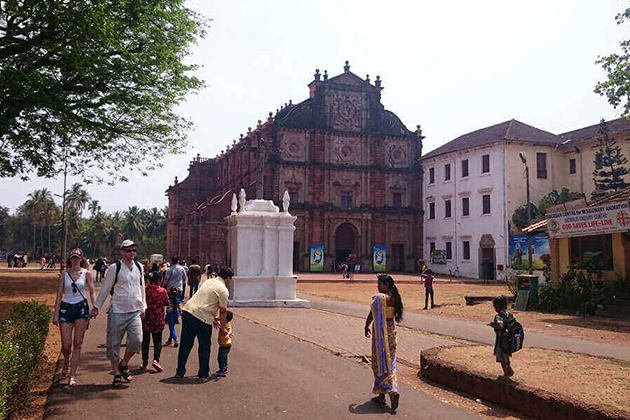 Afterward, head to Saint Catherine Cathedral popular with the white wall surrounded dotted with giant gilded doors and the priceless mosaic works inside the Iberian-style façade. Without any dramatical effect, the church can be seen as a perfect fusion of different territorial styles: Late Gothic, Mudejar, Flemish architecture and Italian Urban design. You can't miss the opportunity to admire the majestic main altar having gilded panels revealed the life of Saint, then praise the communion tables dedicated to Our Lady of Three Needs, Hope, and Anguish.
No one comes to the St Catherine Cathedral without a visit to the famous Golden Bell which its gorgeous harmonious sound has inspired a Portuguese poet to write the poem "Sino de Our".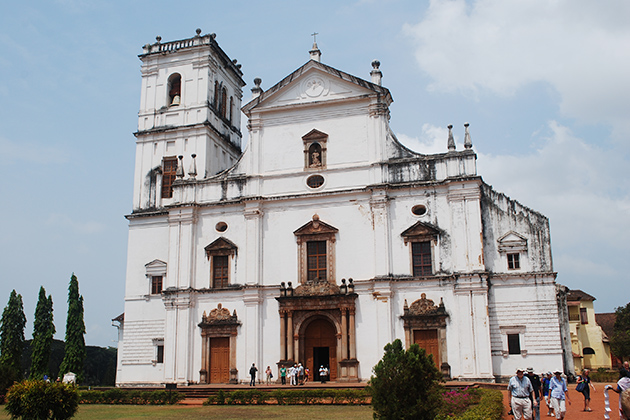 Move to the northeast of the cathedral, you will visit the Church of Saint Cajetan which has the similar architecture with the ancient St. Peter Basilica in Rome. With the sparkling white Corinthian-architecture façade, the church is built with two turrets acting as the belfries instead of towers like the other normal churches. Relaxing with the peaceful atmosphere when strolling around the wonderfully maintained garden.
Then, drive back to the port for your next Asia shore excursions. Trip ends.