The Grand Palace has become the most attractive destination for any shore excursions in Bangkok. Not only the residence of King and his court, but the Grand Palace is also the entire government. It is emblematic of Thai Kingdom.
Dominated the Chao Phraya River's bank, the Grand Palace was constructed under the sovereignty of King Rama I in 1782. Since then, it has become the iconic landmark of Bangkok with its gilded roofs. The Bangkok's Grand Palace Complex covers the harmonization of Thai, Asian and European design. Step into the majestic architecture, tourists will see the different taste of each building, from the influence of French in Boromabiman Hall and the 19th-century gold bell-like structure Phra Si Ratana, the beauty of mother-of-pearl with ancient throne inlaid in Dusit Maha Prasat, to Thai spires of Chakri Maha Prasat and much more. The Grand Palace Complex is divided into four parts, each of them serves one distinctive function.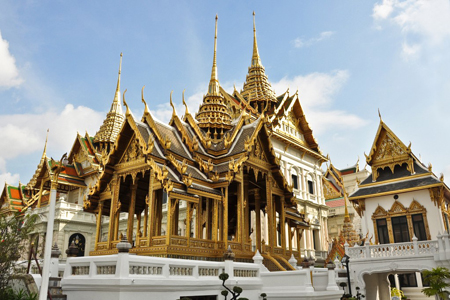 The Outer Court is home to the government departments. It's easy to see.
The Temple of the Emerald Buddha dominates a corner of the Grand Palace Complex.
The Central Court is situated in the middle where is the home of King and almost state business are conducted here. However, tourists only can visit two of the throne halls.
As a small city ruled by boys and girls under the age of puberty inside the Grand Palace is the inner court.
Any shore trips to Bangkok lead to Grand Palace!