Also known as the Temple of the Dawn, Wat Arun lies on the west bank of the Chao Phraya River. Thanks for its unusual design, riverside location, the majestic temple is deemed one of the most stunning sacred sites in this compelling city, that will absolutely leave you interesting experiences during your shore excursions in Bangkok.
Upon reaching the Temple, tourists will be impressed with the high Khmer-style tower of Wat Arun, ornate design, and scenic setting. The majestic spire of the Temple of the Dawn surpasses a height of 70 meters, that's why the popular snapped-shot of Wat Arun is its image in reddening sky. Initially, the Temple was a modest shrine where houses the sacred Emerald Buddha statue.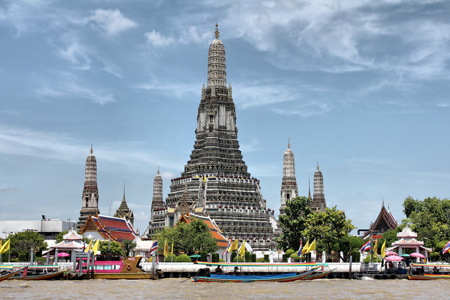 After that, in 1782 the King decided to move the capital to the East bank of the Chao Phraya River, the statue was taken too. The four-corner pagoda exemplifies the mythical Mount Meru which is considered the center of the universe for Buddhist. An unusual feature of the Wat Arun is that its glitter was created by tiny pieces of porcelain and colored glass. Furthermore, there are many statues with various shapes, a majestic golden Buddha plus murals depicting the Prince Siddhartha's stages of life. Overlooking the "prang", tourists will be satisfied with the panoramic view of the city, Grand Palace, and Wat Pho opposite.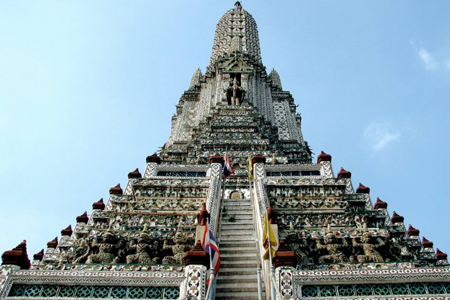 In addition, the Temple covers six pavilions built in Chinese style. Adjacent the Chao Phraya River, these green granite salas make the landscape more stunning. It is strongly recommended that you should position on the other side of the River and snap stunning shots coming at sunset.