Thailand is known as a Buddhism land so that the Bangkok shore excursions will not complete without a visit to a religious site. Wat Phrakaew is one of the most important Thai religious icon. Sitting within the grounds of the Grand Palace Complex, tourists will find the Temple of the Emerald Buddha laying at the corner, adjacent the Outer Court.
Officially, Wat Phrakaew was named Phra Sri Rattana Satsadaram, with the significance of the residence of the Holy Jewel Buddha. After deciding to move the capital to the other side of Chao Phraya River, King Rama commanded to build a Temple to house the Emerald Buddha instead of Wat Arun. It is famous for the Emerald Buddha – the oldest and most sacred a sculpture in the Kingdom. This statue depicts the Buddha sitting in a meditative pose on a grand golden pedestal. However, the statue is made from jade stone, not emeralds as its name.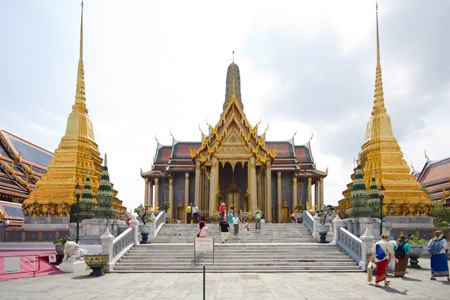 Upon reaching the Temple, tourists are immediately dazzled by its splendid mosaics and gilded details. Surroundings cover a wide range of interesting chronicles about the creation and mystical travels of the much-revered Buddha image before it was refound. Thai people would believe that this sacred statue brings legitimacy and prosperity to the Kingdom of Thailand. Like other Buddha statue in the "land of smile", the Emerald Buddha wears a seasonal outfit, which is changed three times a year, according to the period, the summer (crown and jewelry), winter (golden shawl), and rainy months (gilt robe and headdress).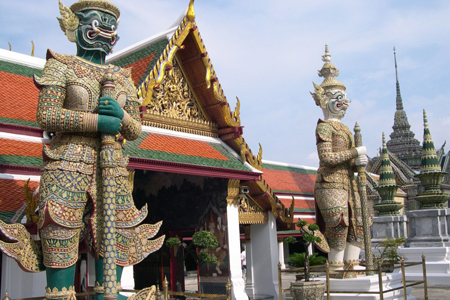 Apart from the Buddha statue, the Temple is heavily visited due to the excellent showcases of Buddhist sculpture, architecture, painting, and decorative craft that it possesses. Amble around the Wat Phrakaew, another thing awaits, that's the model of Angkor Wat, the Cambodian temple complex. It is said that even this is always crowded by tourists but it's worth a shore excursion.