An artificial artwork combined with wonderful natural scenery behind, the Chinese Fishing Nets is the most famous attraction in Kerala rural area. Take a shore excursions to Cochin to totally taste the beauty of this God-blessed sight.
History of Chinese Fishing Nets
In the very old time, the Chinese Fishing Nets is believed that be introduced by the Chinese explorer Zheng He from the court of Kublai Khan – the great Chinese emperor, and then rapidly entered Fort Cochin. The best time to enjoy the view over these fishing nets is from October to March when the weather is not too hot.
Overview of Chinese Fishing Nets
The Chinese Fishing Nets is a must-visiting attraction in Cochin shore excursions. These nets serve as the important tools for fishing industry but used in a unique way. This installation is made bamboo and teak poles balancing horizontally by a mechanism which is big and heavy enough to soak all the system into the sea and raise back. In order to have the suitable weight, these nets have a collection of large stones tied to ropes.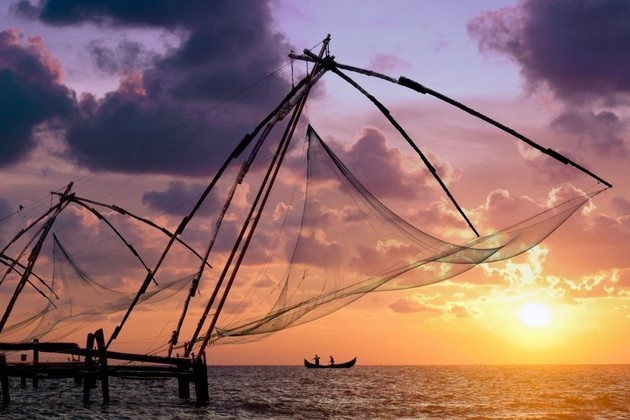 Usually takes 6 strong fishermen to hold, these nets have the height of around 10 meters, and the length lasts to 20 meters above the water surface. These nets are not the same when adapting to the tide level. The reason is each net has a fixed depth and cannot work continuously, especially when the rise of tide causing different water levels.
Usage of Chinese Fishing Nets
Working with Chinese nets is the unique way of fishing that the teamwork spirit is the most important factor. The nets are soaked in the water and kept for a few minutes, then around 6 fishermen together maintain the equal balance and carefully raise it exquisitely at once from the sea.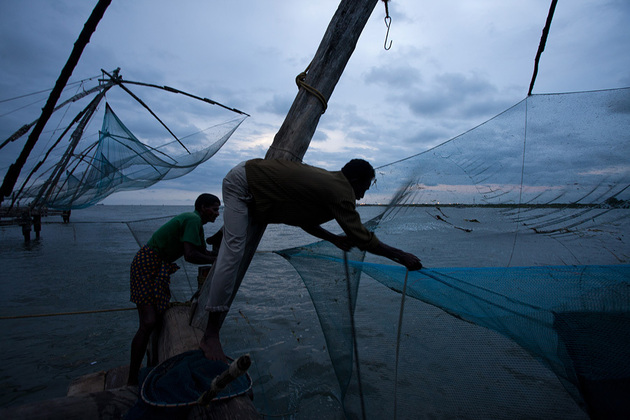 Besides the usage of contributing to the fishing industry of Cochin, the Chinese Fishing Nets is also a popular attraction in the area. The images of the nets and working fishermen are highlighted by the beautifully stunning scenery behind, especially at sunrise and sunset. The slow rhythm played by nature is so bewitching and hypnotic.