Located on the hill just west of Oura Catholic Church, Nagasaki, Glover Garden was constructed to preserve the residences which were decreasing with the passage of time. It includes a collection of western homes and buildings reassembled around the house of the Scottish entrepreneur Thomas Blake Glover (1838 – 1911).
Glover Garden is an open air museum, exhibiting mansions of former Western residents of Nagasaki. The house and grounds of Glover Garden sit atop a hill that commands a view of the Nagasaki Bay and the entire city – and testify a bygone era of fabulous luxury, when the area of Minami-yamate was a thriving foreign settlement. Indeed the house is believed to be the setting and inspiration for Puccini's opera Madame Butterfly.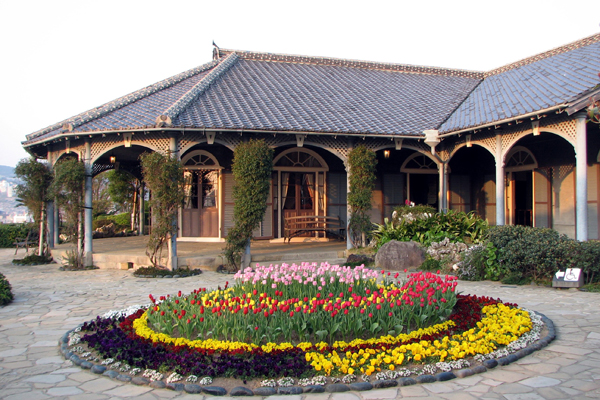 Designated as an important cultural asset, Glover Garden is packed with beautiful traditional homes built for British merchants, including the oldest wooden Western-style home in Japan, built by the Scottish merchant Thomas Glover, who exerted a strong influence on the industrialization of Japan. Buildings in the complex include the Former Mitsubishi No. 2 Dock House, a classic example of Meiji-era western-style architecture, dating from 1896. Other Meiji-period buildings contains the Former House of the President of the Nagasaki District Court, built in 1883 and the Former Walker House, the residence and garden of Robert Neill Walker built around 1890s. The Former Ringer House, with its foundation stones brought from Vladivostok was built by Frederick Ringer (1840-1908), a British businessman with interests in the tea trade and construction in Japan. The Former Alt House, is a mainly wooden home built for William Alt (1840-1905), a tea tycoon, who with his Japanese partner Kei Oura exported green tea from Kyushu to amass a considerable fortune.