Lie along the canal of the Umezu River (Dotonbori-gawa Canal), Osaka, Dotonbori Shopping Street is often selected as a scene in the Japanese and as the symbol of Osaka in foreign movies. If there were ever a place to simultaneously exhibit both traditional and modern Japan, it would be here.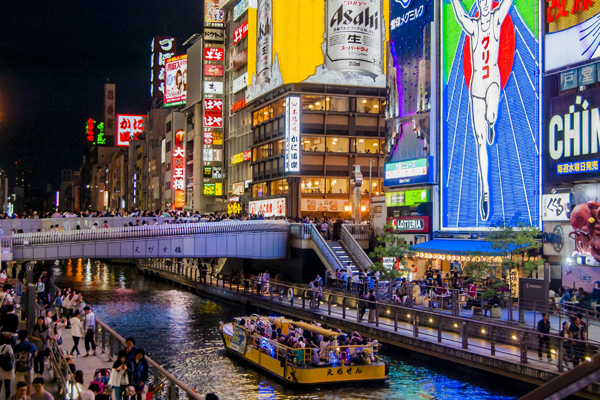 Dotonbori is full of energy and delight. There are promenades on both sides of the Dotonbori-gawa Canal to offer better environment for a downtown, which are always attracting visitors and residents. On both sides of the Dotonbori-gawa Canal are lined with advertisements and neon signs. The entire sides of buildings are decorated with neon lamps. The illuminated signboards and neon lamps reflect on the Dotonbori-gawa Canal at night, making Dotonbori street even merrier. Shops with a beautiful latticework stand side by side as a reminiscence of the Edo Period in the 17th century and they give off peaceful atmosphere.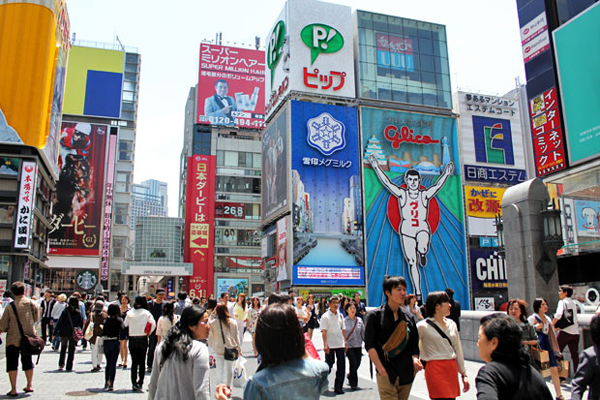 Dotonbori  Street is thronged with an incredible variety of restaurants and amusement facilities, and is dearly loved by the Osakaites. There are theaters that play traditional puppet shows Bunraku, storytellers' halls and other popular entertainment as well as a number of movie theaters. For those who are keen on shopping or still wandering to get souvenirs, Dotonbori Street is an enticing shopping paradise. If you are a food aficionado, it is worth trying cookies and cakes in small stalls along the street. Head down to drug stores looking more like supermarkets for the latest products for skincare or the amazing variety of tidbits you cannot resist.