Constructed in 678, Beomeosa Temple is nestled at the edge of Mt. Geumjeongsan near the southern port city of Busan. The original Beomeosa Temple building was lost during Japanese invasion in 1592. Until 1913, it was renovated and became one of the most delicate and luxurious architectures of the Joseon Dynasty.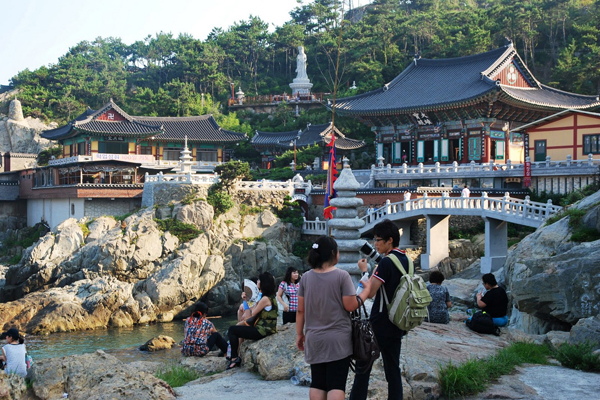 Beomeosa is one of the largest temples and most buildings here dated from the seventeenth and eighteenth centuries.  Since Beomeosa is built on a mountain slope, the buildings are arranged on three elevations of the mountain: low, middle and high. As the result of this kind of geometric placement of the buildings, the temple features a certain coziness. The first thing that you'll notice as you step into Beomeosa is the substantial Iljoomoon (One Pillar Gate). The gate is built upon four gigantic foundation stones, and with a majestic roof crowning the top, from any perspective it looks just like a practicing monk, standing with unmoving mind regardless of what appears. Once you set foot in the Daeoongjeon (Main Buddha Hall), you can really sense the devotion of many people over the years. It's certainly true of the people you see ardently chanting and praying in the Buddha Hall, and it's also true of the meticulously depicted wall paintings that cover every corner of the building's interior.
There are about 150 monks live in the main temple complex and in smaller temples and hermitages scattered throughout the surrounding forest. The monks practice a form of Buddhism called Seon in Korea.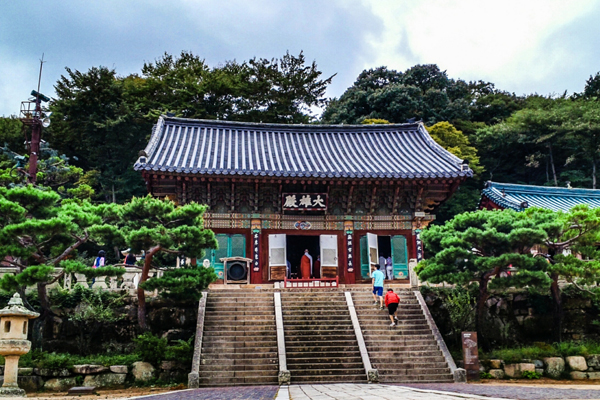 Like many other Buddhist temples in South Korea, Beomeosa offers a templestay program that allows visitors to experience the lifestyle of a monk. The standard program features chanting services, 108 prostrations, Dado (tea ceremony), and has a strong emphasis on Seon Meditation. There is also a freestyle Temple stay program that consists of Seon Meditation and tea and conversation with the monks. This enables participants to sit meditation or rest as they like. In addition, you may also take part in other activities such as hiking and making rice cake.