Discover the scenic beauty of Hue, the Imperial Citadel of Vietnam with our Hue Country Tour with 1 day Hue shore excursion. Go on a boat cruise along Perfume River, visit Thien Mu Pagoda- Hue's most preserved religious monument with its seven-floor tower. Gain a first-hand look at traditional handicrafts of this region and relax with traditional therapeutic practice. With Hue Country Day Trip, you're bound to find a travel experience you'll cherish for a lifetime.
Upon arrival at Chan May Port, meet your local driver and guide who'll take you to discover the tranquility of picturesque countryside in Hue, the former imperial capital of Vietnam. Embark on boat at Toa Kham Wharf for a romantic cruise along Perfume River, passing by Thien Mu Pagoda, the symbolic value of Hue. After admiring the scenic panorama from the exotic ancient, sacred monument with its classical architecture standing on the riverbank, take a leisurely walk through Dong Ba market to prepare necessary food for cooking class with our chief.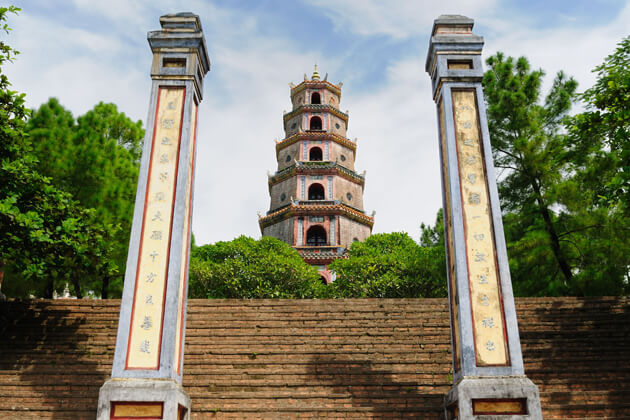 Back to the boat and enjoy an orientation cruise to Thuy Bieu Village, the Garden of Eden in Hue. Go for a pleasant walk or a bicycle ride around the village to visit traditional households. Pass through the lush vegetable garden, an old ancestral temple and communicate with smiling and generous locals. Then zip through the rustic house to gain insights into the incense making families working strenuously with joy and enthusiasm; get a look at joss paper making family to know more about a traditional custom of Vietnamese people and know why they use joss paper, also known as ghost money, for the dead people; and visit the papermaking families for a glimpse of countryside painting art of the young local artists.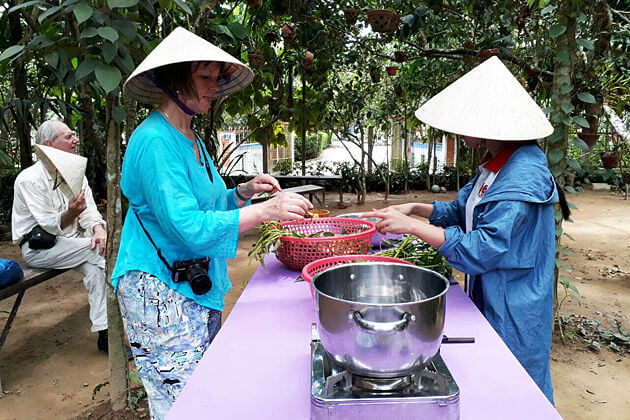 Afterward, on the return to Thuy Bieu restaurant for a cooking class, you will prepare lunch by yourself with our chief's instruction. Learn how to cook two traditional Vietnamese cakes: Bang Ram It and Banh Khoai. Have lunch with Hue traditional dishes you have just cooked. The rest of your trip is at leisure for relaxation by soaking your foot in medicinal herb water – a traditional therapeutic practice accompanied with an excellent massage by local people before driving back to the port for the next journey.