Iya Valley is a peaceful valley in the center of Shikoku Island which is famous for its breathtaking scenery and old-fashioned lifestyle. Rarely in the world having a place attracting a plenty of visitors each year but still preserve the pristine and authentic sight as Iya Valley. Unlike many places in Honshu Island having bustle and hustle atmosphere, this valley is a charm quiet pearl for those who want to escape from the noisy world.
History of Iya Valley
Nowadays, the roads leading to Iya Valley are much easier to trek through that can be a great place for passengers hopping on Kochi shore excursions. The authenticity of this valley is mostly preserved thanks to the location is hard to approach than other spots in this country that there were a few people can admire its spectacular scenery before. In the wartime, warriors and samurais usually ran into the valley and hid behind the high mountains and rock cliffs. The famous Taira clan also escaped to this valley when they are defeated in the Genpei War dated back to the 12th century.
Iya Valley Attractions
The valley is quiet, but not small that includes many beautiful attractions to worth your shore excursions in Kochi Prefecture. In the middle of the valley, there is a river with the beautiful blue color running along creating a wonderful scenery. On the height of 14 meters above the river is Iya Kazurabashi – a suspension bridge lasting 45 meters between the two cliffs over the river. This bridge is magically made of roots and stalks growing up from the mountains that have the ages of over 900 years. Take a thriller feeling when trekking through the bridge, remember not to look down or you can be dizzy!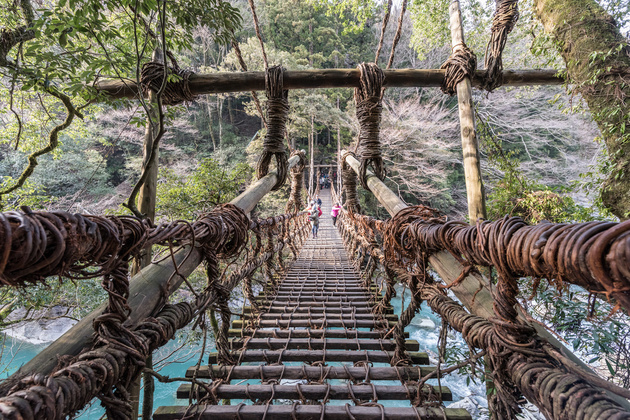 On the bridge, you can admire the overview of the marvelous Biwa Waterfall. When you walk over the bridge, relax in some restaurants and bars nearby. Japanese people usually bring their bento boxes or food sets for a nice meal over the view of the beautiful waterfall right in the eyes. Along with river and suspension bridges, another symbol of Iya Valley is a humorous statue standing on the top of rock cliffs. The statue of a Peeing Boy has the legend that visitors would diminish after climbing up the high rocky mountains.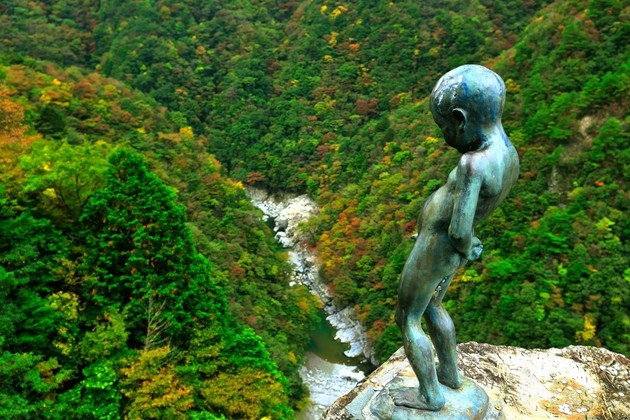 Deeper upstream of the valley, the Oku Iya Double Vine Bridge welcomes you with two distinct bridges, one for men and one for women. This place is not easy to reach, the only choice is by car that there are a few visitors can come here.