Located in the eastern part of Kyoto, Japan, Kiyomizu Temple (Kiyomizu refers to Pure Water)  was founded in 780 on the site of the Otowa Waterfall in the wooded hills. Being one of the most celebrated temples of Japan, it was designated as a UNESCO World Heritage Site in 1994.
Kiyomizu Temple is best known for its wooden stage that juts out from its main hall, 13 meters above the hillside below. The stage affords visitors a nice view of the numerous cherry and maple trees below that erupt in a sea of color in spring and fall, as well as of the city of Kyoto in the distance. The main hall of Kiyomizu Temple is dedicated to Kannon, the Buddhist goddess of compassion. It is notable for its vast veranda, supported by 139 wooden pillars, which juts out over the hillside and offers beautiful views of the city. The views and temple grounds are especially stunning during the spring and autumn.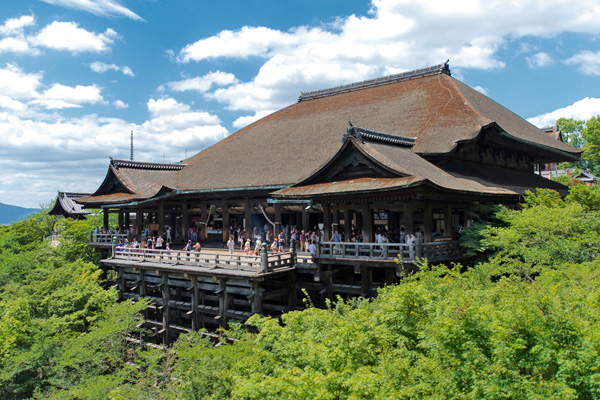 The Otowa Waterfall is located at the base of Kiyomizu Temple's main hall. Its waters are divided into three separate streams, and visitors use cups attached to long poles to drink water. Each stream's water is said to have a different benefit, namely to cause longevity, success at school and a fortunate love life. However, drinking from all three streams is considered greedy.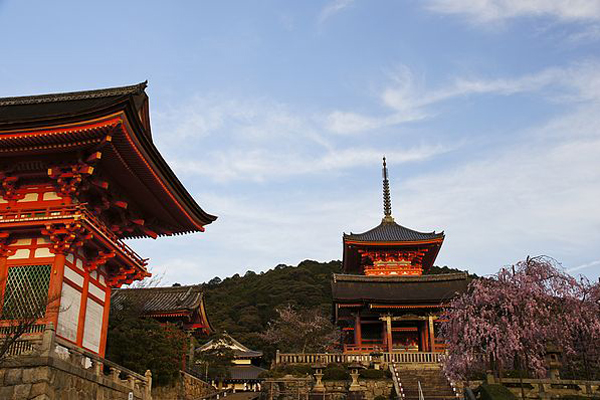 Another striking feature of a visit to Kiyomizu Temple is the approach to the temple along the steep and busy lanes among the atmospheric of Higashiyama District. Many shops and restaurants in the area have been catering to tourists and pilgrims for centuries, and products on sale range from local specialties such as Kiyomizu-yaki pottery, sweets and pickles to the standard set of souvenirs. The Higashiyama district together with Kiyomizudera, Yasaka Shrine and other temples in the area, have special evening illuminations during the annual Hanatoro event held in mid March. Kiyomizu Temple also has special illuminations during the autumn leaf season in the second half of November.