Located in northern Kyoto, Kinkaku-ji Temple is one of Japan's best-known sights. It is a Zen temple whose top two floors are completely covered in gold leaf. Formally known as Rokuonji, the temple was the retirement villa of the shogun Ashikaga Yoshimitsu, and according to his will it became a Zen temple of the Rinzai sect after his death at the end of the 14th century. This temple has been burnt down many times in the flames of war and other conflagrations; however, it was restored in 1955 so that all of the gold leaf has been replaced. Recognized by UNESCO as a World Cultural Heritage, Kinkaku-ji Temple is one of the most representative historical buildings of Japan.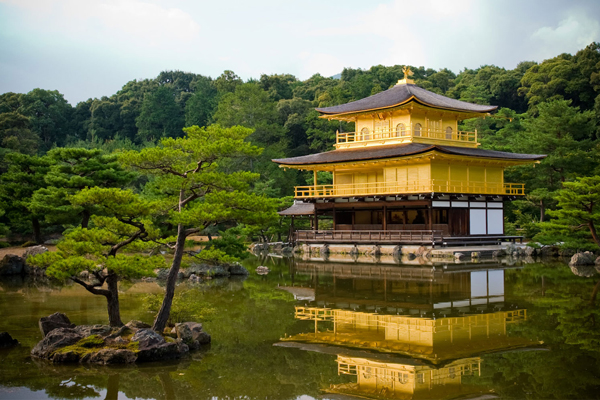 Kinkakuji Temple was built to echo the extravagant Kitayama culture that developed in the wealthy aristocratic circles of Kyoto during Yoshimitsu's times. Each floor represents a different style of architecture. The first floor of white plaster walls and wooden beams is built in Heian Period with shinden style while the upper floors are in bukke samurai style. Though the interior is closed to the public, it is possible to make out statues of the Buddha and Yoshimitsu on the first floor. The second floor contains more Buddhist images including one of Kannon while the third floor is gilded both inside and out.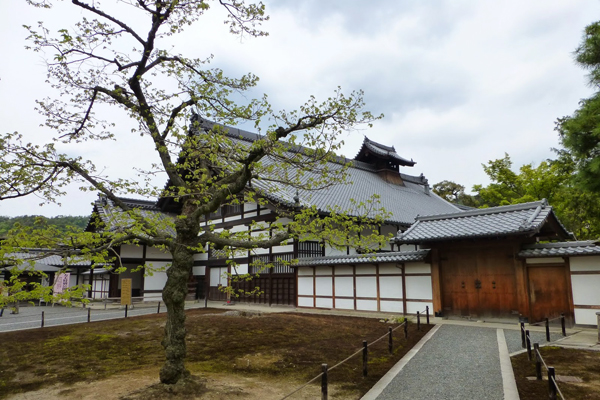 The garden in the temple is designed to provide a view of different scenes while walking around a large pond called Kyoko-chi in its center, and accounts for about 93,000 of the 132,000 square meter temple grounds. The Kyoko-chi Pond alone takes up 60,600 square meters and includes islands of various sizes such as Naka-jima and Iwa-jima. There are also rocks and stones of unusual shapes. These islands have different shapes depending on the angle from which they are seen. The scene viewed from the Sekka-tei Cottage at the back of the hill is particularly impressive.