Located in the south of Halong Bay, Lan Ha Bay belongs to Cat Ba islands area. In comparison with Halong Bay, Lan Ha Bay is les known, however, it is still considered as one of the most stunning bays in Vietnam. It is home to about 400 islets and hundreds of small beaches. Especially, all islands and islets in Lan Ha Bay are covered in lush green vegetation.
With myriad beautiful sandy beaches sitting between two majestic stone mountains, Lan Ha Bay is the paradise for tourists to go swimming, sunbathing or having a picnic. Aside from swimming, rock climbing, hiking and kayaking are the most popular activities in Lan Ha Bay. Especially, in some big beaches, local people has invested to build some bungalows where you can come to stay overnight such as Monkey Island Resort, Sandy Beach Resort, Castaway bungalow, Cove Beach bungalow. Admiring the sunset here is so wonderful and especially it offers an opportunity to enjoy the romantic evening walking on the beach or lying on a long chair to see the moon on the sea. Breath in cool air from the ocean also brings visitors glorious feelings.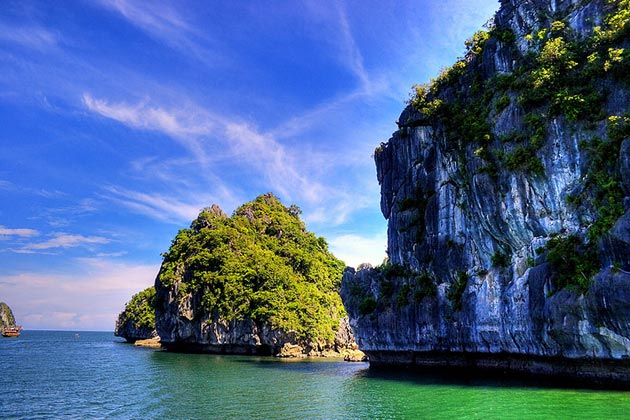 It is highly recommended to visit Lan Ha Bay in autumn in which the weather is extremely pleasant with sunshine, cool breezes, and blue sky and ocean. This bay is also an ideal destination to dodge the the crowds of Halong Bay and those looking to venture off-the-beaten-track will find a natural playground ripe for exploring. Like the rest of Halong Bay, the best way to get around Lan Ha Bay is by boat and you will have a chance to marvel at hundreds of mounts with different forms such as Hon Guoc, Hon Doi, etc. If you prefer to explore indigenous culture and daily life of fishermen, it is worth visiting the Cai Beo floating village, one of the oldest of its kind in Vietnam.