Seongeup Folk Village, nestling at the foot of Halla Mountain on Jeju Island, Korea, is a 600-year-old collection of thatched-roof houses surrounded by a wall made from the volcanic island's porous basalt rock. It exists as a typical folk village immersed in an incredible variety of cultural treasures, both tangible and intangible.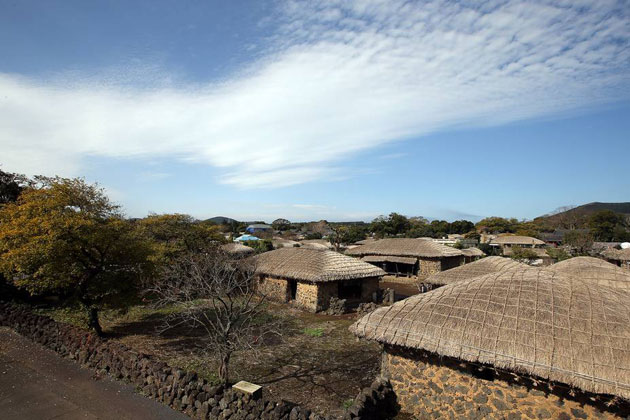 The village is the home to around 3,000 thatched roof houses with stone and clay walls where villagers still live and work, although some have added modern amenities. Cultural properties in this village have been passed down from generation to generation and include treasures such as Confucian shrines and schools, ancient government offices, stone statues, large millstones (pulled by horses or ox), fortress ruins, and stone monuments. Among the cultural gems of the folk village are intangible cultural assets such as folk songs, tradition foods, local folk craftmanship, and the Jeju provincial dialect. In addition, designated natural monuments of old, tall trees supplement the village's heritage. Several zelkova and nettle trees that are hundreds of years old stand at the center of the village, preserving the dignified atmosphere of a bygone period.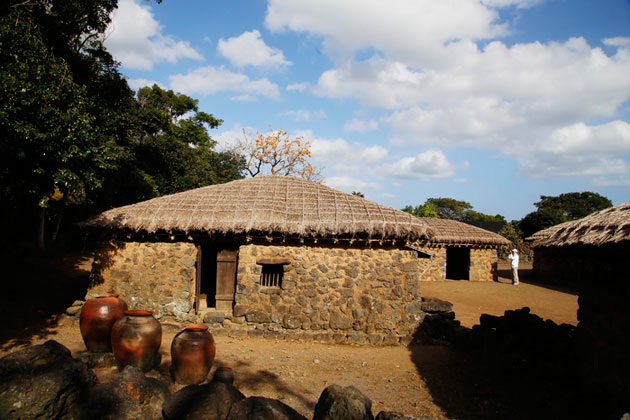 If you are a shopaholic, Seongeup folk village is an ideal destination to purchase galot (traditional Jeju workclothes) and naturally dyed fabrics. The shops include Garotmandenjip on the village central road, and Sokgungyehtusanpum next to Namoon car park. There is also a souvenir shop selling the usual assortment of tiny harubang, keychains, and other touristy items. Besides, if Korean cuisine is of your interest, black pork which is said to be very nutritious is a must-try local specialty. It is highly recommended to try black pork with makgeolli (liquor) made of hulled millet, and memil bindaetteok (buckwheat pancake).