Nestled near Phuket, Phang Nga Bay, with its fantastical scenery, is a popular spot for tourists. It used to be that the only way to see it was on a tour boat from Phang Nga city, although you could take a boat from a small fishing village near Phuket for a more personal tour by the people who lived and worked in the bay. A Phuket shore excursion to Phang Nga offers impressive views, exciting outings, and amazing traditions.
Nga Bay and Phang Nga National Park shore trips offer many destinations and activities worth pursuing.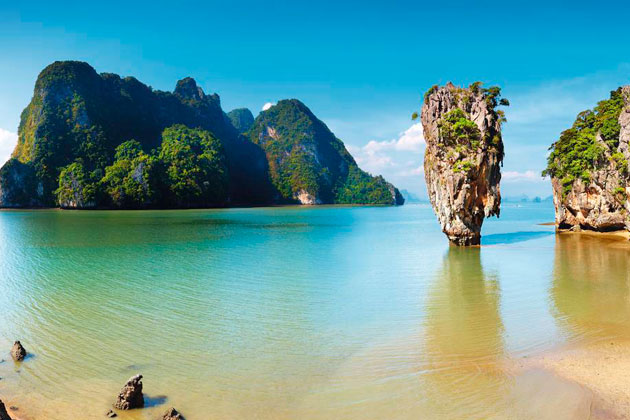 Phang Nga National Park was established in the early 1980's to preserve the bay and its islands. The National Park houses impressive limestone karsts as well as lagoons, caves, and mangrove rivers. What Phang Nga National Park provides is truly an oasis for the traveler looking to be immersed in Thai history. Nearby Panyi Village offers travelers an authentic look at local culture, and the beauty of Phang Nga—sandwiched between the Andaman Sea and Phang Nga Bay—provides scenic luxury.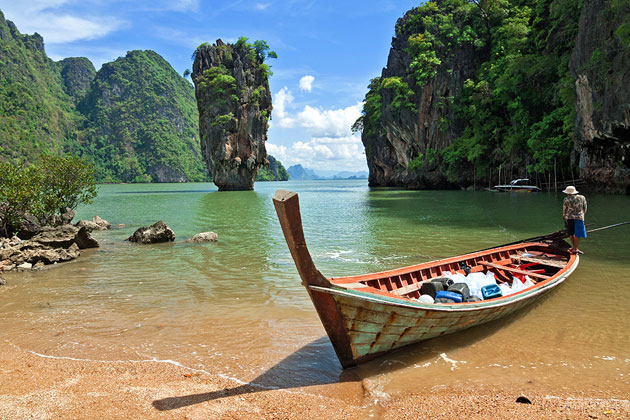 Nga Bay and Phang Nga National Park offer many destinations and activities worth pursuing. Speedboats and longboats are great ways to navigate Phang Nga, so lining up reservations for trips around the bay may be helpful. Phang Nga Bay is filled with small islands and caves that can be reached by boat. Speedboats promise short trips to islands throughout the bay. Speedboats are also an affordable way to get around Phang Nga Bay. Khai Island, Khai Nok Island, and Koh Yao Island are worth visiting for a day or an afternoon. The clear waters of Phang Nga Bay make snorkeling a great activity when visiting islands throughout the bay. There is an impressive array of marine life on display, and islands throughout the bay house diverse populations of birds.
You may also take on canoe tours that allow you to see things you can't see from the big tour boats, such as the mangrove forests (above) and the many caves hollowed out in the islands. The center of many islands has collapsed, leaving small lakes open to the sky and fantastic formations of rock. These are usually only reachable through small caves opening into the sea. Some of these can only be entered when the tide is low. It is definitely not an adventure for the claustrophobic.