The romance of Hue cannot be felt completely without a cruise around Perfume River. Actually, the river, crossing the city of Hue, flows through a series of beauty-spots. With the length of 80 kilometers, the river takes visitors to every corner of the ancient citadel with stunning sceneries from its source, and winds among mountains, forest trees, plants, etc in harmony with the fragrance of tropical flora.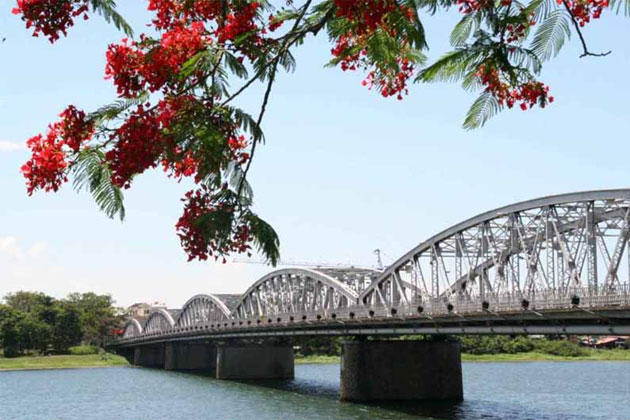 The Perfume River consists of two sources. They run from the Truong Son range: the Left Tributary from Truong Dong mounts toward north-west through 55 impressive waterfalls, and then slowly to Bang Lang fork; the shorter Right Tributary flowing through 14 dangerous waterfalls and Tuan ferry landing to Bang Lang fork where the two tributaries join to form the poetic Perfume river. The river then passes Hen islet and various villages of Kim Long, Nguyet Bieu, Vy Da, Dong Ba, Gia Hoi, Dinh market, Nam Pho, Bao Vinh. The river with the shimmer blue limpid colour is like a pearl in the sun. Hue boats rowing up and down with remote, meditative and deep folk melodies at deep night. It is an eternal pleasure for many generations of tourists who go boating to behold the poetic landscape, and listen to the folk melodies of Hue in tranquil nights.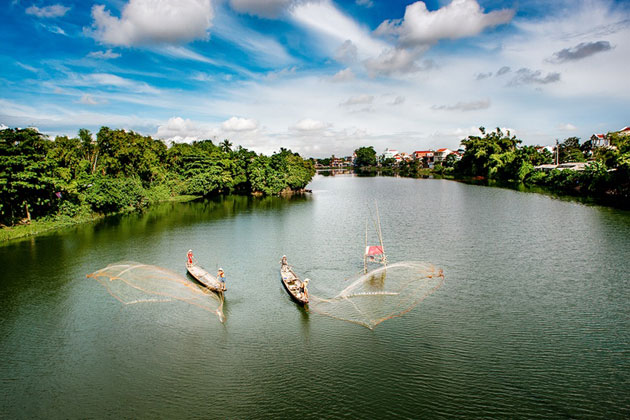 When the night comes, the surface of the river glistens under the moonlight, and the songs of the boat rowers can be heard breaking the silence. Just come here and you will feel the pure atmosphere of romance and beauty. Along the river, you can visit Da Vien, Phu Xuan, and Truong Tien Bridges, come to the Tomb of Minh Mang, Hon Chen Shrine, Thien Mu Pagoda. Especially, it is highly recommended to bathe in the sea. Upstream, at the Tomb of Thien Tho, you can hear the rustling of the pine tree. The riverside landscapes in connection with the citadel, town, gardens, pagodas, towers and temples, etc, and their reflections in the waters make the already loveable river even more poetic and musical. Many people suppose that Hue city has peaceful, gentle and tranquil atmosphere mostly thanks to the Perfume River. This river brings to the city meditative poetic characteristics and the harmonious limpidity exhaling from a land of age-old culture.