Learn about the Thailand weather before Thailand shore excursions are highly recommended due to many reasons.  Thailand which is located in the heart of Southeast Asia's tropical zone is characterized by high temperature (of 28-35 °C) and high humidity throughout the year. Thailand's climate is divided into three distinct seasons: cool season, hot season, and rainy season.
The cool season starts in November and ends in February. At that time, there is not much difference between the North and the South regarding the climate; the weather in most regions is cool and dry. Therefore, these are the most popular months to visit Thailand. Take full advantages of Thailand beaches to reward yourself (except Koh Samui which is best from June to September). This period of time is also the festival season with an exciting variety of festivals, particularly two most colorful ones: Loi Krathong Festival (Thai Valentine's Day) and Songkran festival (Thai New Year's festival). However, remember that it is very difficult to book a flight to Thailand at the end of the year (especially Christmas and Lunar New Year periods).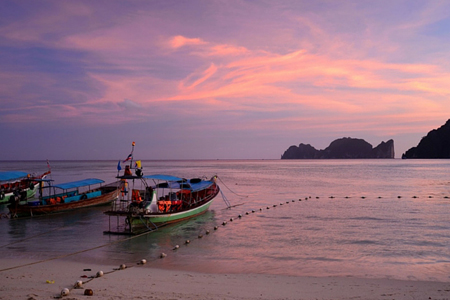 If you plan for shore excursions in the North, note that the hot season begins in March and ends in July. The weather condition is not bad as the average monthly temperature is fine. On the other hand, in the northeastern and central Thailand, the temperatures may exceed 40°C (At this time the average temperatures in Bangkok come around 34 degrees, but often reaches 40 °C with a humidity level of 75%). Due to the exceptionally hot weather, the beaches and islands in these regions are the optimal choices. It is recommended not to visit other sites if you are not a fan of the heat. Especially, try to avoid visiting Thailand in April because it is the hottest month across the country.
Although the rainy season (from August to October) takes place mainly in September with intermittent showers, they may still result in floods throughout the season. There will be rain most days, but often only for a few hours in the afternoon or at night. Despite the high humidity, this period represents a cool weather and lush landscapes. It is worth noting that Thailand usually attracts fewer tourists in these months than other periods of the year; hence, it is a joyous occasion for those who are not keen on crowds. Moreover, tourists would be offered discount room rates when visiting Thailand in the rainy season.