Taiwan which has a tropical climate is characterized by hot and rainy summers and mild winters. Taiwan' climate can be divided into four seasons: winter, spring, summer, and autumn. However, the weather is unpredictable and may change at any time of the year. The mean yearly temperature is around 22 °C. The temperatures vary somewhat with the seasons and are highest (approximately 28°C) during the summer and lowest (12-17°C) in the winter.
The spring spans from March to May with early thunderstorms occurring from the north and the interior. The monsoon arrives in Taiwan from May 10 to 20, coming from the south. It is characterized by torrential downpour throughout the island, particularly along the southwest coast, from Tainan to Hengchun and the highlands of the interior as well.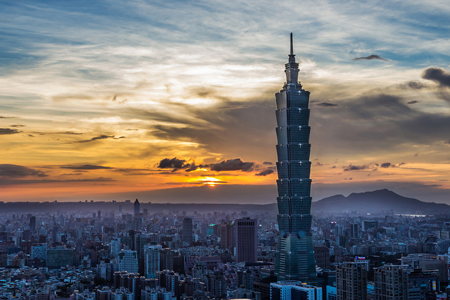 Summer starts in June and ends in August. It features high temperatures and heavy precipitation with more frequent rains along the southern coast. The temperatures are constant from north to south with the mean daily temperature remains 28 – 29 °C. The north-west coast, from Taichung to Taoyuan, experiences a relative decrease in rainfall in July. During the period between July and September, Taiwan is often badly affected by typhoons (3 to 5 typhoons per year) with strong winds and torrential rains, especially the southern and central regions. They result in damage, flooding, and landslides.
The winter runs between December and February when the temperature is pleasant that reaches its highs of approximately 22 °C in January, and the sun often shines. The weather in the north tends to be cooler with the maximum temperatures of 17-18 °C. Due to the maritime influence and the low latitude, the night-time temperatures are rarely cold. They may fall to a minimum of 8 °C but never drop below freezing. The winter is also the least rainy season of the year throughout the country.
Best time to visit Taiwan
The autumn is considered the perfect time to pay a visit to Taiwan. This season lasts from September to November. During this time, the reduction in both the rains and the heat paves the way for a pleasant weather. The days are cooler but still warm and sunny. However, it is recommended not to make a Taiwan shore excursion on the east coast, where more than 100 millimeters of rains still fall monthly in autumn.