Vietnam's climate which features a tropical monsoon one is divided into three distinct climatic zones on the basis of regions. The climate in the North is humid and subtropical whilst the South represents a tropical climate throughout the year. Central Vietnam's climate lies between two other regions'.
To be more specific, the climate in North Vietnam is characterized by 2 strikingly different seasons: winter and summer. The winter starts from November to April with an average annual temperature of 10°C – 16°C; however, several northern highland regions like Sapa suffer a lower than usual temperature which may drop below 0°C. Over the period between August and October, the North usually falls under the influence of abundant rainfalls; hence, these months are the wettest ones in the year. The summer takes place from May to October with an average monthly temperature of 30°C. Nevertheless, due to the strong influence of climate changes, some regions particularly Hanoi features a higher temperature which may reach 40°C in the hottest months (June and July). Therefore, the period from August to December is the most ideal time to discover the north with warm sunny days. If you plan for Hanoi and Halong Bay shore excursions, August is the best-visited time which offers you a chance to enjoy cool weather with clear skies.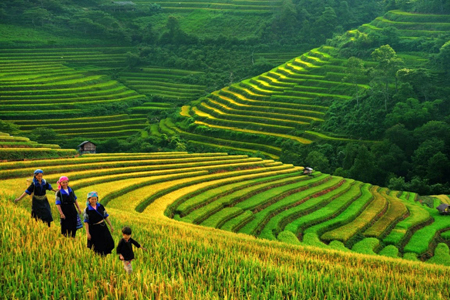 Central Vietnam experiences a more consistent climate compared to that of the North and the South. It has high temperatures and little rain from January to July but the weather is not as hot as that of the south. If you intend to go on Nha Trang, Hoi An – Da Nang, and Hue shore excursions do it in these months for some sun. Over the period between August and October, there may be several heavy showers that lead to excessive rainfalls and high humidity. Especially, the rainfall would achieve peak level, occasionally in the form of typhoons during the winter months (October and November).
The North Vietnam has the most stable temperature which is around 30°C all year round. The climate is divided into 2 seasons: wet and dry. The dry season starts in November and ends in April, particularly the time between February and April experiences slightly hotter weather with lower humidity. The wet season lasts from May to October. During the period from June to August, the South receives the highest rainfall of the year. Throughout the wet season, the rainfall is generally heavy but short lasting. Above all, it is recommended to go on shore excursions to Ho Chi Minh City and Vung Tau in dry months to avoid heavy downpours in wet season.