Get your heart pumping in this adventurous ATV ride! Against the backdrop of Phnom Penh's breathtaking countryside, whizz through the village roads to explore the city from an interesting perspectives. Get close to nature as you visit Phnom Tamao Wildlife Sanctuary – the highlight of the trip!
After pickup from the Sihanoukville Autonomous Port by your private driver and guide, get comfortable in an air-conditioned vehicle for a 4-hour ride to Phnom Penh, located about 230km away. Once you arrive, gear up for an exciting ride! Your guide will show you how to ride the automatic ATV quad bike, which is designed to travel safely on all terrains. Take time to familiarize yourself with the quad bike before starting off the adventure. Zip through the unspoiled countryside of Phnom Penh, filled with vast paddy fields and meandering village roads. Cross the forest to see the mango and banana plantations. Pay a visit to small villages for glimpses into the local way of life. Enjoy your lunch at the Tonlé Bati Lakeside, where you'll have the chance to explore an Angkorian-Era temple.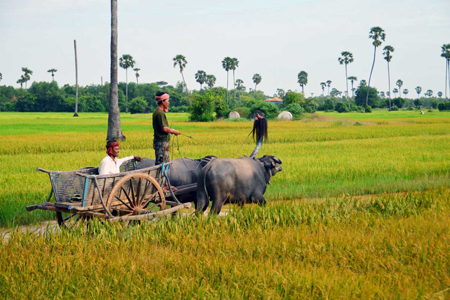 Afterward, continue the journey to the Phnom Tamao Wildlife Sanctuary, where animals rescued from the hands of unscrupulous traffickers or poachers are well looked after. As the sun begins to set, return to Sihanoukville Autonomous Port in good time for your departure. Trip ends.