Summer is a great time to explore Asia, where the vibrancy of festivals and the beauty of the beaches combine to create unforgettable experiences. Here, visitors will experience unique culture, participate in special events and enjoy beautiful beaches. Across Asia, there are notable summer festivals along with beach excursions not to be missed.
Start your journey in the land of the Rising Sun, Japan, where summer explodes with special festivals like the Gion Matsuri in Kyoto and the Tenjin Matsuri in Osaka. The Gion Matsuri, which takes place in July, is one of the oldest and most popular festivals in Japan. This festival offers a traditional experience with splendid parades, grand floats and unique cultural activities. Visitors can participate in a parade with the locals, enjoy traditional food, and discover Japan's unique culture.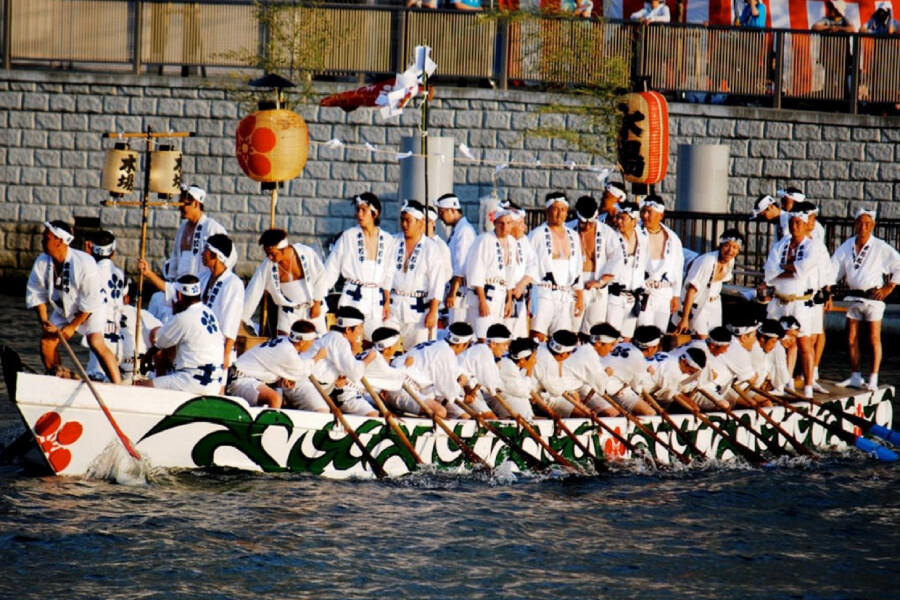 Tenjin Matsuri Festival in Japan
The Tenjin Matsuri, held in July in Osaka, attracts visitors with river parades and colorful fireworks displays. This is a festival honoring Sugawara Michizane, a famous Japanese Shinto. Visitors will witness parades on boats across the river, with hundreds of people dressed in kimonos and dancing on the boats. The fireworks display in the evening creates a magical and romantic sight, providing visitors with an unforgettable experience. We cannot ignore the country that possesses diverse cultures and beautiful beaches – Vietnam. With Hoi An Lantern Festival and Hue Festival, visitors will be immersed in the joyful atmosphere and colors of summer.
Hoi An Lantern Festival takes place on every full moon night every month in the ancient city of Hoi An. During this festival, thousands of traditional lanterns are hung on the streets, houses and basket boats on Hoai River, creating a colorful fairy space. Visitors can participate in the lantern parade, participate in traditional activities such as folk games and enjoy specialty dishes. This is your chance to experience Vietnamese folklore and discover the romantic beauty of the ancient city of Hoi An.
Hoi An Lantern Festival
Hue Festival is a major cultural event held annually in April in the ancient capital city of Hue. This festival offers parades, art performances and traditional activities that reflect the special culture and history of Central Vietnam. Visitors can participate in street parades with traditional costumes, participate in activities such as folk dance competitions, martial arts competitions and enjoy Hue specialties. Hue Festival is an opportunity for you to discover the long-standing culture and special cultural heritages of Vietnam.
Move to Thailand, the country of vibrant summer festivals. Among them, Songkran Festival is one of the most famous and attracts a large number of visitors. Held in April every year, the Songkran Festival is a way for Thais to remember and welcome the new year according to the traditional calendar.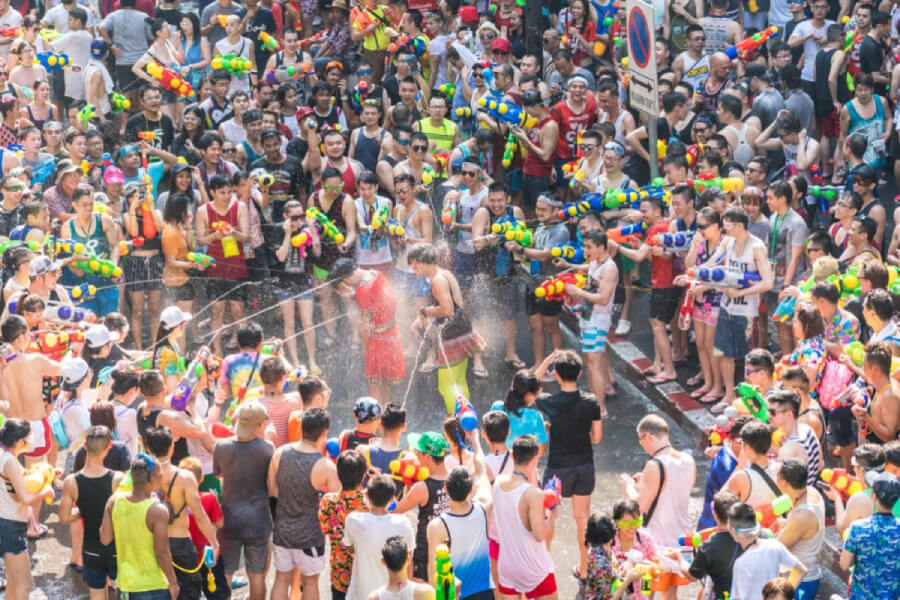 Songkran Festival
Bali, the famous island of Indonesia, is not only famous for its beautiful beaches but also for its unique summer festivals. One of the special festivals is the Kecak Festival, a traditional art play performed by hundreds of actors. With its colorful costumes and enchanting traditional music, the Kecak Festival creates a magical and inviting atmosphere. Visitors can participate in the performance and enjoy the festival's fairy atmosphere.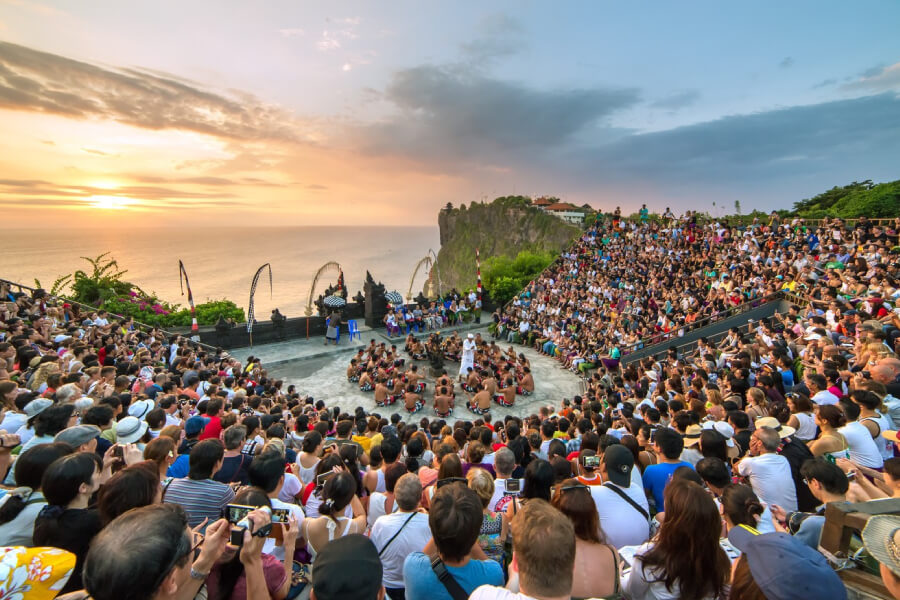 Kecak Festival
Finally, the Philippines is also not to be missed with its beautiful beaches and abundant summer festivals. The Sinulog Festival in Cebu City is one of the most famous festivals in the Philippines. Taking place every January, this festival honors God Jesus Christ and recalls the history of the country. Visitors will witness vibrant parades, artistic performances and special religious activities. The Sinulog Festival offers a fun, vibrant space and an opportunity for visitors to discover the culture and traditions of the Philippines.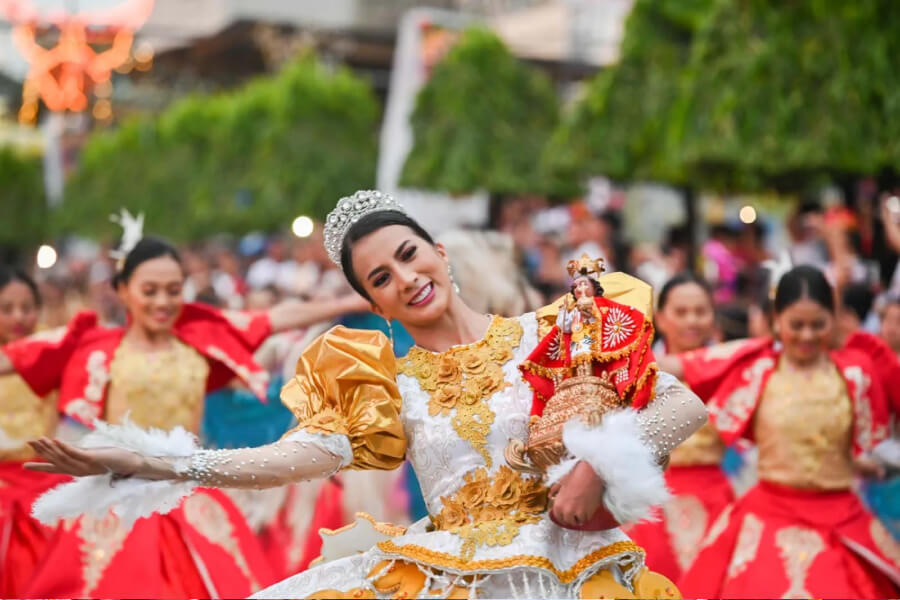 Sinulog Festival
Asia is the perfect destination for those who want to enjoy a vibrant and colorful summer. With a combination of festivals and beautiful beaches, visitors will have wonderful experiences and discover. Discover the unique cultural beauty of this continent. If you want to discover great summer festivals in Asia, Shore Excursion Asia will be your reliable partner. With many years of experience in the travel industry, they pride themselves on delivering impressive and fulfilling shore excursions. With the goal of creating unique and unforgettable experiences for visitors, Shore Excursion Asia is committed to bringing you to the richest and most unique festivals in Asia.
When you join Shore Excursion Asia excursions, you will experience amazing destinations such as Japan, Vietnam, China, Bali and the Philippines. You will have the opportunity to participate in special festivals such as Gion Matsuri in Kyoto, Hoi An Lantern Festival, Pirates of the Wall Summer in Dalian, Kecak Festival in Bali and Sinulog Festival in Cebu.
With Shore Excursion Asia's professional and enthusiastic guide, you will experience a safe and comfortable excursion. They will take care and make sure you have a great experience from start to finish. You will be able to visit famous places, discover unique cultures and enjoy special dishes at each destination. In addition, Shore Excursion Asia is also committed to bringing you the best value for your excursions. With reasonable cost and excellent service, you will have a memorable travel experience without worrying about finances.
With summer approaching, choose Shore Excursion Asia to experience the beautiful beaches and festivals of Asia. Book your excursions with Shore Excursion Asia today and prepare to discover the wonderful experiences that summer in Asia has to offer. Pack your bags and head to Asia, where unique festivals and beautiful beaches await. Enjoy the vibrant atmosphere of the festival, participate in splendid parades and enjoy delicious specialties. Discover the natural beauty of mystical beaches, sunbathe, relax and enjoy relaxing moments on the white sand.
With Shore Excursion Asia, you will experience a memorable trip, full of joy and anticipation. Start your journey and enjoy summer in Asia with its festivals and beautiful beaches.
Contact Shore Excursion Asia today to book your excursions and discover the beauty and vibrancy of summer in Asia. They will help you create unforgettable memories and give you a wonderful travel experience. Summer in Asia awaits – prepare to explore and experience it today!