Summer has arrived, and there is nothing better than when you can get away from the hustle and bustle of life and explore beautiful islands like paradise on earth. Shore Excursion Asia will introduce you to the Top 5 most beautiful islands in Asia where you can find stunning landscapes and unique cultural experiences.
Palawan (Philippines)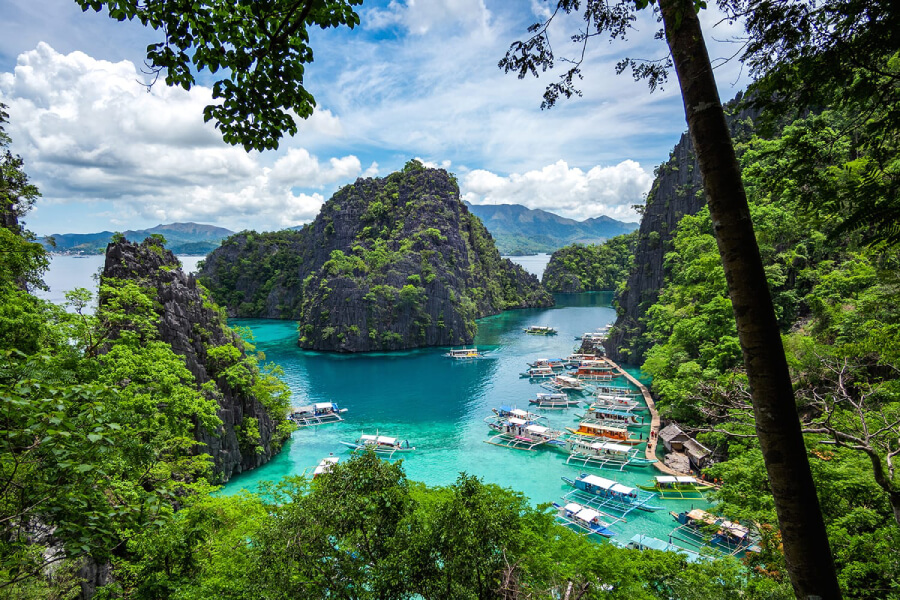 Palawan (Philippines)
Located in the western Philippines, Palawan has been recognized as one of the world's top destinations for natural beauty. The island of Palawan, Philippines, is a paradise with beautiful landscapes and diversity of nature.
El Nido Beach is a must-see in Palawan. With fine white sand and crystal clear blue sea, El Nido beach creates a beautiful picture. Here, visitors can participate in activities such as scuba diving and snorkeling to explore underwater and see beautiful coral reefs along with a variety of fish and other marine life.
Another popular destination in Palawan is Coron Bay. The bay contains beautiful beaches and islands, with scenic spots such as Kayangan Lake, Barracuda Lake and Twin Lagoon Beach. Visitors can enjoy unique views from above as they climb the lookout points, and even venture into the mysterious caves in the area.
In addition, Palawan also has one of the most beautiful natural wonders in the world, the Puerto Princesa Underground River Cave. Declared a UNESCO World Heritage Site, this cave is an impressive destination. You can join a boat tour to explore the unique ecosystems in the cave, with its exotic cliffs and diverse flora.
Not only natural beauty, Palawan also has a unique culture and heritage. Visitors can visit the traditional village where the locals live and discover the unique culture of the Palawan people. Other destinations like Port Barton and Sabang also offer unique culinary and cultural experiences.
Maldives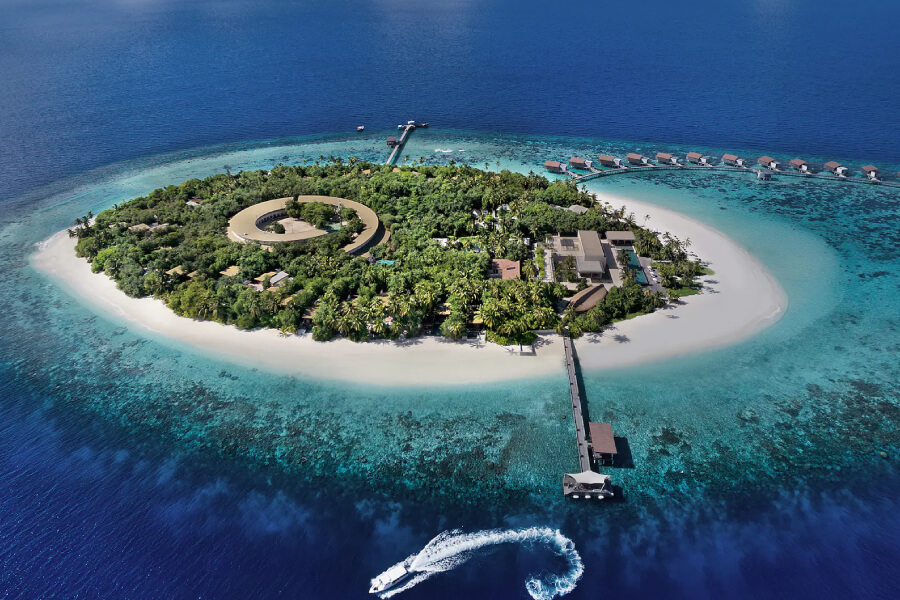 Maldives
Maldives is an archipelago located in the middle of the Indian Ocean, famous for its beautiful island landscape. Coming to the Maldives, you will be fascinated by the picturesque landscapes and various attractive destinations.
Pristine white beaches: With rows of pearly white sands, Maldives is famous for its beautiful beaches such as Hulhumale Beach, Biyadhoo Beach and Veligandu Beach. The powdery white sand combined with the clear blue sea creates a beautiful and enchanting picture.
Water resorts: Maldives is famous for its luxury resorts on water. The villas on the water are built on coral reefs, creating a private and romantic space. From these villas, you can enjoy endless beach views and beautiful sunsets. In addition, the resorts also offer activities such as visiting corals by hydraulic boat and sailing on the sea.
Privé Island: Privé Island is a unique and precious place where only one resort can rent the entire island to ensure absolute privacy. This gives tourists a stunning and classy experience. At Privé Island, you will have the opportunity to experience a life of luxury and privacy, with luxurious villas, private swimming pools, private beaches and dedicated personal care. This is a perfect destination to make your wedding vacation or vacation truly private and memorable.
Maldives is a great destination for those who want to enjoy the peace and beauty of the sea. With its picturesque landscapes, amazing diving and luxurious resorts, the Maldives has become a dream destination for travelers around the world. If you are looking for an ideal destination for this summer, choose the Maldives and experience a memorable vacation in this wonderful natural beauty.
Bali (Indonesia)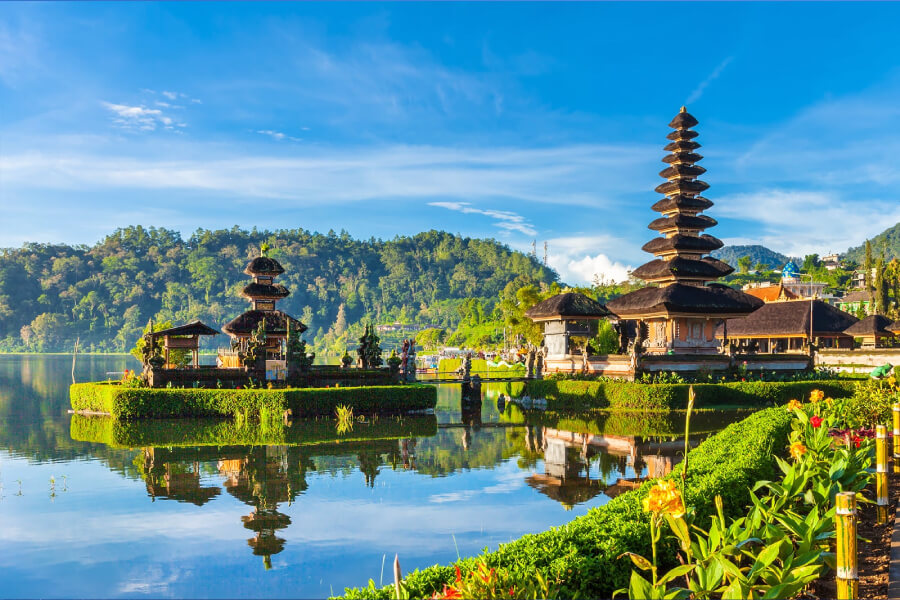 Bali (Indonesia)
Bali is an island located in the south of Indonesia, famous for its natural beauty, diverse culture and sacred temples. Beaches in Bali often have fine white sand and beautiful blue sea, attracting tourists from all over the world. When you arrive in Bali, you can explore the waters of Kuta, Sanur and Nusa Dua, where you can enjoy beautiful afternoon sunsets and participate in activities such as surfing, scuba diving and participating in water sports. Sea cruise tour. Bali is also famous for its sacred temples like Tanah Lot and Besakih, where you can learn the unique culture and religion of this island.
Lying down on the west coast of Bali, Tanah Lot is a famous stone temple and symbol of Bali. Built on a small island, Tanah Lot Temple offers a unique and beautiful landscape, especially at sunset. It is an ideal destination to enjoy a beautiful afternoon and witness a piece of Balinese culture and religion.
Considered the "heart" of Ubud, Campuhan Valley offers a space of tranquility and oneness in nature. With walking paths through green mountains and rice fields, you will have the opportunity to enjoy the peaceful space and enjoy the beautiful panorama of the Bali countryside.
Phu Quoc (Vietnam)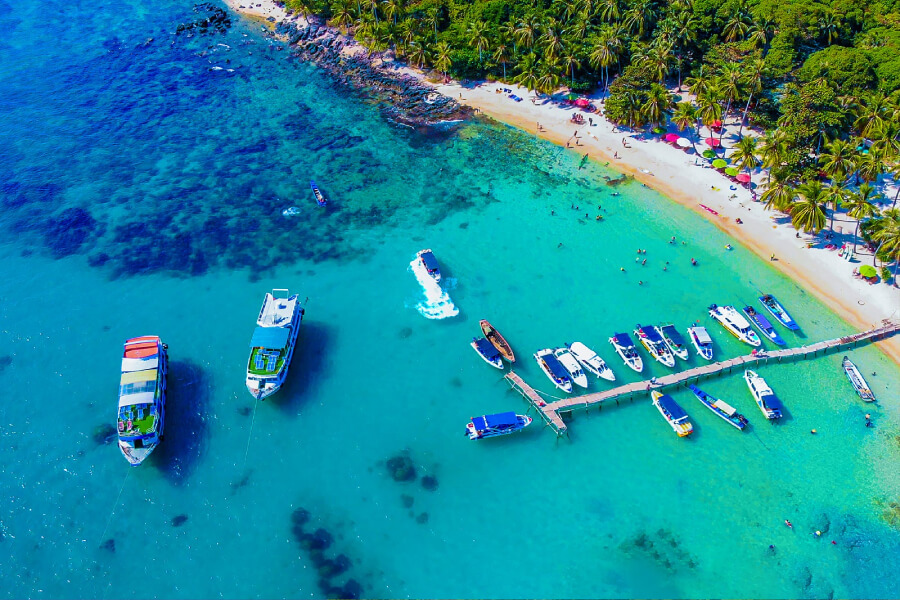 Phu Quoc (Vietnam)
Phu Quoc is a beautiful island located in the South of Vietnam, in Kien Giang province. Known for its beautiful white beaches and unspoiled natural landscape, Phu Quoc is an ideal summer destination.
Dubbed the "Maldives of Vietnam", Bai Sao is a beautiful beach with fine white sand, clear blue sea and fresh air. The special thing here is the rich and diverse coral reefs, creating a wonderful natural reef tank. You can swim, enjoy fresh seafood and relax on the long sandy beach.
Recognized as a National Park by UNESCO, this area includes tropical forests, diverse ecosystems and rare animals. You can take part in hikes, walks and adventures in the forest, see streams and waterfalls, and even enjoy the beautiful pictures of nature.
Hon Thom Cable Car: This is the longest cable car in the world at sea, connecting Phu Quoc island with Hon Thom island. From here, you can enjoy the beautiful panorama of the surrounding sea, mountains, and islands. This is a unique and interesting experience that should not be missed when coming to Phu Quoc.
Ngoc Island is a small island located not far from Phu Quoc. This place is known for Sunset Beach, where you can enjoy beautiful sunsets and clear blue sea water. Ngoc Island also has primeval forests, clear springs and a number of restaurants serving fresh seafood dishes.
Phuket (Thailand)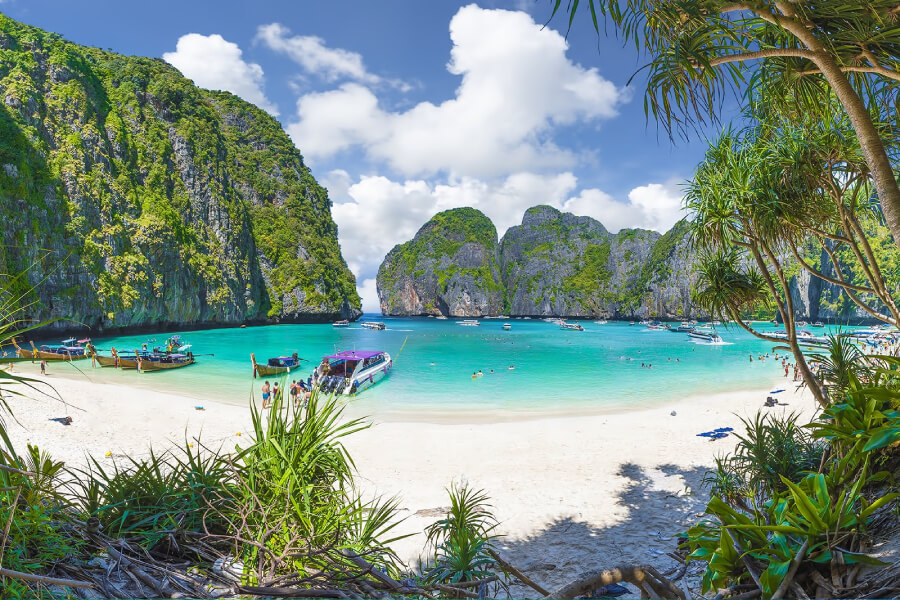 Phuket (Thailand)
Phuket is an island located in Southern Thailand, with majestic natural beauty and diverse culture. Surrounded by the Andaman Sea, Phuket has beautiful beaches like Patong, Karon and Kata where you can sunbathe, swim and participate in watersports activities like surfing and scuba diving. In addition, you can also explore Khao Phra Thaeo National Park, visit Wat Chalong and enjoy unique Thai street food in the central area of Phuket.
Patong Beach is one of the most popular beach destinations in Phuket. With fine white sand, clear blue sea and vibrant play space, Patong beach attracts millions of visitors every year. Here, you can enjoy relaxing sunbathing sessions, participate in watersports activities such as surfing, scuba diving and sailing on the sea. Besides, the area around Patong beach is also famous for its bars, restaurants and lively nightlife activities.
With this list, you've got your pick of beautiful islands to explore and enjoy a wonderful summer in Asia. Prepare yourself with a comfortable mind to experience because what is difficult is already taken care of by Shore Excursion Asian!