Take a glimpse of daily life activities, culture and people of poetic Hue through a visit to Dong Ba Market. Located near the eastern corner of the Citadel where the romantic Perfume River merges with Dong Ba canal, Dong Ba market is not only famous for being the biggest and most significant market in Hue, but also famed for undergoing many ups and downs of Hue. It is commonly said that your trip to Hue would be incomplete if you don't set your foot in Dong Ba.
Journey back to history, Dong Ba market was initially positioned outside the citadel's Chanh Dong gate. In 1889, under the reign of King Thanh Thai, the market was moved to the present site, which is about 100m north of Truong Tien Bridge. Having undergoing many eventful phases of the country as well as war damages, the market still stands right in the heart of Hue and attracts thousands of people coming every day.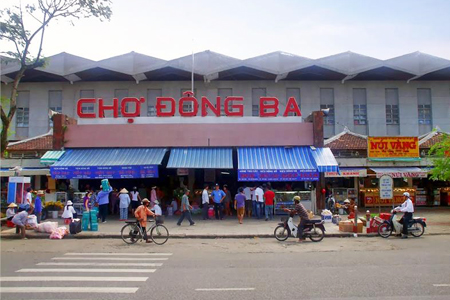 The first thing that seizes the attention of visitors is myriad goods and local delights. Your nose could be feasted with the enchanting favor of daily dishes such as clam rice, beef noodles, shrimp cakes, pancakes, and sour shrimps. Additionally, being the biggest and most vibrant market in the region, the market is also the home to numerous traditional crafts reflecting Hue's cultural features like Phu Cam conical hats, Hien Luong scissors. Thus, if you are souvenir hunters, it is not difficult for you to find favorite items for your family and relatives. Venture around this market and soak up its vibrant atmosphere. Afterward, pamper yourself with freshly-picked fruits or local specialties served by street vendors and watch stream of people passing by. Take it all in – this blend combination is a great way to discover the authentic Hue.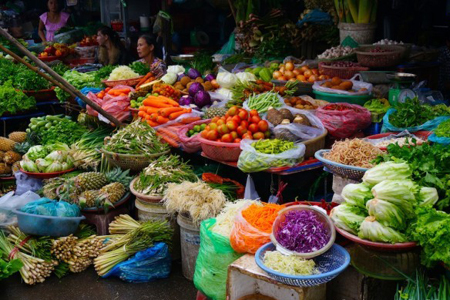 Despite the ubiquitous emerge of new markets and supermarkets inside the fast-growing Hue city, nowadays Dong Ba Market still holds an important position as the commercial center of the city. This market is the place where daily life activities take place every day, is where the local products are bartered, and is the place on which a number of people rely their life. Most importantly, this is the only market where Hue-lovers could find the most delicate material cultural traits of the city like Phu Cam conical hat and Hien Luong scissors.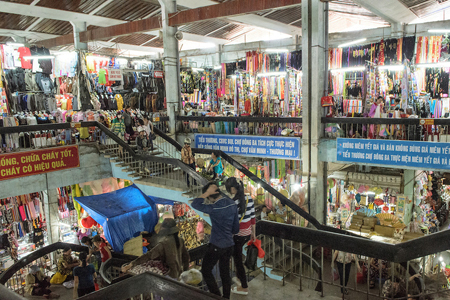 Those once traveled along the S-shaped Vietnam and had a chance to linger in all the markets associated with famous cities, they would get the opportunity to gain insights into many things coexisting with the ups and downs of trading activities of the locals. Coming to Hue and taking a trip to Dong Ba Market is also a highlight that you should experience. In the hustle and bustle in each corner of the market, in the busiest worries of buyers and sellers, there are a wordless historic-stained beauty and a noble life that not everyone could get to know.