Du Hang Pagoda (Also known as Phuc Lam Tu) was built from the Tien Le Dynasty (980-1009) in accordance with the ancient architecture. At the end of the reign of King Le Dai Hanh, A monk had preached and taught Buddhist to people. In Tran Dynasty (1225-1400), the Zen masters of Truc Lam Yen Tu also came to the temple. At the reign of the King Le Gia Tong (1672) and King Thanh Thai of Nguyen Dynasty (1899), the temple was restored and the steeple was built. In 1917, other constructions like library, gardens… of the temple were built and maintained until today.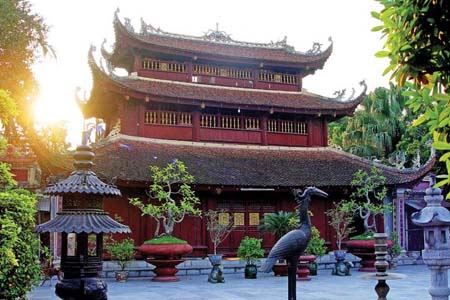 The pagoda is located about 2km southwest of city center, it is one of the most important of the city.
Du Hang Pagoda architecture includes seven room of worshiping Buddha, the thirst floor has ring gate with curved roof. A visit to Du Hang Pagoda will allow travelers to see many Buddha statues and many ancient graphic fine arts which are still preserved in this sacred Buddhist temple from Nguyen dynasty.