This one-day Lombok shore excursion allow us to delve into the tropical paradise of Gili Islands, marveling at its pristine turquoise water and dipping your toes in soft white sand. Soak in the romantic atmosphere of Gili Meno before heading on to Gili Air for snorkeling. Complete the trip with breathtaking sunset views at Mipah and Malimbu hill
Upon pickup from the Lembar port, your driver and guide will take you to Senggigi harbor where you'll board a speedboat to cruise azure waters of Gili. Get to Gili Meno, the smallest and certainly the quietest of three islands. With its disputably finest stretches of sandy beach, Gili Meno is the perfect setting for a romantic mood. Explore the island by cidomo (horse-cart): visit a small local village and enjoy refreshing coconut juice.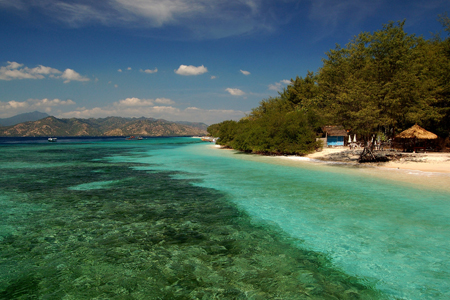 Continue your boat cruise to Gili Air, which has a livelier vibe with a slightly hippy feel. Enjoy snorkeling in the crystal clear water, trying to spot clownfish or even turtles! Savour delicious cuisine in a local restaurant, and then continue relaxing by the beach or snorkeling.
In the afternoon, cruise back to Teluk Kode (or Bangsal Harbor) where a car is waiting to take you back to the port. Along the way, stop at Mipah and Malimbu hill to enjoy the sensational sunset views. You may even spot some monkeys there!