Witness the exacting process of pottery making at the Banyumulek pottery village. Soak in the sights and smell of local produce at Bertais Market before taking a leisurely in the Narmada Park and Meru Temple. Complete the trip with shopping time at the Mataram Mall.
Your private driver and guide will pick you up from Lembar port. Start the trip from Lembar harbor to the village of Banyumulek where you'll see local artisans shaping solid balls of clay into crockery on turning wheels. Continue the journey to Bertais Market, the largest of its kind in Lombok. Stroll through row after row of baskets brimmed with colorful (and pungent) herbs, spices, beans, fruits and dried fish, or find handicrafts for sale at a fraction of the price in touristy areas. Then take a short walk to explore the historical Narmada Park, the summer retreat of a former Lombok King.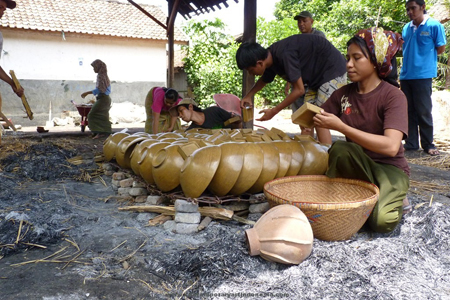 Next up is Meru Temple, the biggest Hindu temple on the island. Continue on to Mataram Mall where you'll enjoy a delicious local lunch and browse through some shops for souvenirs. End the tour with a return transport to the port.