One of the most important things you have to do before joining an Indonesia shore excursion is learning about its currency.
The Rupiah (Rp) which was first introduced on October 3rd, 1946 and now issued and controlled by Bank of Indonesia is adopted as the sole official currency of Indonesia. During difficult stages of unstable economy and rampant inflation, Indonesian Rupiah has been revalued many times including an all-time high in 1998 and a record low in 2010. The rupiah is divided into 100 sen; however, the inflation enables all coin and banknotes of sen to be no longer in circulation.
Indonesia's monetary system consists of two types: coin and banknotes in which coin contains 5 denominations: 50, 100, 200, 500, and 1000 rupiah and banknotes come in denominations of 1,000, 2,000, 5,000, 10,000, 20,000, 50,000 and 100,000 rupiah. The coin has its value and Indonesian features regarding flora and fauna stamped on the reverse:
50 Rp: Kepodang bird and coin value are stamped on the reverse.
100 Rp: Palm cockatoo bird and coin value are stamped on the reverse.
200 Rp: Bali starling bird and coin value are stamped on the reverse.
500 Rp: Jasmine flower and coin value are stamped on the reverse.
1,000 Rp: Palm tree and coin value (or Angklung and Gedung Sate) are stamped on the reverse.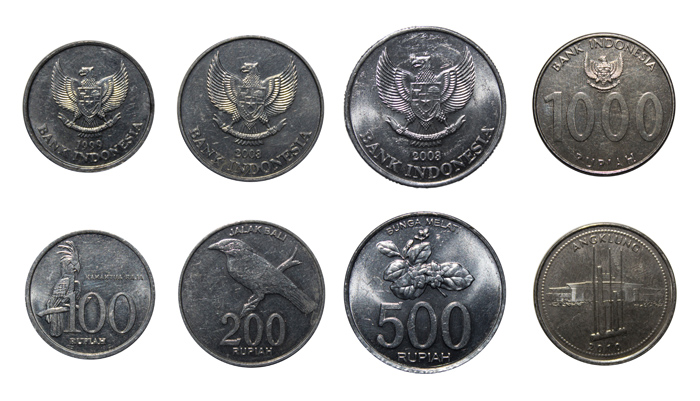 The banknotes have various images stamped including well-known Indonesian people and Indonesian typical symbols:
1,000 Rp: Captain Pattimura (observe) and Maitara and Tidore Islands, with fishermen on a boat (reverse)
2,000 Rp: Antasari, Prince of Banjar (observe) and Dayak dancers (reserve).
5,000 Rp: Tuanku Imam Bonjol (observe) and Songket weaver, Tanah Datar (reserve).
10,000 Rp: Sultan Mahmud Badaruddin II (observe) and the traditional Limas House of Palembang, South Sumatra (reserve).
20,000 Rp: Oto Iskandar di Nata (observe) and Tea plantation, West Java (reserve).
50,000 Rp: I Gusti Ngurah Rai (observe) and Pura Ulun Danu Bratan, Bali (reserve).
100,000 Rp: Sukarno and Hatta ( (observe) and DPR/MPR Building (reserve).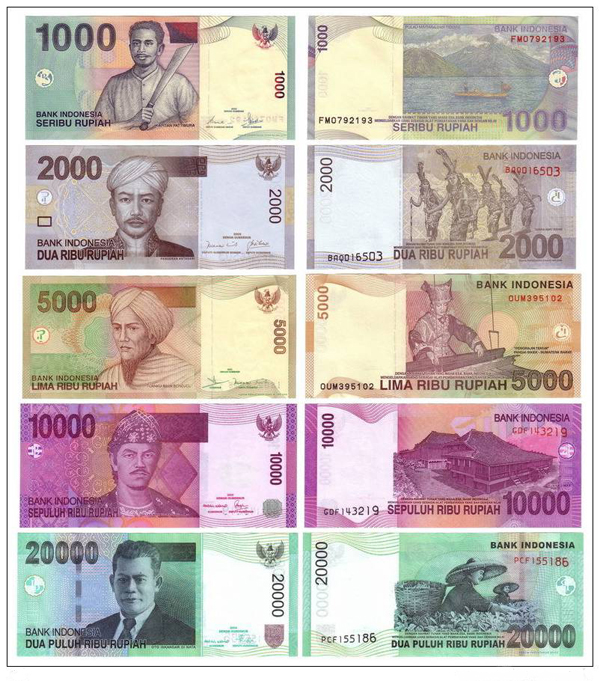 In terms of Indonesian currency exchange rate, 1 Rp has equaled to 0.000076 U.S. dollars (September 3, 2016).
It is unnecessary to exchange the money for Indonesian Rupiah prior to a tour as you may exchange it in the banks, exchange offices and hotels which offer the best fee. However, if you go to Bali island – the most popular destination on Indonesia shore excursions, do not exchange your money with the locals or in the exchange offices whose windows do not display a green PVA Berizin logo. They are not authorized money changers, hence, you may get counterfeit money or high currency exchange fee.