Located on the altitude of 554 m in the eastern part of the island, Victoria Peak is not only the highest peak of the Hong Kong Island but also considered as one of the famous landmarks of the island for shore excursions.
The mountain is also well-worth and the most expensive land in the world due to the residence of many affluent families here. From this mountain, you can see the heart of Hong Kong, the harbor and the surrounding islands from bird's eye view. Victoria Peak is one of the most popular attractions of Hong Kong. The landscapes are different between day and night.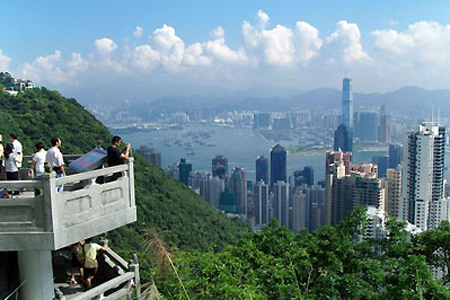 Victoria peak attracts a lot of tourist each year (about 7 million per year). The view from the top is very impressive with the panoramic view of Victoria Bay, Central Area with skyscrapers and the Kowloon Peninsula. The Peak Tower with Sky Terrace on the 5th floor offers the panoramic view of the city. The 2nd floor is famous Asia's first Madame Tussauds Wax Museum with many famous characters such as Marilyn Monroe, the Beatles, Winston Churchill, Jackie Chan, Michelle Yeoh, and Bruce Lee… Facing with Peak Tower is Peak Galleria with shops, bookstores, cafes.
The Peak can be accessed by Peak Tram offering a unique experience and the bird's eye view of surrounding landscapes. The Peak Tram is also a must-try thing when visiting the Victoria Peak.