Located 317km from Phnom Penh, Angkor Wat complex was built in the mid-twelfth century by King Suryavarman II, dedicated to the god Vishnu of Hindus. This is one of the most important monuments in Cambodia, is considered as the supreme construction of Khmer art and architecture. In 1991, Angkor Wat is recognized as World Cultural Heritage by UNESCO, comparable with the Great Wall of China, Taj Malhan in India, and the Pyramids in Egypt.
Angkor is a complex of more than 100 stone temples, monuments, reliefs and vast corridors are made of large stones, stacked naturally. This is a splendid architectural achievement. It shows a very high degree of spatial geometry.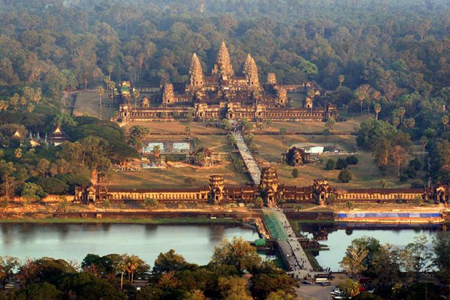 At that time, technical and architectural styles are very limited, the use of rock properties as well as using wood with semicircular and dome texture is the technique that had not known, but its overall effect was to make people be surprised. All stone-made decoration as Buddha, dancers, warriors and the lotus illustrate the Ramayana and Mahabharata epic are very vivid and soft.
In particular, 1,700 carved Apsara dancers are completely different, with shapes, the faces and postures, movements which are not duplicated.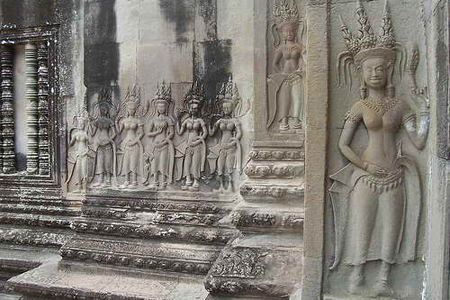 In this architectural complex, Angkor Wat Temple is the largest and greatest, because this temple is the crystallization of the typical architecture of the ancient Khmer and reached the peak in terms of art, architecture and visual arts of Khmer as well as most monumental scale in all the temples of Angkor.
The architecture of Angkor Wat entirely made of the very large stone, the sizes 1x2m usually put together, carved with motifs, reliefs under the old tales of Indian epic Mahabharata and Raymana. The entrance to Angkor Wat is the long stone bridge spanning the surrounding lake. Outside the entrance is the lion statues, two sides are carved out the Naga god with seven heads. Surrounding moat is 190m wide making a 1.5km long square. Many sidesteps were built in order to step into the water.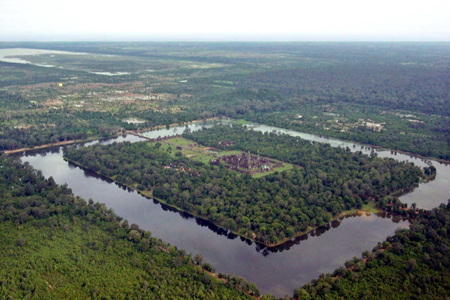 Design of Angkor Wat is very balanced and beautiful, located within a large wall of 83.610 sqm. The temple has an area of approximately 200 hectares, 6km of perimeter, 8m high and 1 m thick stone wall, with five giant towers. The main tower is 65m high and four side towers are 40m high. Each tower has the shape of blooming lotus flowers.