Your excursions to Cambodia will not be completed without watching the mystical Apsara dance at least once. According to Hinduism, Apsara is incredibly beautiful fairy, elegant gesture, dance gracefully and skillfully, they are the wives of the musicians of Gandharva, which usually sing and dance for the gods. Apsara are also the maids serving Indra – the king of the gods, the embodiment of war, thunderstorms, rain and wind.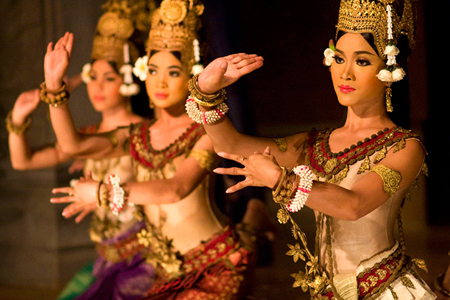 Characteristic of dance is a Apsara dancers led the demonstration of movements like fairies play in the rose gardens, where they are part of the beauty of the rose garden. The dance movements are very slowly and subtly expressing the uniqueness of Apsara dance unlike most other dances in the world.
Apsara was introduced into Cambodia from around the first century, along with Hinduism and this art thrived with Angkor era. From the period of Angkor, Apsara dances were only for the king to enjoy the great occasions and ceremonies as well as to honor the gods. It has been estimated that in the reign of King Jayavarman VII, there were more than 3,000 Apsara dancers serving in court. A very impressive figure when compared to the population of the capital city at that time.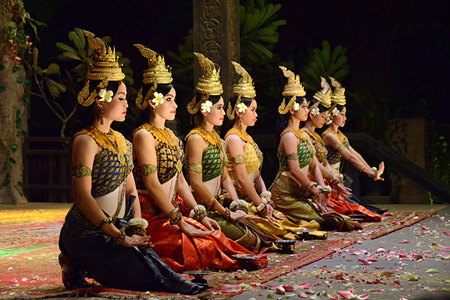 Apsara Dance in Cambodia originated from Hinduism. In the 13th century, the Apsardance was inspired by the art of sculpture used in Angkor which can be seen a lot in the ancient temples of Khmer. Until 15th century, Apsara also blighted with Angkor civilization.
The Apsara dance today are developed for modern theater often shorter, more generous and comfortable than most classical dances, but still retains the perfect in every move and still expressed with the look and spirit of the traditional classic dance.