Located approximately 1km to the east of to Angkor Thom, in the southern shore of the East Baray, Ta Prohm temple is one of the first temples were built by King Jayavarman VII (1181-1220) from late 12th century, with an area of 650,000 sqm, in the style of Bayon. This is also the tomb built to commemorate Queen Jayarajachudanami (mother of Jayavarman VII) and Jayamangalartha – the master of the king.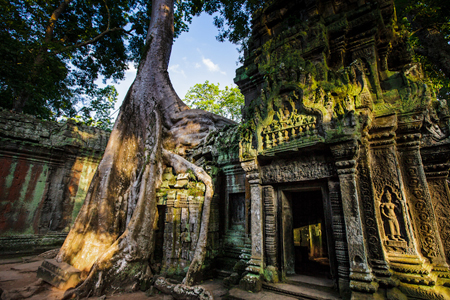 Origin of the name of this temple is Rajavihara – means that the royal temple. At the thriving time, this place had more than 12,500 people with prosperous life and many abundant resources such as gold, pearl and fabric. After the collapse of Angkor dynasty, Ta Prohm temple also gradually disappeared and the devastation strikes rapidly this land. Until the early twentieth century, Ta Prohm temple and Angkor were gradually revived. The ancient roots of giant tree are stretching the giant hands engulfing the temple. In the land between forests and mountains, alternating with huge rocks, tree roots brought the strange shapes making a very strong impression to the tourists.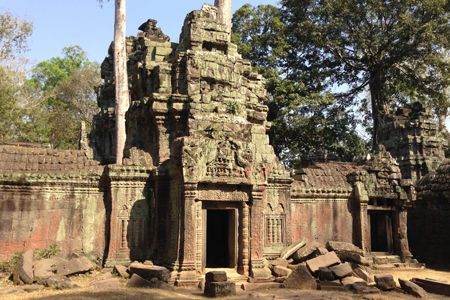 Fascinating beauty comes from every corner of the temple, so Ta Prohm has become a backdrop to create more dramatic for millions of viewers around the world through the film Tomb Raider. Visit Cambodia, tourists will feel overwhelmed due to the magnificent temples of Angkor including Ta Prohm.