Being the most bustling of all markets, Ben Thanh Market is absolutely a cannot-miss tourist shopping spot of the Ho Chi Minh City shore excursions starting from Phu My port. Situated in the heart of the city, in District 1 of Ho Chi Minh City, Ben Thanh market and its surrounding streets are the city's liveliest areas, to give tourists exhilarating experience. In the 17th century, street vendors gathered around the Saigon River, gradually it developed into the large market. Constructed in 1870 by the French, the market was initially called Les Halles Centrales before being renamed Ben Thanh in 1912. For years, Ben Thanh Market has become the dominant business hub, viewed as a symbol of Ho Chi Minh City.
The building possesses the most ancient architecture which covers an area of more than 13,000 m2. It comprises four entrances and four sections, each entrance has an animal as its symbol. The landmark of the market is a roof clock tower overlooking four main streets of District 1.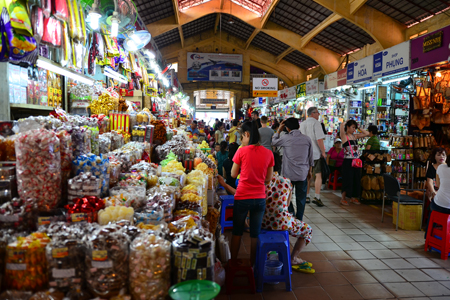 The market is teamed with local vendors selling all commonly eaten, worn or used things by the Saigonese such as clothes, accessories, jewelry, hardware, pet shops, crafts, flowers, spices, nuts, food… Vendors always value a price that higher than everywhere, so bargaining should be a fun experience.